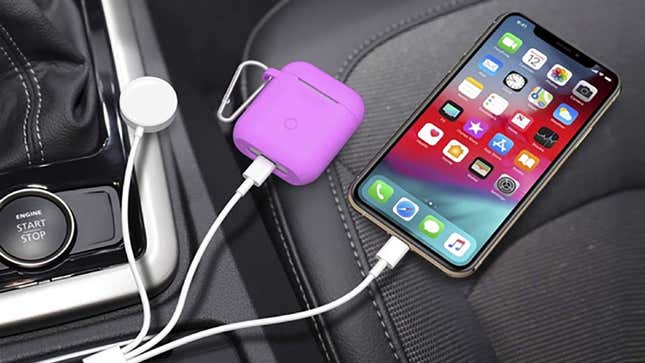 This 3-in-1 cable can charge your iPhone, AirPods, and Apple Watch at the same time, and it's on sale for $17.99 (reg. $34.99) right now. So instead of using three charging heads and cables, you could just plug this 3-in-1 cord.
On one end, the charging cable has a USB A connection, and the other has two Lightning ends and an Apple Watch charger. Obviously, you could just use the cord to charge one device at a time, but you can also use all three connections at once. It's a great option to declutter your nightstand or desk, or for packing just one cord for your next vacation instead of separate ones for your iPhone, iPad, AirPods, and Apple Watch.
This cord is CE and RoHS-certified, so it meets the standards of consumer safety, and it's been manufactured to have over-current, over-heat, and short-circuit protection to protect your Apple devices and not harm their battery health. It will charge slower than you might be used to—it has USB A, not USB C—but that's not much of a problem if you're using it on your nightstand, for example. Also, if you have a newer iPad with a USB-C connection, you won't be able to charge it with this cord unless you have an adapter.
This 3-in-1 charging cable is on sale for $17.99 (reg. $34.99) right now, though prices can change at any time.