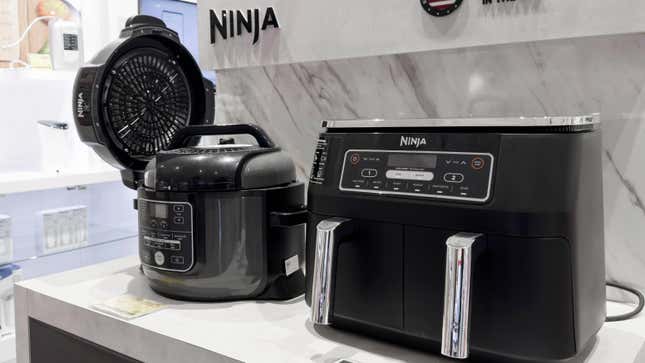 Right now, Woot is selling refurbished Ninja kitchen appliances for more than 50% off their original prices—and some for as little as $36. These deals all expire at 1 a.m. ET on Oct. 14 (if they don't see out first).
These refurbished Ninja kitchen appliances are under the "scratch and dent" category, and Woot says they "are expected to have a noticeable level of wear and tear including (but not limited to) scratches, dents, and dings. Outside of their physical appearance, they have been tested to be in full working condition." Note also that Woot only ships to the 48 contiguous states in the U.S. If you have Amazon Prime, you get free shipping; otherwise, shipping is $6. Woot also offers a 90-day Woot warranty and a 30-day return policy if you're not happy with the state of the appliance.
Ninja toaster ovens
Ninja air fryers
Ninja air fry ovens
Ninja pressure cookers
Ninja grills
The

Ninja Foodi Smart XL Grill

is an indoor grill and air fryer that can sear, sizzle, and crisp. You can cook up to 24 hot dogs on it at once. Get it for $79.99 (

original price is $299.99

).
The

Ninja Foodi Xl Pro Griddle & Grill

is an indoor grill, griddle, and air fryer that can grill, BBQ griddle, air crisp, roast, bake, broil, and dehydrate. Get it for $69.99 (

original price is $349.99

).
If you're looking for an outdoor grill, consider the

Ninja Woodfire Outdoor Grill & Smoker

. This electric grill—which can also air fry—features wood pellets that help flavor the food. Get it starting at $149.99 (

original price is $296

).