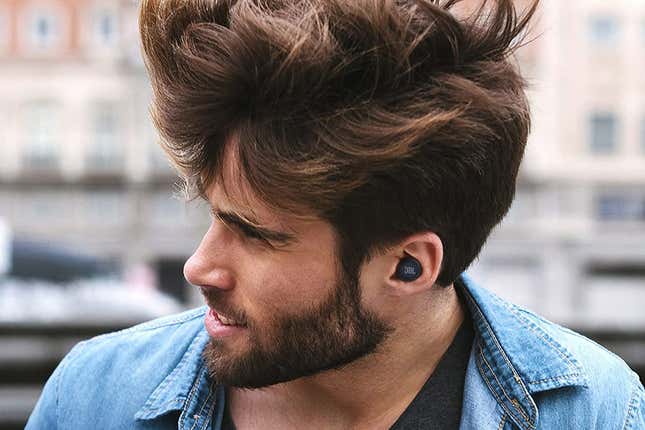 If you're still shopping for the right gift for your dad for Father's Day (or for yourself for no particular reason), these JBL Live Free NC+ headphones are on sale now through June 11 for $59.97. They're wireless and they have active noise-canceling for up to 21 hours of listening time.
Active noise-canceling earbuds
You can control audio on these earbuds with all-access touch control—turn the volume up or down, skip songs, and switch noise-canceling on or off with just a touch. The active noise-canceling reduces outside noise and distractions, which helps to tune out chatter at the gym or on the subway, but you can change modes to TalkThru or Ambient Aware to transparently hear your surroundings as needed, without having to remove them.
More details about these JBL wireless earbuds
To start using the earbuds, you'll need to initially pair them to your chosen device; after that, they will automatically connect to the same device each time the case is opened.
They come in three sizes of ear tips, and two sizes of gel sleeves for a secure fit, which also prevents them from popping out and getting lost. They can be worn for walks in the rain or sweat-inducing workouts since they're waterproof.
Order the JBL Live Free NC+ True Wireless Earbuds for $59.97 (regularly $149.95)—that's 60% off—by June 5 if you want them to arrive for Father's Day. The deal goes until June 11 at 11:59 p.m. PT, no coupon needed. (Prices may change at any time.)