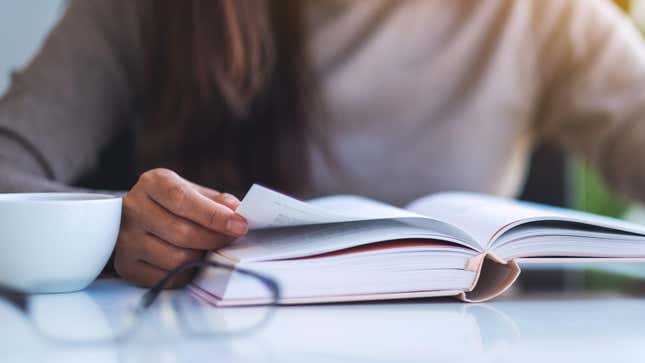 Are you angling for a promotion? Were you just given new responsibilities at work? Are you a little nervous you're not doing great with your existing leadership tasks? No matter what industry you're in, we all have similar goals and concerns. We all want to advance, make money, and do well in our roles. Luckily, because these are pretty universal desires, plenty of big brains out there have studied what we need to do to turn those dreams into realities. If you're taking on more responsibility, you need to read up on what the experts advise.
The best books on leadership
If you're in a managerial role or otherwise overseeing the work of other people, the task can feel daunting. Your job is, like, getting them to do their jobs. Being a good leader is key here, so read the following:
The Making of a Manager: What to Do When Everyone Looks to You by Julie Zhuo ($16.49). This book is designed for people who just got a managerial position. It's for that moment when you think, "What am I supposed to do now?" Zhuo, an experienced manager, gives tips on hiring, building trust, and figuring out what to do when you're not sure what the answer is. One reviewer called it their "managerial bible," while another said they still refer to it when hiring new workers.
Surrounded by Idiots by Thomas Erikson ($12.38). Erikson is a communication expert who has tips for what to do when you're less than impressed with your team. He dives in on why it's important to understand how people work and what barriers you could be facing as you try to connect with your colleagues. This book helps you break down people's personalities into categories, enabling you to work better with someone once you figure out what motivates them.
How to Lead When You're Not in Charge: Leveraging Influence When You Lack Authority by Clay Scroggins ($14.89). Learn how to use your relational skills to influence people in your workspace, whether you are technically in charge of them or not. This book is great for appointed leaders and de facto leaders.
Dare to Lead: Brave Work. Tough Conversations. Whole Hearts. by Brené Brown ($10.20). This book is a guide for approaching uncomfortable situations in the workplace with a relatable, personable touch. It has over 19,600 ratings on Amazon and a whopping 4.7 stars out of 5. Some reviewers call it "extraordinary" for its handling of vulnerability in professional settings; others use "captivating" and "transformative" to describe its guidance on leading effectively.
The best books on tackling more responsibility
Whether you're leading others or not, you still have to do your job, be accountable for your performance, and do the best you can to meet your expectations. It's always worth reading up on how to be handle your responsibilities more effectively, so start here:
Do the Work: Overcome Resistance and Get Out of Your Own Way by Steven Pressfield ($9.99). If you're feeling overwhelmed or like the thing standing in your way at work is actually … yourself, try this book, which advocates not for coming up with better ideas, solutions, and tricks, but just getting down to business on what you already know you need to do. Reviewers call it "helpful," "practical," and even "amazing" and "life-changing" for its approach to overcoming your own resistance to getting things done.
Think Again: The Power of Knowing What You Don't Know by Adam Grant ($15.02). This book by organizational psychologist Adam Grant is all about opening your mind to the possibility of what you don't know. He lays out why it's not bad to be wrong—it's bad not to be curious about what being wrong can teach you. At its core, the book is about evolving to meet new challenges and taking the leap into the unknown when the time calls for it, which can be scary at work (and which is why you probably need to read what a psychologist has to say about it).
Great at Work: The Hidden Habits of Top Performers by Morten T. Hansen ($10.99). Self-help books about habits are a dime a dozen, but this one—a Wall Street Journal bestseller with a 4.5-star rating on Amazon–stands out with its straightforward advice on seven practices you can adopt to work smarter. The author conducted a comprehensive study to analyze the results of putting each in action, so you can be assured there are real-world benefits to trying these tips.
What Got You Here Won't Get You There: How Successful People Become Even More Successful by Marshall Goldsmith ($12.27). This book helps you pick apart your own traits and tendencies, identifying which you're succeeding in spite of, not because of. What you need, according to Goldsmith, isn't just a "to do" list, but a "to stop" list. Turning conventional wisdom on its head, the book advocates for assessing your own behaviors and retooling what's necessary to keep advancing. Be warned: One reviewer said the book is "a difficult read because you recognize yourself in the examples of undesirable behaviors." Fortunately, that's the first step to changing them.