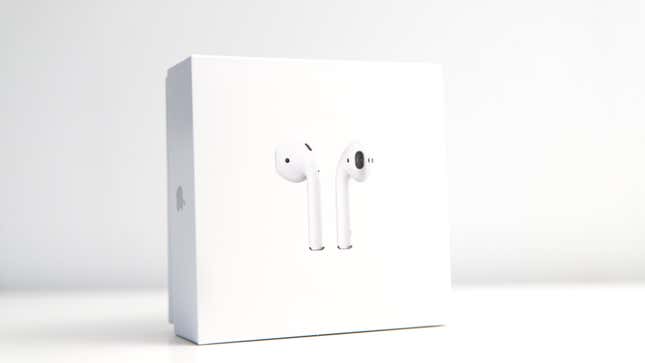 Walmart's early Black Friday deals are now live, with deals on smartwatches, laptops, TVs, and vacuums. They are the third major retailer after Target and Best Buy to kick off their Black Friday deals. Early Black Friday deals are actually good this year, and you should be checking them out if you haven't already. One of those great deals is the second-generation Apple Airpods, currently going for $69 (originally $129), their lowest price yet, according to Honey's price history.
One thing to keep in mind is that this AirPod model comes with the standard lightning charging case, not the wireless charging one. The second-generation AirPods have also been $99 at least since the summer, according to Honey. Still, this is one of those early Black Friday deals that will likely sell quickly. Apple products don't usually go on sale that often or have great discounts like this one.
The second-generation Apple AirPods came out in 2019 with an "average" review from PCMag, getting a 3 out of 5. Keep in mind there have been upgrades on the AirPod generation, with the third-generation AirPods coming out in 2021, as well as the AirPods Pro, which came out in 2019. We have a guide comparing the three earbuds so you can see how they fare against each other. You can expect to get up to five hours of listening time with a single charge of the second-generation AirPods or about three hours of talk time on a single charge. The Lightning Charging Case will give you extra juice to last longer, though, with three hours of listening time for just 15 minutes of charging.
If you're an Apple person and looking for some good, reliable earbuds to seamlessly sync with your iPhone, then consider getting a pair while they're this cheap (or maybe getting a pair to gift for Christmas).