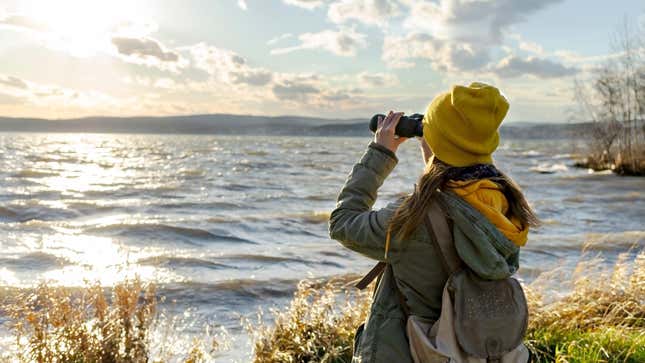 Binoculars are great for birdwatching and sightseeing—but what if you could also record or snap a photo of everything you see through them? That's what you get with these 12x zoom HD Camera Binoculars, and now through July 14, you can pick up a pair of them for 50%—or right around $100—with free shipping.
Binoculars that double as a digital camera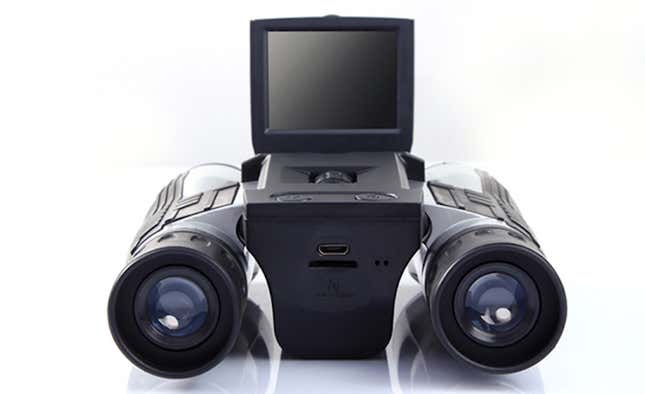 This pair of digital binoculars can be a fun and functional tool for hikers, hunters, bird watchers, and outdoor enthusiasts of all kinds. They're compact, portable, have a long battery life, and give you a chance to share your adventures with others.
The binoculars show you the world at a 12X magnification, and can also snap a photo or record video. The buttons on the top control the zoom, video, and camera settings, and a fold-out two-inch LCD screen can be used to play back your videos. That way, you can check to make sure you have the shot you wanted before moving on.
Photos and videos are saved to the included 8GB TF card in JPEG and AVI formats, respectively. Memory cards can be easily swapped out if you need more storage.
These binoculars are designed to take some punishment. They're waterproof with anti-fog, anti-dust, and anti-shock construction. Their anti-reflective coating, similar to what you'll find on headlights and eyeglasses, limits water filtration and improves light transmission.
Though a pair of HD Digital Camera Binoculars may be a fun gift, the photo and video quality may not be ideal for experienced hobbyist photographers or professionals. However, the novelty of the combined binoculars and camcorder may appeal to new bird watchers or hikers who want to don't want to carry around too much extra gear.
Save $100 on a pair of digital camera binoculars
Get a fun gift for a shutterbug/outdoor enthusiast. Until July 14, get a pair of HD Digital Camera Binoculars for $100, half off the retail price of $200  (though prices may change at any time).