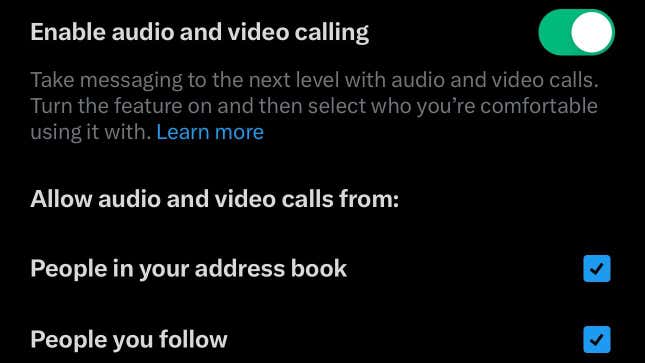 I have plenty of ideas for useful features for X (formerly known as Twitter), but audio and video calls aren't on my list. Unfortunately, they seem to be on Elon Musk's, as the app now allows users to call one another for some reason. Yay?
Maybe I'm just not the Tweep I used to be, but I can't fathom wanting to place (or receive) a call on X. If I want to jump into a video or audio call, I'll do it from one of the dozens of other platforms that either integrate the feature or are the feature. (We don't get to use Circles anymore, but, sure, calls.)
The worst part is, calls are enabled by default. If you do nothing, your account is primed to send and, notably, receive audio and video calls. Luckily, not just anyone can call you—only people in your address book and people you follow can give you a ring. But you probably follow a lot of people you don't ever want to be able to reach you by video call. If you want, you can even allow all verified users to call you, but, honestly, who would want that? Maybe it would've meant something in the past, but now that crowd includes everyone willing to spend $8 on a blue check.  Hard pass.
So, here's how to turn off this feature.
How to disable calls on X
It's not hard to turn off calling on X, but the process isn't entirely obvious. To start, open the app, then head to Settings and privacy. Tap Privacy and safety, then Direct messages, then hit the toggle next to Enable audio and video calling.
If you want to keep calls enabled, you can adjust who can call you by tapping the checkmarks next to People in your address book, People you follow, and Verified users.