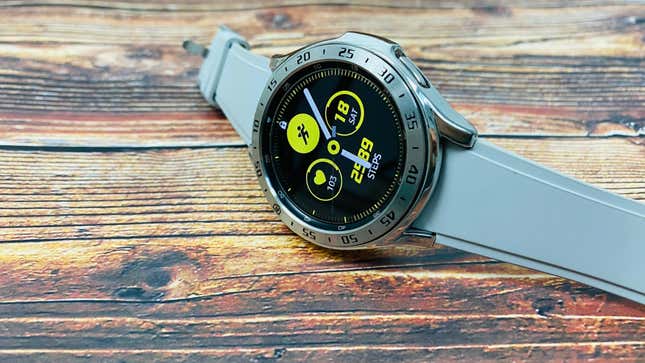 The unlocked Samsung Galaxy Watch4 Classic LTE 46mm is currently 58% off at Woot until September 30. You can get the smartwatch for $179 (normally $429) at Amazon's overstock website for a price last seen during Prime Day discounts this summer, according to Honey's price history.
Note that Woot only ships to the 48 contiguous United States. If you have Amazon Prime, you get free shipping; otherwise, it'll be $6 to ship.
Find out body composition right on your wrist
The Samsung Galaxy Watch4 Classic was first launched in 2021, and garnered an excellent review from PCMag. The smartwatch reads your body fat, skeletal muscle, body water, basal metabolic rate and Body Mass Index. It also tracks your sleep schedule to help monitor your SpO2 levels. It even tracks your snoring. You can also share personalized readings from its ECG heart monitor with your doctor using the Samsung Health Monitor app.
This unlocked LTE version lets you connect with any phone running at least Android 6.0 (unfortunately, it's not compatible with iPhones) for any carrier service. It lets you talk, text, stream music, and more.
One of the main complaints about this smartwatch has been its battery life. It runs about 29 hours with normal to heavy use, so you can expect to charge this watch daily. The good news is that it charges pretty quickly. A 30-minute charge gives the Watch4 Classic a 10-hour battery life.
More than just your body data
Samsung Galaxy Watch 4 Classic Review (46mm) | Is Bigger Better?
The Watch4 Classic goes further than the conventional smartwatch. It is the first watch to be able to run Google apps, like Google Maps (so you'll never get lost on your runs again) and the Play Store, as well as Samsung features like Samsung Pay and SmartThings, if you like connecting to your home's smart hub.