Loading a bar is easy, right? You just put the plates on; and at the end of the workout, you take the plates off. But if you've ever stood befuddled in the middle of the weight room, you might wonder why nobody ever told you how, exactly, to do this. There are little tricks and movements that experienced gym-goers know, and simple facts and tools we take for granted. Today, I'll let you in on all the secrets. And chances are, even if you've been lifting a while, you'll learn at least one new thing today.
What exactly is a barbell, and when do I use it?
Yep, we're starting with the very basics. A barbell is a long bar—long enough to easily put both your hands on—that is weighted so you can do exercises with it.
If you have trouble remembering which one is the barbell and which are the dumbbells, it might help you to know some history. A "dumb bell" literally means a bell (like the kind you ring) that does not make noise. It's unclear, historically, whether early dumbbells were made from old bells, or if someone thought they looked like bells, or if it was just a reference to the idea that you might exercise with them by swinging them around—which was popular at the time.
In any case, the weights you hold in each hand are dumbbells. A weight that has a handle on top, like a teakettle, is a kettlebell. And a weight that has a long bar as part of it is a barbell.
I have a guide here to the different kinds of barbells you might find at a gym. The basic types I'll talk about today are these:
Fixed barbells: The weights are permanently part of the bar. You might find these in a rack near the dumbbells. The handle might be straight or it might be wiggly. You don't load weights onto these, because the weight is already on there. We won't talk about these any further today.
Shorter and ez-curl barbells: These are short, maybe four feet long, and might be kept near the dumbbells in your gym. They might be straight, or they might be wiggly (which is called an "ez-curl" shape, because it's more comfortable on your wrists when doing bicep curls). You'll still need to load plates onto these to use them. Most of the tips in this article will apply to these as well as to the full-size barbells.
Full-size barbells: These are roughly seven feet long, and are wide enough you can use them in a

power rack

or a bench press rack. You need to load plates onto these. These are the main thing we'll be talking about today.
How do I know how much weight to put on?
First, do a few reps of your exercise with the empty bar. (This is a normal part of warming up, anyway.) A full-sized barbell weighs about 45 pounds empty. (Curl bars will be lighter, often 20 pounds or so.) How did that feel? If you think you need more weight to get the exercise to feel challenging enough, it's time to load some weight. The simple answer to "how much?" is: Add some, and if that's not enough, add more. If you want a longer answer, I've written about that here.
And yes, you count the full weight of the bar. If you put a 10-pound plate on either side of a 45-pound bar, you are lifting 65 pounds.
The biggest plates in most American gyms are 45 pounds, so people will talk about benching (or squatting, or deadlifting) "a plate" if they use one full-size plate on either side of the bar. That would be 45 on each side, plus the 45 pound bar, for a total of 135 pounds. "Two plates" would mean you're lifting 225; "three plates" is 315, and so on.
How to pick up a plate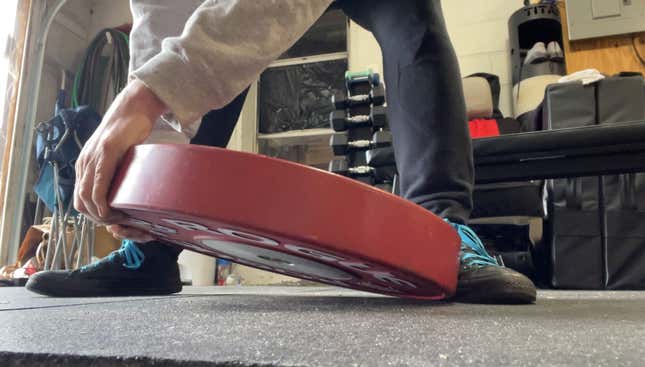 I told you we were covering the basics! Plates are usually stored on holders around the gym. You put your hands on either side of a plate (at 9 and 3 o'clock), and pull toward you.
As the plate comes off of the pin, make sure that you're ready to hold the full weight of it. You can lower the plate onto the floor or onto your body (putting the bottom edge of the plate onto your belt or belly, or the front of your thigh) to rest it while you reposition your hands, if needed.
If a plate is on the floor, put your foot against it, then put both hands on the other side of the plate, opposite of where your foot is. Use your hands to press the plate into your foot as you lift up. Then you should be able to get your fingers under it, and lift it as usual.
When lifting anything from the ground, treat it like a deadlift. Keep your back straight(ish), hold on tight, and stand up. If you've been taught to "lift with your legs," that works too. Either way, keep the weight close to your body.
How to carry a plate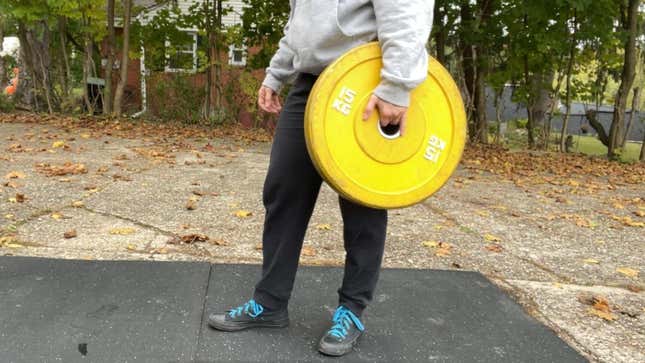 If you're loading a plate on the ground (for a deadlift, for example), you don't need to carry it at all. Roll it to its destination.
If you want to carry it, or if you'll be loading it at squat or bench press height, hold the plate at both sides (9 and 3 o'clock again). You can rest the bottom of the plate on your belly or on the front of your hips as you're walking.
Another way is to hold the plate under your arm, with your hand in the center hole. If the plate has a handle built in, or if your hands can comfortably hold it by the lip, you can also carry it that way.
How to load and unload the bar for a deadlift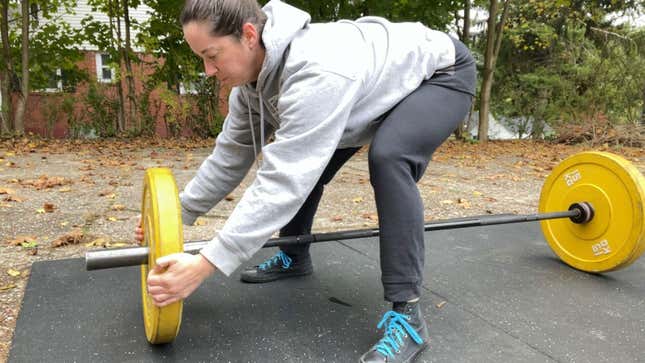 Carry or roll the plate to your deadlift platform, or wherever the empty bar is waiting for you. (If your gym doesn't have a platform, find a place on the floor where you won't be in anybody's way.)
To load the first plate: Stand the plate on end, and insert the bar into the plate. Push the bar through until it won't go any further.
To load a plate on the other side, stand the plate on end and roll it over to the still-empty end of the bar. You should be standing closer to the center of the bar, so that when you get the plate on you'll be pulling it toward you. Wiggle the plate around until you can get the end of the bar into the hole in the plate. Then, straddle the bar and hold the plate at 9 and 3 o'clock. Pull hard with both hands to pull the plate onto the bar.
To load more plates, roll the first plate onto a small plate if possible, to hold the bar a smidge higher off the floor. (If your gym has a deadlift jack, use that instead.) Then, do the same as above: Get the end of the bar into the hole of the plate, then grab it on either side and pull hard.
Apply collars or clips when you're done.
To unload the bar, prop it up on the small plate or the jack again, and pull each plate off, one at a time, hands at 9 and 3. That's one side down. For the second side, just remove the collar, and pull the bar out. (You can tip the bar on end, which is sometimes called the "excalibur" move because it's like you're pulling the mythical sword out of the stone, but this really isn't necessary. Just slide it out sideways.)
How to load the bar for a squat, bench, or any lift that uses a rack
For these lifts, the bar will be in a rack. Set the bar to the proper height, set the safeties, and make sure the bar is facing the correct direction. (I've got a guide to all of that stuff here.)
Pick up the weight as we described earlier, and carry it over to the rack. You can bend and straighten your knees to give the plate a little boost as you lift it up to the end of the bar. Once you've gotten the hole of the plate onto the end of the bar, put your hands at 9 and 3 o'clock (if they weren't already) and push with both hands as far as the plate will go. Repeat for the other side.
When loading or unloading the bar, you don't want one side to be empty and the other side to be fully loaded with multiple full-sized (45 pound) plates; the bar will tip. So load one plate on each side, then load the rest, one or two at a time.
To unload the bar, just reverse what we did above, holding the plates at 9 and 3 and pulling. Take off one or two plates at a time and carry them back to their home.
How to use collars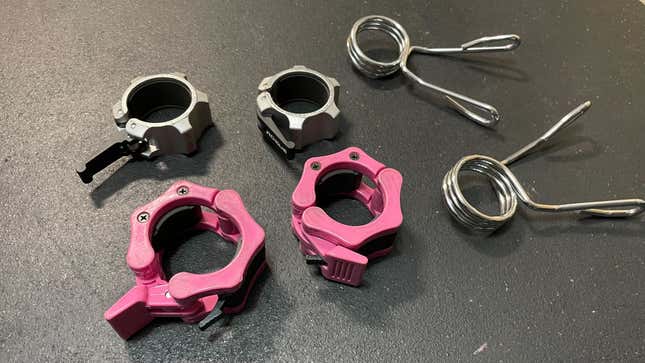 To keep the plates snugly on the bar, you can use collars. These come in different varieties. Some are spring-loaded metal clips with long handles, and some are plastic with a latch.
Whichever kind you use, make sure the plates are snugged up to the bar, with no gaps between them and the central part of the bar. Apply the clip. Do the same on the other side.
Some gyms will require you to use collars on every lift. Some gyms will prohibit you from using collars on bench press. The idea there is that if you're ever unable to finish a rep of bench, you can pull down on one side and push up on the other, thus sliding the weights off one end of the bar. (That end of the bar will then slingshot up as the weights on the other end pull it down; hold on tight so it doesn't go flying.) This isn't the only way to stay safe on bench press, so it's much better to use safeties if your bench rack has them, or simply brace your core and roll the bar down your body until you can sit up. But if you're asked to not use collars on bench, this is why.
Does it matter what plates I use or which order I load them in?
For etiquette purposes, yes. Use the largest plates you can, and load the largest ones first.
So, if you want to lift 125 pounds (40 on each side of a 45-pound bar), you could load a 10, then another 10, and then another 10, and another. But now you've used eight 10-pound plates, and everybody else who wants a 10-pound plate is mad at you.
Instead, you should load a 25-pound plate, and then a 10, and then a five. After you do that, if you'd like to go up to 135 pounds (45 per side), don't just add another five-pound plate to each side. Strip all the weights off and swap them for a single 45-pound plate.
Which way do the plates face?
The short answer is that it doesn't really matter. For a slightly longer answer, it may help to know that in competitions, plates that have a "front" and "back" side are usually loaded this way, for maximum visibility:
The first plate on each side is loaded with its front toward the center of the bar (facing "in")
All the other plates are loaded with their front facing away from the center of the bar (facing "out")
Some people like to load all their plates facing inward. Call it a custom, or a superstition ("keep the power inside the bar"). Whatever the reason, if you find yourself in a gym where everybody does this, follow along. You'll look like you're in the know.
At many gyms, the big plates look the same on both sides, and this question doesn't matter. My personal opinion is that small plates (like fives and 10s) should always be loaded facing outward, because otherwise it's hard to tell how much weight you have on the damn bar.
When can I use bumpers?
If your gym has regular iron or plastic-coated plates, but then it also has a set of thick, rubbery, maybe colorful bumper plates, you may be tempted to use the bumpers because they look cooler.
The purpose of bumper plates is to absorb impact when they hit the floor. Olympic weightlifters use bumpers for everything; they will routinely drop a loaded bar from overhead onto the floor. If your gym allows Olympic-style lifting, that's what the bumpers are there for.
There's another use, too. In a gym that has both types of plates, the bumpers are often preferred for deadlifts. You may not be dropping your deadlifts, but using bumpers makes these lifts a little quieter, and puts less wear and tear on floors that may not be designed for bar drops.
All that is to say: If your gym only has a few sets of bumpers, please do not use them for squats, or bench, or load them on the leg press. Keep them available for people who are doing lifts that benefit from bumpers.