I'm no stranger to the tempting world of Italian carbs. I've had flavorful pizzas, fluffy zeppoles, and strombolis stuffed to near bursting. Yet, I feel betrayed. Why did it take over 30 years for me to hear about panzerotti? And why isn't it happening in every pizzeria, restaurant, and home kitchen world-wide? I would like to change this, if I may. Grab some frying oil and the nearest pizza dough, and let's make panzerotti.
Panzerotti are small, half-moon shaped dough pockets filled with cheese, herbs, tomato sauce, and other things you might enjoy in a calzone or on top of a pizza. (You're already halfway there if you know what a calzone is.) The dough is a lean dough (not enriched with eggs and butter), the same kind you'd use for a pizza crust, stromboli, or a calzone. The thing that changes everything is the cooking method. Panzerotti do not get slid into a woodfire oven, nor do they get baked in a conventional oven. Panzerotti are lovingly deep-fried.
You can start with homemade pizza dough, or you can grab a 16-ounce pre-made bag-o-dough from the refrigerator or freezer section of your grocery store. That's what I did, and I have no regrets. Bring the dough to near room temperature. It's alright if the dough is cool to the touch, but it shouldn't make your fingers hurt, and certainly shouldn't be frozen. You want to be shaping the panzerotti while they start to proof, so by the time you drop them in the oil, the pockets have been primed to fully rise in the hot oil.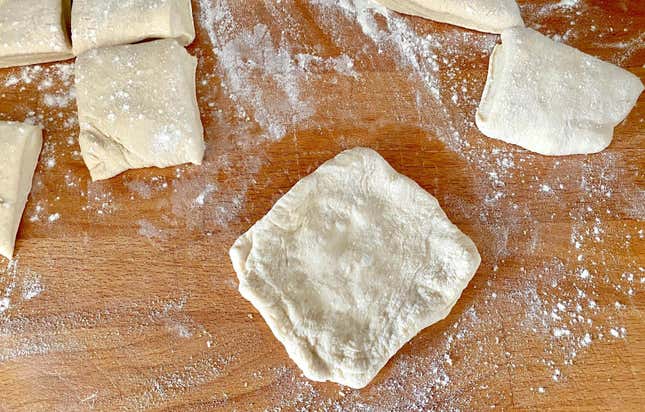 Flour your work surface and stretch the dough into a rectangular-ish shape. Divide the blob into eight equal chunks. Stretch each piece out until it's thin, with an even thickness. Don't be dismayed if the dough doesn't want to stretch out yet, the gluten has a mind to tighten up when being stretched. Do a preliminary stretch of each piece. Don't force it or you could rip the dough, and holes will allow filling to explode in your hot oil. When you finish the initial stretch, go back to the first one and start a final stretch. The gluten will have relaxed by the second round, and you'll get a little more surface area out of it. I stretched each piece to about a five-inch amoeba shape. You can try for a circle, but don't stress about it, they'll sort out later.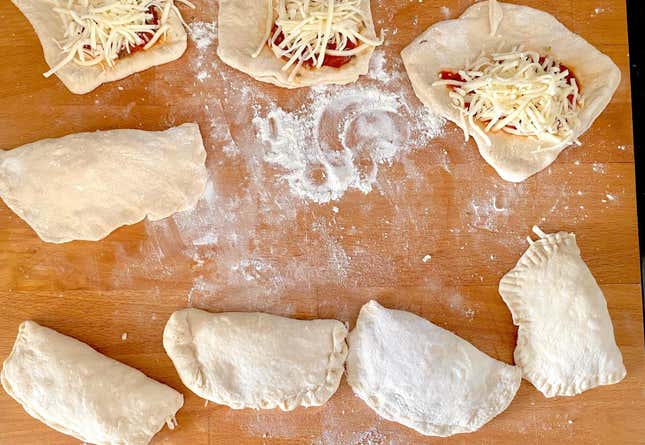 I added a small spoonful of tomato sauce, some dried herbs, and a couple tablespoons of shredded mozzarella cheese to each piece. Fold the dough over into a half-moon and press the edges to seal. I tried a few different sealing methods but the best way was a simple, firm press with my fingertips. I don't recommend using a pointy implement like a fork. The prongs could make holes and you'll run into filling explosions later. (Speaking from experience.) Drop one or two into 360°F-375°F deep frying oil and cook for about two minutes per side, or until well browned and puffed. Blot them onto some paper towels and allow them to cool for a few minutes on a wire rack before diving in.
---
Panzerotti tools you might need:
A heavy bottomed pot: Lodge Cast Iron Deep Skillet
A deep frying thermometer with clip: Deep fry thermometer
A spider for safe, easy retrieval: Stainless steel and bamboo spider
Or make things easier with a deep fryer: Cuisinart electric deep fryer
---
The flavor and texture of the panzerotti is unmatched by an oven baked calzone. I thought the dough would feel heavy, but it was the exact opposite. The dough transforms into a pillowy, light, springy, soft, yet crisp encasement. The outside forms a golden brown crust riddled with teeny, tiny bubbles, and once you crack into it you can see the inside of the dough has fully risen and made way for larger bubbles that translate to an overall spongy texture. The filling was hot and the cheese was the kind of gooey that stretches for a full arm's length. The only thing I'll do differently next time is add some sausage.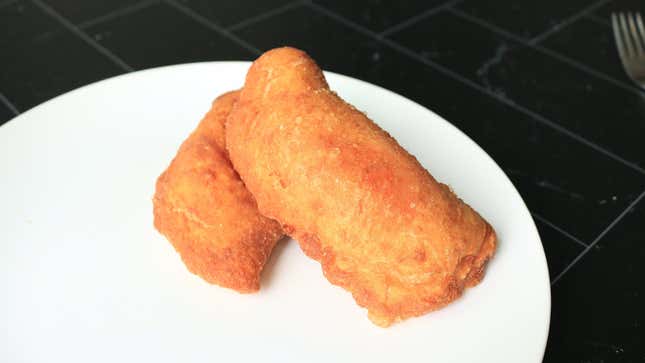 Just for the sake of it, I tried air frying a few panzerotti. The results were as expected–not as great. Deep frying truly has a different effect on the dough, changing it from dry and chewy to springy and tender. It's something you just can't fake with the air fryer. And that's okay, the air fryer deserves a break, and heck, you deserve a treat.
Simple Panzerotti
Ingredients:
Frying oil (I used canola oil)
16 ounces of pizza dough, thawed and room temperature
½ cup of marinara (or other tomato sauce)
1 cup of shredded mozzarella
2 teaspoons Italian seasoning, dried basil, or a few leaves of fresh basil, chopped.
Add oil to a deep, heavy-bottomed pot. You need enough to reach a depth of about two inches. Heat the oil to 360°F-375°F over medium heat.
Dust a work surface with flour to keep the dough from sticking, and stretch the pizza dough into a rough rectangle. Cut it into 8 equal pieces. Stretch the pieces into 5-inch circular shapes. Divide the marinara and cheese evenly amongst the disks, leaving a small border of dough around the edge to seal them later.
Sprinkle the dried herbs over each pile of filling, or add a leaf of fresh basil (if using). Fold one side over the filling into a half-moon shape and firmly press down on the edges to seal them together. Drop the panzerotti into the hot oil one or two at a time. Cook for about two minutes on each side, or until puffed and well browned. Cool before eating.