Fruit seasons are short. Strawberries are out for a few weeks, then cherries fill the shelves, followed closely by ripe nectarines and peaches. Forty-five seconds later, they're all gone and we're left with apples (again). In order to cram as much summer fruit into my tum-tum as possible, it helps to have a few novel preparations at my disposal. Pies and cobblers are nice, but this fruity dessert lets you cool off with no oven time. Great any time of year, but especially for summer, you should make yourself a Japanese fruit sandwich.
The Japanese fruit sando, also called a "fruit sandwich," is delightfully simple to make, requires few ingredients, and highlights any fruit, or fruits, you fill it with. It's like a sandwich version of a strawberry shortcake, or mixed-fruit shortcake, except the "cake" is a not-so-sweet bread slice. All you need is some peeled fruit, soft bread, and sweetened whipped cream.
I started with a little bit of plastic wrap laid out on a plate. This is to wrap the sandwich up after filling it, but you can use an alternative wrap (I like Bee's Wrap), or just put it in a container with a lid. Lay out a slice of soft bread. You can use sliced white bread, potato bread, challah, milk bread, or sliced brioche like I did.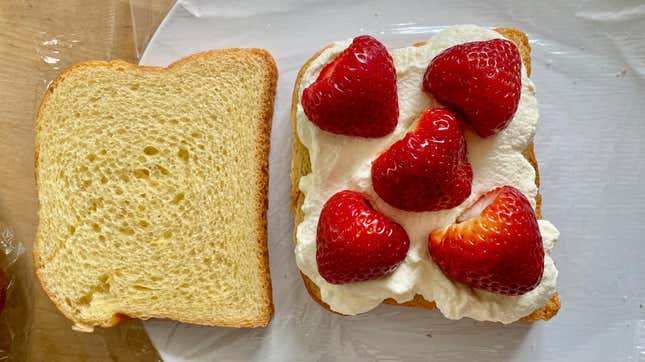 Spread about half of the whipped cream onto the slice of bread. Don't worry about matching up the corners perfectly. Add the fruit. Part of the fruit sandwich's allure is the presentation, so think about where you'll cut it in half and line up the fruit along that imaginary line. Cover the fruit with the rest of the whipped cream, trying your best to sneak it in between and around the fruit pieces. I gave the plate a couple firm taps against the counter to coerce the whipped cream downward. Place the second slice on top and give the sandwich a gentle press to get good contact.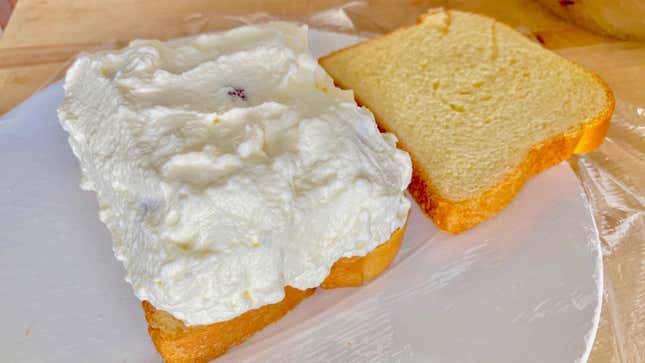 ---
Making fruit sandwiches all summer calls for the right equipment:
---
Clean any bulging whipped cream off the edges. Eventually we will take the crust off, so this cream is extra. (We call this a snack.) Wrap up the sandwich in the plastic wrap (or put it in a container) and pop it in the fridge to set for at least 30 minutes, but three or four hours is ideal. Giving it this time to set will allow the bread to absorb some of the moisture in the cream, making the bread softer, and the cream firmer. This is important for cutting it later, and the overall texture. If you skip this wait time, your sando will slide apart, or make a squidgy mess when you try to eat it.
After the sandwich has rested, cut off the crusts. This gives the dessert a beautiful finish, but it's otherwise completely unnecessary and I respect the crust-lovers out there who keep it on. Gently prod your sandwich to find where you put the fruit, and cut through for a nice cross-section. This is easy with strawberries, but if you filled the sandwich with smaller, softer fruits then you might need to find them first. I cut through using a serrated knife. The sawing motion and shape of the blade prevents the bread from pinching.
The bread is plush, but not soggy, and slightly sweet. The cream is fluffy and firm, kind of like cool ice cream, and super rich. Just when you think it's too much whipped cream, you get a relieving bite of tangy, bright fruit. Keep it simple with strawberries, or mix it up with different fruit combinations, like halved mandarin oranges, bananas, melon, and/or kiwi. Enjoy your fruit sando with a hot, bitter espresso.
Japanese fruit sandwich
Ingredients:
4 ounces heavy whipping cream
1 teaspoon sugar
¼ teaspoon vanilla extract
5 strawberries (or other ripe fruit, peeled or hulled)
2 slices of soft bread (milk bread, challah, or brioche)
Whip the cream with the sugar until you get a medium-firm peak. Fold in the vanilla extract. Spread half of the whipped cream onto one slice of bread. Top decoratively with fruit. Spread the rest of the whipped cream between the fruit pieces and all over the top. Top with the other slice of bread and press gently. Wrap the sandwich in plastic wrap and let it set in the fridge for three or four hours.
Cut off the crusts, and cut the sandwich in half, making sure to cut through fruit to show the decorative pattern. Enjoy as a cool dessert, or snack, on a hot summer day.