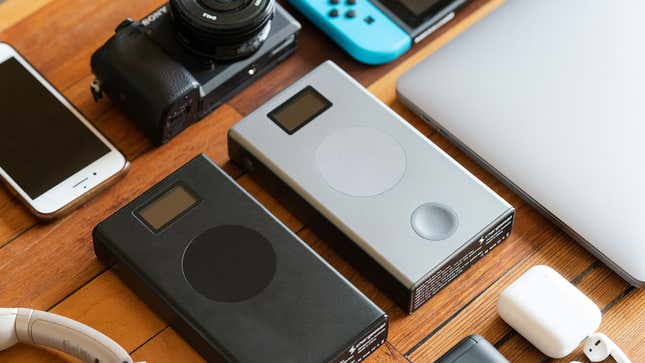 With thousands of backers on Indiegogo, the Flash Pro Plus 6-in-1 power bank includes three USB-C ports to charge your tablets, phones, and any other USB device; its graphene battery was specially designed to allow for faster charging at lower temperatures; and it also supports Apple fast charge for iPhones, AirPods, and Apple watches. It even has enough capacity to charge a laptop, thanks to the 100W USB-C port, and features a 5W Apple Watch wireless pad in addition to the 15W magnetic wireless charging for Magsafe-compatible devices.
In addition to the three USB-C ports and the two wireless charging pads, the Flash Pro Plus has a 50W USB-A port, compatible with Oppo (50W), OnePlus (50W), Vivo (50W), and Huawei (22.5W). It also has a 1.3″ OLED display, which shows you real-time information about battery percentage and power output from each port. It boasts a five-year battery life, weights 1.28 lbs., and is TSA- and EASA-approved for safe airline travel.
If you want to charge your wired and wireless devices simultaneously on the go, the Flash Pro Plus Power Bank is great, and it's on sale for $229.99 (reg. $319), though prices can change at any time.
Now Shipping – Flash Pro: Charge up to 6 devices at the same time