The Apple Watch Series 9 and Apple Watch Ultra 2 are two of the most anticipated smartwatch releases this year, with all eyes on Apple to see just how its top wearables will perform when placed side-by-side. Is the more expensive Ultra 2 going to be worth the extra cash, or are you better off just sticking with the Apple Watch Series 9? Here's what we know following Apple's big 'Wonderlust' September event.
Pricing
One of the most obvious differences between the Apple Watch Series 9 and the Apple Watch Ultra 2 is the price. The Ultra 2 is the more premium of the two devices, priced at $799. That includes the 49mm face as well as a GPS + Cellular configuration.
The Apple Watch Series 9 doesn't stray from Apple's past pricing models for its smartwatches: The 41mm model starts at $399, while the 45mm starts at $429. Add $100 on either configuration for GPS. If you want stainless steel, which only comes in the GPS config, you'll pay $699 for the 41mm and $749 for the 45mm.
You can order both today, and they'll be available for purchase starting Friday, Sept. 22.
Design and features
While the Series 9 and Ultra 2 are very much different smartwatches, they share a lot of similarities. Both devices launch with watchOS 10, the latest version of Apple's smartwatch operating system. The Apple Watch Ultra 2 offers a more rugged design and more outdoor-friendly features than the Watch Series 9, including additional a stronger frame and a higher peak brightness of 3,000 nits. The Series 9 reaches a maximum brightness of up to 2,000 nits, which is a great range for most people.
The Watch Ultra 2 is designed for outdoor use: You find things like a built-in siren as well as the longest battery life for any of the Apple-branded smartwatches on the market right now. The Ultra 2 also brings the same added functionality of the Action Button, which we saw with the first-generation Ultra before it.
Overall, the design and features of each devices aren't leaps above the Watch Series 8 or the previous Ultra, but we do get the faster S9 chip on both models. This chip has a beefier CPU and GPU than previous chips, with a four-core neural engine, which allows for on-device Siri processing. It also comes with a second-gen Ultra Wideband chip, which makes it even easier to find your iPhone using Find My or communicate with your HomePod speaker.
The Series 9 has an 18-hour battery life, while Ultra 2 has a 36 hours on typical use, and 72 hours on Low Power Mode. The Watch Ultra 2 also features more recycled material in its manufacturing and additional coloring options for those who want them.
With both devices, Apple has introduced a new one-handed gesture for using Apple Watch: Double-Tap. Tap your index finger and thumb twice to control the primary button in an app, so you can do things like answering a call on your watch, snooze an alarm, and scroll through your widgets on your watch face.
The idea behind this most recent Watch lineup seems to be evolution rather than revolution—building off the success of the previous devices, while helping to push things just a little bit further with more accurate readouts and efficiency.
FineWoven bands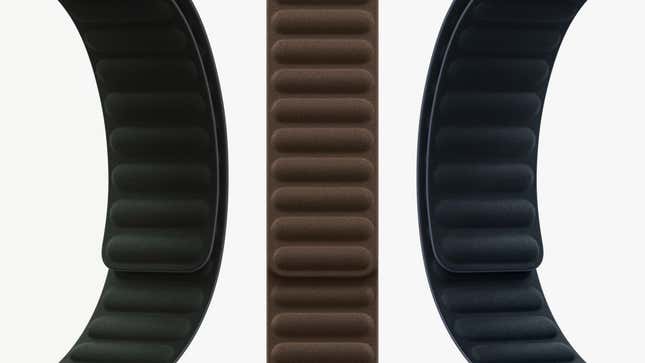 FineWoven is a new material for Apple Watch bands that is more environmentally friendly than leather. In fact, Apple is retiring leather in its products, including watch bands and iPhone cases.
Apple is also partnering with Hermes and Nike to add new bands to its offerings.
Which Apple Watch should you choose?
Ultimately, you aren't going to find many differences in the day-to-day use of the Apple Watch Series 9 and the Watch Ultra 2. However, the devil is in the details, and if you're planning to do a lot more outdoor work, or just want a larger device, then the Apple Watch Ultra 2 will be the best option. It is more expensive, but its frame is stronger, and the larger display means you can interact with it more easily while out in the wilds.
If you just want a great product that's going to deliver on everything Apple has already shown it can do well with the Apple Watch lineup, then the Watch Series 9 will be more than enough. It's also much cheaper.
And given neither model received major design changes or new features of the smartwatch, you might not find much reason to upgrade at all. Hopefully net year's release of the Apple Watch Series 10 (or whatever Apple decides to call it) will include more radical changes for the wearable's decade birthday. That said, the Apple Watch continues to be an excellent wearable with a ton of great features.