Even though cannabis has a multi-millennia history as a plant used for religion, wellness, and recreation, humans eventually had to mask its existence as prohibition swept the globe—not just the United States. Slang, nicknames, and wordplay have been a part of extralegal activity as long as we've had laws.
We can thank slang terms for helping to keep the passion of the plant alive, but let's also be honest: Sometimes coded language can be confusing—especially for newer consumers.
Smoking cannabis works just like tobacco—wrapped up in something else that's smokeable, or consumed in one of the traditional styles of its indigenous stewards, in a pipe-type format. Some choose one over the other, but in many cultures and regions, people mix the two, which can be a surprise for someone not expecting either straight weed or the adrenaline hit of even just a few flecks of tobacco mixed in.
Wrapped-up and smokable cannabis has many names: joint, blunt, spliff, preroll, bone, stick, roach, cannagar, and others, to name a few. Some of these terms even have different meanings in different regions of the world, so what's a smoker to do when they're not sure?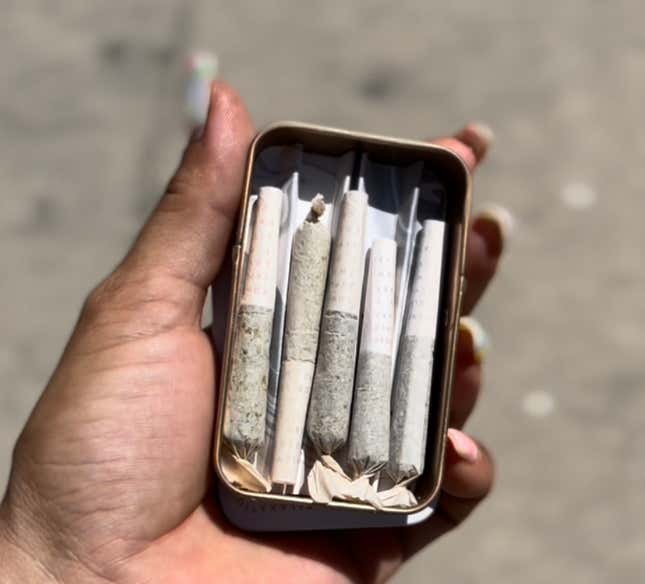 The basic joint
Joints can be pleasurable and fun for the smoker, granting a social, shareable ticket to a delightful buzz, but what's inside them? Straight-up weed, for the most part. Rolled or stuffed into pre-made cones, joints are among the top methods of consumption.
"Just" weed can still mean a few things; there are still some variations on the joint that you should be aware of. Generally, joints are wrapped or stuffed in paper, but even that can be vague. These papers can come from hemp, rice, tea leaves, or even clear, smokable cellulose. Some papers are flavored, most are not, and they come in an array of sizes allowing you to get up to 3.5 grams, known as an eighth, into the biggest king size papers.
Joints are usually pure cannabis, but that includes cannabis extracts—so lightweights, take heed. Folks roll up with added hash, concentrates, butters, waxes, and diamonds, and even dip and decorate joints with colorful kief and designs with cannabis. Joints with added potency are called infused joints, so you'll want to ask first if you aren't what's known as a "heavy hitter."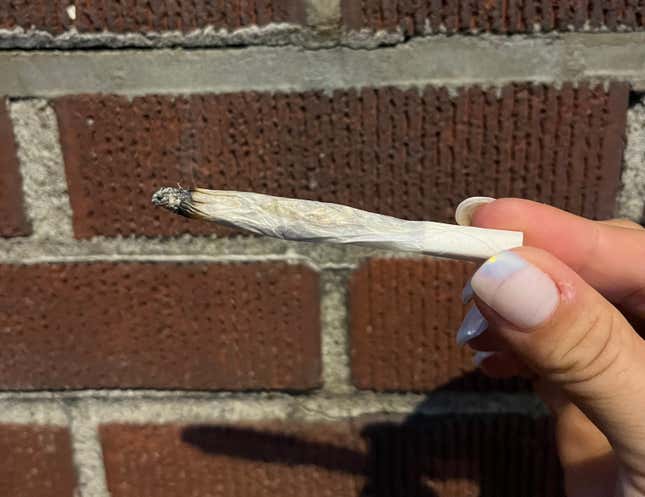 Spliffs are an in-between
In America and the UK, a spliff means a joint that's rolled with tobacco and cannabis, with the ratio fully up to the roller. Like a joint, these are typically wrapped in paper or paper-like wrappers. Across the pond, cannabis is smoked in smaller quantities with tobacco; flower can be harder to come by, so hash is really common, and often what's inside a eurospliff.
Over in the US, a spliff with less than 25% cannabis is seen as a bit of a faux pas, whereas a stronger 70% ratio should come with a warning to the average casual toker who may be expecting less of the strong stuff. "Roller's rights" is a stoner tradition where the roller gets the first hit, and in the spliff world, they're also choosing the tobacco-to-cannabis ratio.
The tobacco inside is itself another cultural variation. In Europe you see a lot of loose tobacco spliffs, where in the US you can see people grab a pinch out of the sack, or even twist off a piece of a conventional cigarette into a paper. In New York City, a Caribbean-sourced, whole leaf tobacco—known as fronto or fronto leaf—is also added to spliffs for a potent punch. Just a strip is torn off the fronto leaf and rolled into a sizable cannabis joint wrapped with paper, so the ratio is a little more weed most of the time.
The term "spliff" itself is said to come from Jamaican English, which is also a region where it has a completely different meaning: there, it's just weed.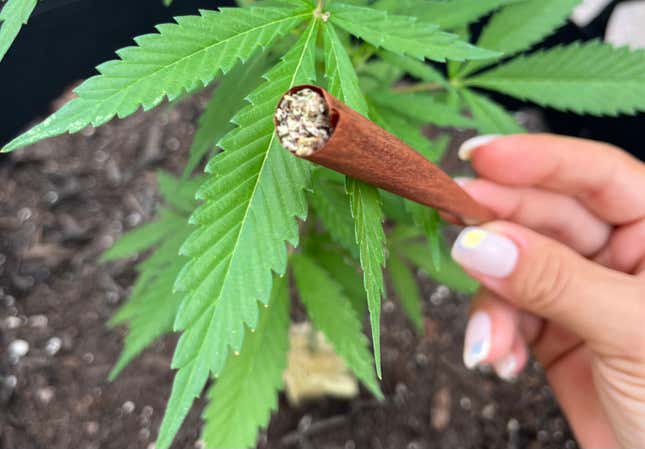 Blunts are their own thing
Think of a blunt as a big joint that's not rolled in paper but instead a cigar's outer shell, a processed tobacco wrap, part of a fronto leaf, or sometimes a thick, flavored sheet of tea leaves or even hemp. Folks even make luxurious blunts with rose petals, dried cannabis leaves, and gold flakes. What makes blunts so special, though, is their shareability.
There's a lot of weed going into most blunts, but to encase all that weed, there's quite a bit of wrapper, too; blunts are known for being much harsher on the lungs and throat, as well as getting people high as shit. The sheer circumference of a blunt is what you're contending with, even if you're taking just one hit; it's coming from an enormous cherry of burning weed, and going to be a lot more physical smoke than a little joint. Beginners, beware.
Joints, blunts, and spliffs all have a few things in common: the cannabis, the community that passing it around can build, and the design. They can be shaped like pretty much anything by the right rollers, even Baby Yoda or a brand's logo.
Some prefer cone shapes, others like a thick cigar vibe, or a slim and short style known as dogwalkers, because you can smoke the whole thing on a quick walk around the block. Whatever you're rolling into your joints, make sure to keep an eye out for quality weed, always share when you can, and always let folks know what you've twisted up if they're new to the game.