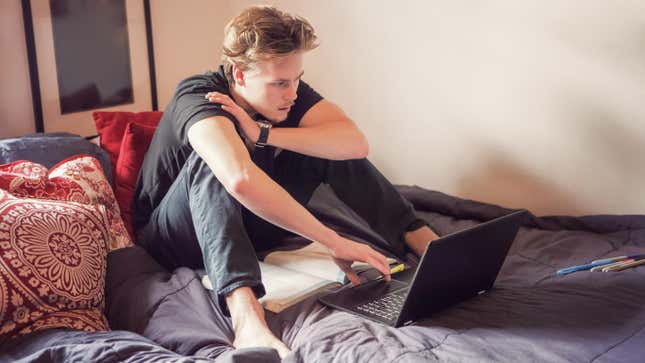 It's back-to-school season, which used to mean loading up on fresh pencils and notebooks—more often now, though, it means loading up on new tech. (Although, you can still buy pencils and notebooks and probably should.) There are a ton of great devices out there right now to help you study and manage your academic life, but it's hard to know where to start. Here's what we recommend.
Tools for studying and working in class
Whether studying in your dorm (or wherever you're living) or working in class, gadgets can give you a major productivity boost. Look into these:
A keyboard cover to stop coffee, crumbs, and dust from gunking up your computer. All it takes is one accident while you're cramming for a test to throw off your whole week. Make sure to get one that is designed for your exact keyboard. For instance, if you use a MacBook Pro,

try this one for $12.95

.
A laptop cooling pad for when you're doing heavy work back to back to back. Laptop coolers save energy and keep your computer from overheating, so you can spend all day doing work without worrying about it getting too hot.

This Ice Coorel version

($21.99) has six-inch fans and is suitable for laptops between 14 and 16 inches, plus it's collapsible, so you can take it on the go.
A second laptop screen so you can see and do more. A portable monitor is helpful when you have to look at references to complete work and don't want to be switching between tabs or minimizing all your windows to see everything at once. They come at different price points, so you don't have to break the bank:

Koorui sells a portable 15.6-inch monitor for $85.99

.
An e-reader tablet to take quick notes—and read your textbooks. You can get a lot of textbooks on an e-reader, meaning you don't have to haul heavy volumes around. Plus, the tablet versions, like the Kindle Fire, can help you take notes or record classes, so you don't even need to bring your computer, either. You can get a refurbished, older version of the

Fire 7 for just $39.99

A portable laptop charger so your computer never dies in class. The charm of old classrooms at big universities wears off instantly the minute you get to class and realize all the seats by the precious few outlets are taken. Whether you're in the library, in class, in the cafeteria, or on the go, you need your laptop functioning so you can get your work done. A portable laptop charger, like the

ZeroKor power bank ($99.98)

, is going to save you a lot of headaches.
Tools for studying and working in your dorm
Studying in your dorm or living space is an unavoidable task made maddening by the existence of other people, who can be noisy or have no respect for your stuff. Here's what you need.
Sleeping headphones to block out noise. These comfy wireless headbands are designed to block noise out and funnel the sounds you want—be it music or white noise—directly into your ears. They're perfect for sleeping or studying, since they are soft and close-fitting, meaning you won't get a headache and they're easy to carry around. Try the

Musicozy sleep headphones

($19.99) which earned a 4.3-star rating after over 21,000 reviews.
A desk-mounted power strip so you're never fighting anyone for an outlet. Your phone, tablet, computer, and countless other pieces of tech all need to be charged, so you should have outlets at your desk to keep them all in one place. The

Emerising power strip

($32.99) has four USB ports and three AC outlets to juice it all, right on your desk.
A lock to protect your tech so no one else uses it. Ever had a roommate who takes your stuff all the time? Clothes are one thing, but the devices you use for school are another. Pick up a combination lock that attaches to the smooth surfaces of your tech to keep them where you want them, even when you're not around. Try the

CaLeQi security lock

($15.99).
A lap desk so you can work wherever you want. Working at a desk is refined, professional, and good for your spine. But working on your bed or the floor is a reality for restless college students. Grab a lab desk, like this height-adjustable

one from Dgear

($59.99), which has a clip to stand your tablet up, a drawer for your supplies, a small lamp, and USB ports, so you won't compromise productivity wherever you are.
A monitor clip so you can see your notes while you work. It's a small annoyance, but glancing down at your paper notes while you work is tedious, so eliminate the issue with the

Kensington Flex Clip copyholder

($9), which attaches to your laptop monitor and holds your documents at eye level.