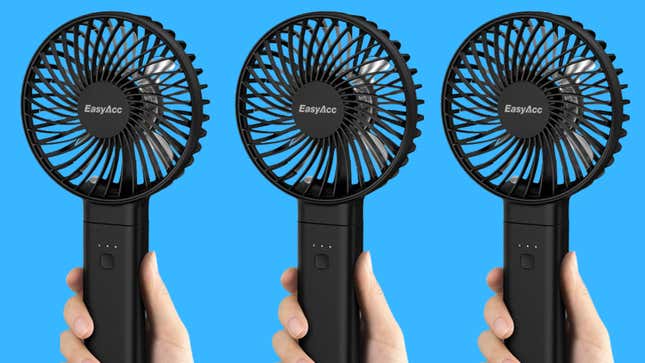 When you're buying something basic, you might think all the products are the same, and just add the cheapest option to your cart. While I can't tell you what to do in every situation, I can gently advise against doing that when picking up a desk fan. Little fans can pack a punch, but you need one with a good design and a powerful motor, so it's worth shopping around for one that will actually keep you cool, whether you're planning to set it up at your desk or next to your bed.
If you need help picking the right fan, it's worth considering what other customers think. Here's a list of the best-reviewed small fans from Amazon: great fans that have fans.
The best handheld fans
The top-rated handheld fan on Amazon, by a mile, is

this one from EasyAcc

($21.29). With 4.8 stars out of 5 and over 5,500 ratings, it's clearly doing something right. Reviewers praise the digital display that shows the remaining battery life and the foldable handle that doubles as a stand.  
Another handheld fan with a near-perfect customer rating, the six-speed 

Bistfy portable fan

($17.99) also features a battery display, but it can go one better by serving as a charging bank for your other devices.
The

VersionTECH mini handheld fan

($16.99) has a lower price point than the other two options listed here and comes in a variety of colors, so it's great if you care about aesthetics on a budget. It's almost as highly rated as its competitors, with 4.7 stars across 25,932 ratings.
The best desktop fans
If you're in need of a desktop-only fan, consider

this model from 

Wastou

($26.99), which has 4.9 stars out of 5. It comes in three colors and according to the reviews, it's powerful enough to cool down your car in the absence of air conditioning. Users report only having to charge it up once a week, so you can move it around without worrying about keeping it plugged in.
A three-speed fan at a good price, the

TriPole small desk fan

($13.99) has nearly 6,000 ratings and a score of 4.7 out of 5 stars, with reviewers praising its power, light weight, and durability.
Finally, if you want to go bigger and get a heavy-duty but fan that retains a smaller footprint, the

WORX Nitro

(99.01) is for you. It's small but mighty: One review said they expected it to work, "but not this well." It has both a wall mount and a carrying handle, and has a battery that will recharge automatically when the fan is plugged in, even when you are using it.