Sangria is the perfect candidate for a simple summer wine cocktail. For those that love sipping on this sessionable, fruit-laced alcoholic beverage, not much is required besides chopping up ripe produce and adding wine. For others, there's a real problem here. Floating fruit chunks crowding your wine. Luckily, there's one perfect vessel that lets you choose whether you want fruit or not, and it's in your coffee-making arsenal. Make every style of drinker happy, and serve sangria in a French press.
Anyone thinking, "Who doesn't like a lovely piece of fruit to chew on while they sip their sangria?" It's me. I don't want it, please. The singular time I find it fun to chew on things in my drink is bubble tea. A glass of sangria with floating chunks of fruit crowding my ice and demanding I chew them every sip is just not my thing. However, I do like the flavor of sangria, so all this time I've just been dealing with the fruit.
---
It's time to outfit your home bar cart with a cute French press:
---
How to make French press sangria
Building sangria in a French press allows folks like myself to drink sangria the way we like it: fruity, but de-fruited. Once you fill the pitcher with cut fruit, wine, syrups, and liquors according to your recipe, insert the plunger stick and simply plunge a few times to mix the drink. Press firmly to squeeze the fruit and extract more juices. To make matters even better, the plunger of a French press is removable. Which means anyone who likes debris in their drink can simply remove the mechanism and–ta-da!–now it's just a jug of sangria, available to fill anyones glass with wine and fruit nuggets. The French press might just be the perfect sangria vessel there is.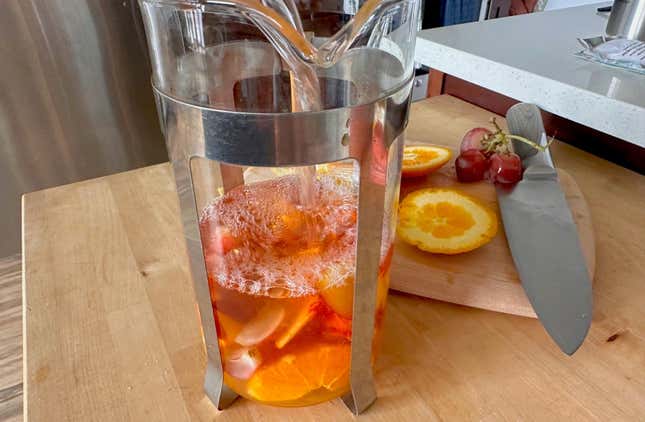 I built a simple rosé sangria in my press. I cut up half an orange, half a peach, and a handful of red grapes—basically the fruit I had laying around today. In went half a bottle of leftover wine, then I put the whole French press in the fridge to chill for an hour.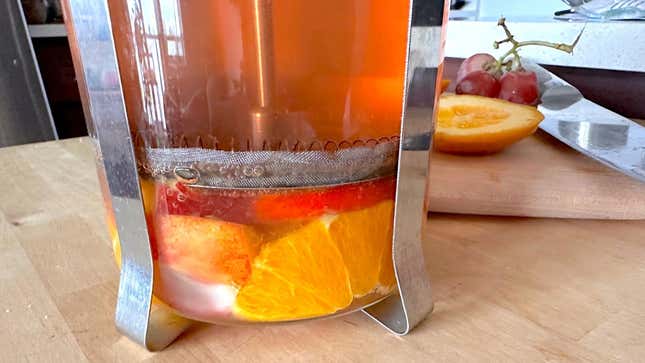 Before serving, I gave the plunger a mighty press and poured the filtered rose into a cup halfway filled with ice. I topped it off with a bit of soda water for some lift. The sangria was bright and juicy, with the barest of fruit pulp swirling amongst the ice. I felt heard.
Sangria is wonderful because it's forgiving; most fruits will contribute welcome, subtle flavors. If you're unsure, read the label to find fruit notes, like cherry, ripe berries, watermelon, lemon, and so on. When in doubt, think about pairing similar colors, so red wine with dark red or purple berries and fruits, rosé with light pink fruits, and white wine with citrus, or light fleshy fruits.
Simple Rosé Sangria
Ingredients:
½ orange, peeled and sliced
½ peach, roughly diced
5 grapes, halved
½ bottle of rosé
Soda water to top the glass (optional)
Add all of the ingredients to a French press. Plunge twice to "stir." Press firmly, and pour over ice. Top with a splash of soda water.