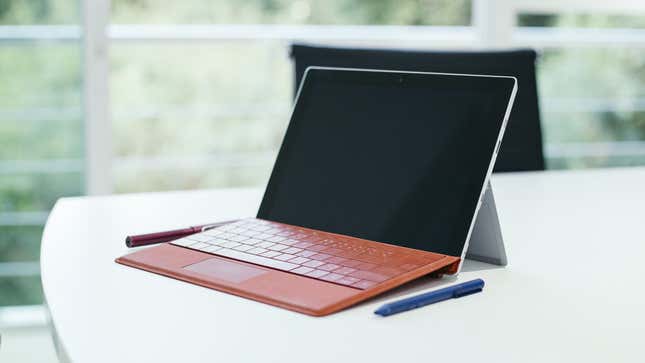 Amazon's Prime Day sale is upon us, and there are quite a lot of laptop bargains to go around, from everyday college laptops, to MacBooks, and even high-end gaming machines. If you are in the market for a laptop, or were planning to buy one soon, this is a great time to do so. From July 11–12, there are deep discounts on models from many makers—including Apple.
No matter what your budget is, there's going to be something here for you. These are the best laptop deals we could find right now.
Everyday Windows laptops
Let's start off with everyday Windows laptops. Something that everyone, from college students to office workers or remote workers can use. They are lightweight, with long battery life and dependable performance.
HP Pavilion Plus 14

with a 2.8K OLED display, Core i7 processor, 1TB storage and 16GB RAM is down to $1,099 from $1,299.

HP 14

is a great budget pick. It's thin, portable, and comes with a 14-inch anti glare screen, AMD Ryzen 5 5500U processor, 8GB RAM, 256GB storage, all for just $424, down from $569.
A lot of different Acer Aspire 5 configs are discounted, ranging from $527 to $730. The

A515-56-702V model

will get you a 15.5-inch Full-HD screen, Core i7 processor, 16GB RAM and 512GB storage, all for just $599.99.

Acer Swift X Creator

laptop is a great choice for well, content creation. You get a light 14 inch laptop with AMD Ryzen 7 CPU, NVIDIA RTX 3050 Ti, fast 16GB LPDDR4X RAM and 512GB SSD, all for just $629.99, down from $920.

Acer Swift Go 14

is another good budget option with a 14-inch screen, Core i7 processor, and 16GB RAM. It's $779 right now, down from $849.99.
If you don't mind spending a bit more cash to get Microsoft's best version of Windows laptops, there are some great deals on Surface laptops too.

Surface Pro 9

is down to $1,599.99 from $2,199.99.

Surface Laptop 5

is down to $1,679.99 from $2,399.99.
Apple laptops
You'll find a lot of discounts on Apple laptops, for everyday uses, and for Pro models.
The

MacBook Air M1 2020

model is a gift that keeps on giving. The base 8GB model with the M1 chip is still a great overall laptop, and at $749.99 it's a steal (down from $999).
The

13-inch MacBook Pro

with M2 chip is down to $1,099 from $1,299. You get 8GB RAM, 256GB storage, the fast chip, but you're stuck with the old screen without the notch.
The latest base model

14-inch MacBook Pro

with M2 Pro chip is down to $1799, from $1999.
Gaming laptops
Want to buy a beefy gaming laptop, but don't want to spend a ton of cash? This is the right time. Some high-end laptops now end up in the budget category, and you'll get a lot of value out of the advanced gaming laptops.
Lenovo IdeaPad Gaming 3

, one of the most affordable gaming machines out there, is discounted to $599, down from $899. You get a 120Hz 15.5-inch screen, AMD Ryzen 5 6600H processor, NVIDIA GeForce RTX 3050, 8GB RAM, and 256GB NVMe SSD.

Victus by HP 15

comes with NVIDIA GeForce RTX 3050 Ti GPU, Core i7 processor, 512 GB SSD, a full-HD IPS display and it's down to $1,149 from $1,219.
There's a config of

Razer Blade 15

that's deeply discounted to $1,922.99 from $$2,999.99. That's a lot of money, but you get NVIDIA GeForce RTX 3070 Ti, 12th Gen Intel 14-Core i7 CPU, a 15.6" QHD screen with 240Hz refresh rate, 16GB DDR5 RAM and 1TB PCIe SSD.