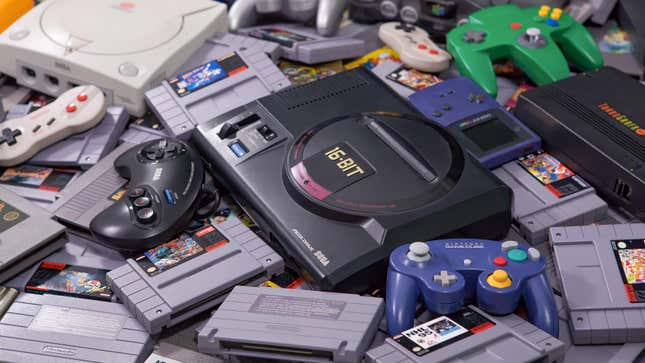 When you tire of shooting doomsday preppers in Far Cry 5, instead of reselling the game for a mere fraction of what you paid or letting it collect dust in your garage for the next 26 years, why not make a bored kid's day by donating it to your local library? Or a children's hospital? Or to our troops overseas? And why not donate those outdated consoles you have sitting around while you're at it?
As digital_russ pointed out in Reddit's Gaming community, GameStop's trade-in values are ridiculously low, and the satisfaction of giving games to the gameless is priceless. "Best $30 I never got," they wrote of the gesture. "I used to not be able to afford new games, and I would've been stoked to see this available for checkout."
Reddit users were surprised to learn that libraries accept video game donations. (Many do, but some have specific restrictions, so check with your local branch.) Wrote one commenter: "I didn't know! I got $5 for GTA V." Remarked another: "Well, I know where I'm bringing my old games tomorrow." One redditor suggested: "Can we make this a movement?" At a library in my area, not only can you check out video games, but also consoles and PlayStation and Oculus Rift virtual reality headsets.
Where to donate your old video games and consoles
Aside from libraries, other places that may happily take video game donations include:
Children's hospitals
Family shelters

AbleGamers

, a nonprofit group that brings mainstream games to people with disabilities. Gently used consoles or games can be sent to: AbleGamers Charity, Care of: In-Kind Donations, 179 E Burr Blvd. Suite Q,, Kearneysville, WV 25430.

Gamers Outreach

, a charity organization that provides video games to kids in hospitals. You can mail your games to: P.O. Box 694, Saline, MI 48176.

GamesForTroops

, Accepts donations of used games to be sent to service people.

Goodwill

, the

Salvation Army

, or your local charity thrift shop might be interested in your donations. Some stores will even come to your place to pick up your gear.
The tax benefit of donating your old games and consoles
Any donation you make to a legitimate charity may be tax deductible, including video games, consoles, and PCs. How much you can claim depends on the fair market value of the donated goods, so it's totally case-by-case, but Goodwill has a chart of estimated donation values for various household goods.