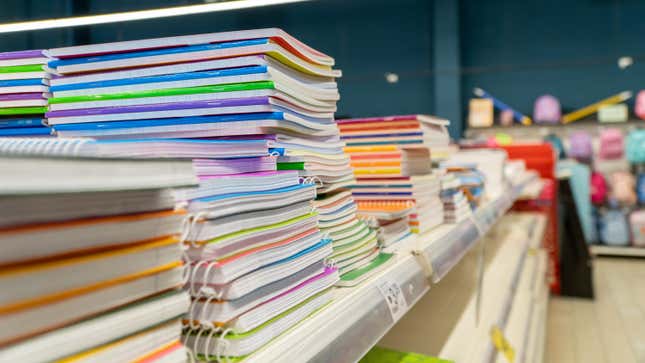 Contrary to popular belief, shopping for school supplies is a year-round endeavor. Whether you procrastinated on buying what you need for the new school year, found out about a surprise necessity a few weeks into class, or want to try out a new study technique that calls for specific tools, you shouldn't have to pay top dollar to get the appropriate resources and what you need to do well in your academic pursuits. Here are some of the best deals you can get right now.
Best deals on school supplies
Save $2 on

a notebook designed to help you take notes using the Cornell method

($17.99, formerly $19.99). Need to know what the Cornell method is?

We have a whole post about best note-taking methods

—and it's in there.
Save $4 on

18 colored pens

($6.99, formerly $10.99), which are helpful for

color-coding notes

.
Save $5.19 on

a six-pack of scissors

with comfort-grip handles ($10.80, formerly $15.99) so you can put one in every room—including at your study desk.
Save $7 on

a supply organizer

($12.99, formerly $19.99) that can keep your pens, highlighters, and brand-new scissors easily accessible when you're on the go.
Save $10 on

a device that scans text and reads it

out loud ($166.99 with coupon, but already reduced from $255.70). This is great for if you

prefer to learn auditorily

.
Save $1.40 on

lined notecards

($12.59 with coupon) that will come in handy if you start

using the Leitner method

we recommend for studying.
Save $3 on

eight pastel highlighters

($6.99, formerly $9.99) which will also help you color-code your notes and texts.
Save $10 on

a deluxe planner

($14.95, formerly $24.95) that comes with a build-in bookmark, pocket folder, and set of sticky notes.
Save $1.75 on

a four-pack of white-out correcting tape

($6.24, formerly $7.99), which you'll probably need if you get that planner.
Save $5 on

a 26-pack of mechanical pencils

($13.99, formerly $18.99), which also includes six tubes of lead refills, 18 eraser refills, and a bag. After all,

writing your notes

is way better than taking them on a computer.
Save $8 on

a scientific calculator with an attached notepad

($15.99, formerly $23.99), which will help you keep your distracting phone in your pocket during math class.
Save $3.39 on

a backpack large enough for your laptop

that comes with a USB charging port for your tech ($30.60 with coupon, formerly $33.99).