Part of the proposition of smart home technology is "less"—fewer plugs, fewer remotes, fewer extension cords. Items are controlled via wifi or Bluetooth, and the result is (usually) a sleek, streamlined gadget or switch. SwitchBot saw that model and gave it the finger.
The simplest way to make a dumb device smart
The charming SwitchBot Bot resembles a tiny power brick, and has an articulating finger that flips out and presses a button. Now, that doesn't seem that exciting or useful, but consider this–the world is full of products that haven't been made smart yet, and is just as full of people who need accessibility, efficiency, or laziness indulged. That coffee pot you'd like to start the moment you wake up? A SwitchBot stuck to the side can press the "brew" button. Really, buttons are the name of the game here. SwitchBot can even use the finger to turn a light paddle or switch on and off.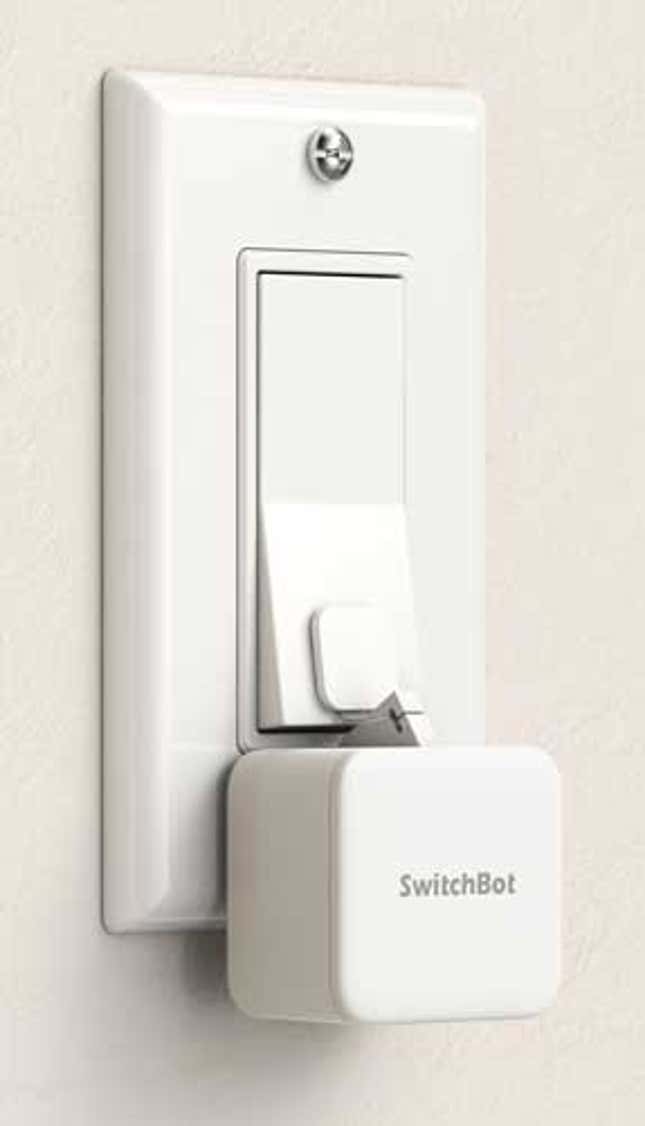 Chonky as a brand standard
Although the SwitchBot Bot is the flagship in the line, most of the products produced by SwitchBot to cheaply automate the things that are annoying but not critical, do so with a level of intentional chonkiness. Smart curtain sweeps are unavoidably large bots that hang from the curtain rod. A blind articulator to open and close blinds is equally beefy. Nothing SwitchBot makes is discreet or delicate. They're little chunksters. They do not fade into the background, but stand proud right in front of it.
You might wonder why anyone would put up with these intrusively designed bots, and the answer is simple: Aside from creating legitimate accessibility, they're just downright fun. I went from room to room deciding where to put my bot, until I landed on the dryer. My dryer is not smart and given to needing an extra cycle, which I always forget about. So, I set the Bot up using the peel-and-stick backing, set up the app, and I'm not ashamed to say I've been giggling like a maniac for the past week, extending the drying run with my tiny remote finger.
SwitchBots embrace "keep it simple"
The Bot itself uses wifi or Bluetooth, and to control your tiny robot finger you can use the SwitchBot app, no hub required. To use Google or Alexa voice commands, or to control the Bot while away from home, you need the hub. But here's the thing: Even the hub is useful and adorable. While other hubs like SmartThings and Google attempt to make themselves small and part of the background, the SwitchBot Hub sticks to the brand standard, and is a chonky, useful temperature and humidity reader with two programmable smart buttons. It's sitting out and about on my desk rather than tucked behind something else.
You can also use the Hub Mini, which is more of the a traditional "stick it someplace no one will notice it" piece of gadgetry, without any bells and whistles.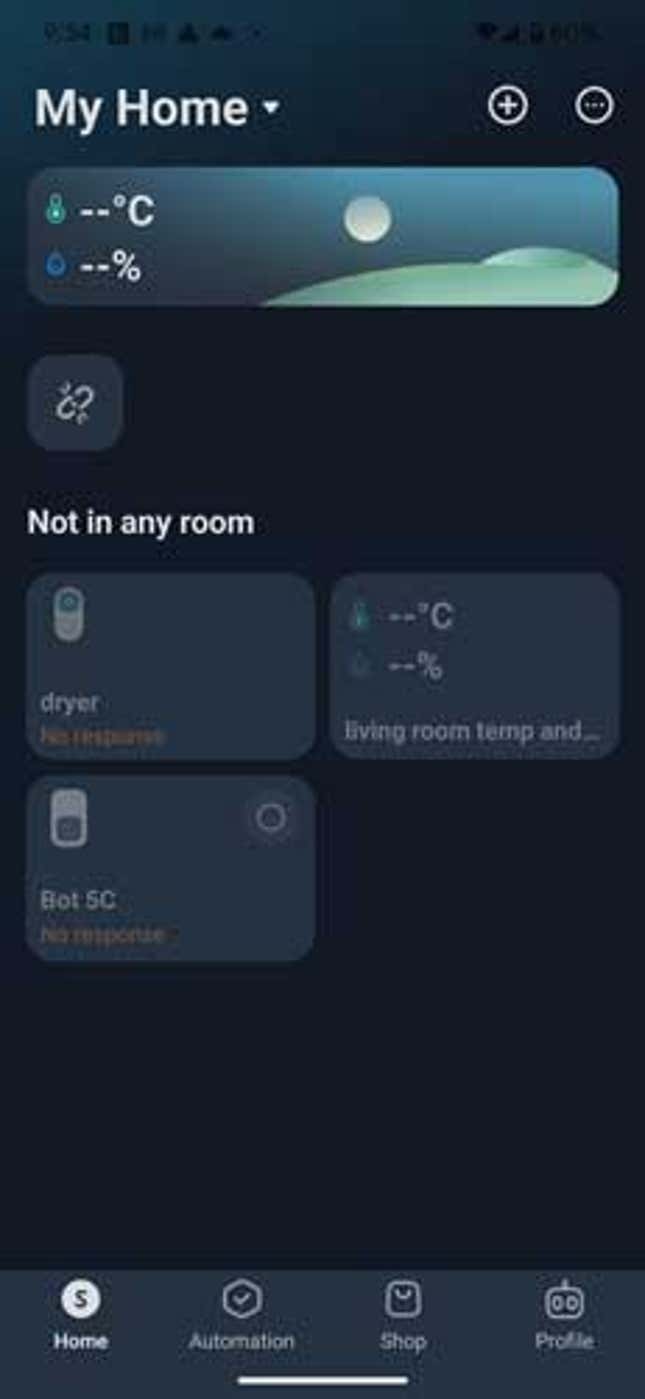 Easy to extend within SwitchBot and beyond
Once you've got Bots doing their thing, you can add on the rotund SwitchBot Remote, a wall switch bot with two programmable buttons, to activate your Bot. The Bot can interact to form automations with anything in the SwitchBot brand, which includes a pretty wide and eclectic mix from solar chargers to robot vacuums. Once you bring it into Google Home or Alexa, you can mix and match it with products from other lines.
Switchbot isn't only for adults
While the Bot has some legitimate usage, it could certainly be a spectacular entryway for kids to work with smart technology. There are tons of 3-D printing plans for SwitchBot accessories, and the huskiness of the products mean they can tolerate some kid-level roughness. At $29, the SwitchBot Bot is a fun, whimsical way to bring smartness to your home.