The Centers for Disease Control and Prevention (CDC) is urging people to stop issuing and using EzriCare Artificial Tears while they investigate dozens of bacterial infections that have left three people permanently blind and one dead, according to NBC News. The infections are potentially linked to the over-the-counter eyedrops, according to the CDC's press release. They have identified 55 people in 12 states who were infected with Pseudomonas aeruginosa, a type of bacterium resistant to most antibiotics. The states are: California, Colorado, Connecticut, Florida, New Jersey, New Mexico, New York, Nevada, Texas, Utah, Washington, and Wisconsin.
Are EzriCare eyedrops causing the bacterial infection?
The CDC, U.S. Food and Drug Administration (FDA), and state and local health officials are currently investigating a possible link between the product and the outbreak. About three quarters of those with the bacterial infection said they had used artificial tears before becoming ill. From the ones able to recall the brand, 85% said they had used the EzriCare Artificial Tears, Mayora Spalding Walters, head of the CDC's antimicrobial resistance team, according to NBC News. However, patients reported over 10 different brands of eyedrops, with some using multiple brands. The company released a "discontinue use" alert, which you can read here.
Pseudomonas aeruginosa is naturally found in water and soil environments. It can be transferred to people in healthcare settings through contaminated surfaces, hands, and equipment, according to WebMD. Healthy people can even have strains of the bacterium in moist parts of their bodies, like armpits or genitalia.
Some types of the bacteria are resistant to nearly all antibiotics, according to the CDC. "That's what's so concerning," Dr. Jill Weatherhead, an assistant professor of tropical medicine and infectious diseases at the Baylor College of Medicine in Houston, told NBC News. "Our standard treatments are no longer available" to treat the infection.
G/O Media may get a commission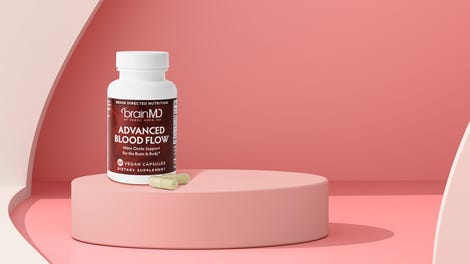 Improve your bloodflow
BrainMD claims this proprietary supplement increases blood flow to help your cognitive and cardiovascular functions
The eyedrops are labeled as preservative-free, meaning there's nothing in the product to stop microbiological growth if it gets contaminated during the manufacturing process or if an infected person opens the product to use it.
What are the symptoms of the bacterial infection?
Healthy people may not get sick from it, others might get mild skin rashes, or ear or eye infections, according to WebMD. If you're sick or your immune system is compromised, the bacterium can cause severe infection. People with cystic fibrosis, cancer, or burns can have life-threatening conditions.
The CDC recommends seeking medical care if you experience any of the following symptoms after using the eyedrops:
Yellow, green or clear discharge from the eye
Eye pain or discomfort
Redness of the eye or eyelid
Feeling of something in your eye (foreign body sensation)
Increased sensitivity to light
Blurry vision
From the 55 reported cases, 11 people developed eye infections, three of which lost their eyesight in one eye. Others had respiratory infections or urinary tract infections, and one died when the bacterium entered the bloodstream, according to NBC News. It's not clear if these patients had underlying eye conditions that could have made them more susceptible to the infections.