The aerospace company SpaceX is a tiny bit closer to its goal of interplanetary travel — but it still has huge amounts of work to do.
On 18 November, its Starship spacecraft launched successfully from Boca Chica, Texas, and travelled farther than it had on previous test flights. This was the first time it managed to go into space. But Starship's self-destruct function switched on for an as-yet-unknown reason, and the craft exploded above the Gulf of Mexico about eight minutes after launch.
Minutes earlier, the rocket booster that had carried Starship on the first part of the journey also blew up after separating from the craft. The US Federal Aviation Administration will oversee an investigation into the explosions and will need to approve any future tests.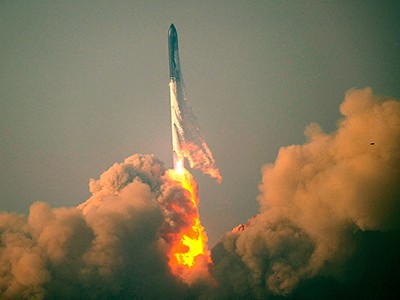 SpaceX Starship: launch of biggest-ever rocket ends with explosion
NASA needs Starship to prove itself, if the agency is to meet its goal of putting astronauts on the Moon later this decade. But it might require at least 15 Starships to pull off that lunar landing. No successful flights have been demonstrated yet.
In its latest attempt, Starship performed better than it did during its first major test flight in April, which also ended in an explosion. This time, the rocket booster successfully lit all 33 engines, some of which had faltered in April. And, unlike last time, it did not cause severe damage to the launch pad and the surrounding environment. Perhaps most importantly, the rocket booster and Starship made it past the point at which they separate. In this rare example of a 'hot staging' process, the craft's engines were deliberately ignited earlier than usual while Starship was separating from its booster.
During this test flight, Starship reached an altitude of nearly 150 kilometres, placing it in space before it exploded. The goal had been to fly most of the way around the planet and splash down near Hawaii.
Big plans
SpaceX, which is headquartered in Hawthorne, California, has ambitious dreams of using Starship to send humans to Mars. But the company's most important client is NASA, which has given SpaceX contracts worth more than US$4 billion to develop Starship for ferrying astronauts and supplies to the Moon. Many, many steps remain before SpaceX can prove that the craft is safe for landing people on the lunar surface. Milestones include completing suborbital and orbital flights without astronauts on board, as well as showing that the craft can refuel itself in low Earth orbit from other Starship tankers.
On paper, NASA is still planning to carry humans to the lunar surface, as part of its Artemis III mission, in December 2025. Given everything that needs to be done to prepare Starship and other elements of the mission, few people think that this schedule is achievable. NASA is now considering changing the Artemis III mission so that it doesn't involve landing people on the Moon.
NASA administrator Bill Nelson congratulated SpaceX on the test flight, saying that it was "an opportunity to learn — then fly again". The agency is working with another aerospace company, Blue Origin in Kent, Washington, to develop a lunar lander for future Moon visits.