Knife blocks seem like a great idea at first. You assume there are a variety of useful knives in there, and you get a whole row of steak knives for one low price. You may not eat steak that often, and never with seven other people, but who can say "no" to so many matching knives? You, that's who. That mass-produced knife set is unlikely to work with your unique food personality. Skip the block of cheap knives (many of which you won't touch anyway).
Instead, focus on fewer, better, personalized knives. A high-quality knife (or three) can be versatile enough to meet all of your needs without blowing your budget. Use this guide to help you pick a knife, based on your specific needs, budget, and available space.
If you can only buy one knife…
You have to start somewhere. Instead of buying four cheap knives, you're better off putting that money into one good knife that's versatile enough to make a lot of cuts. For a knife that provides power and maneuverability, and can chop, slice, mince, and carve, two knives stand out–the chef's knife and the santoku.
The chef's knife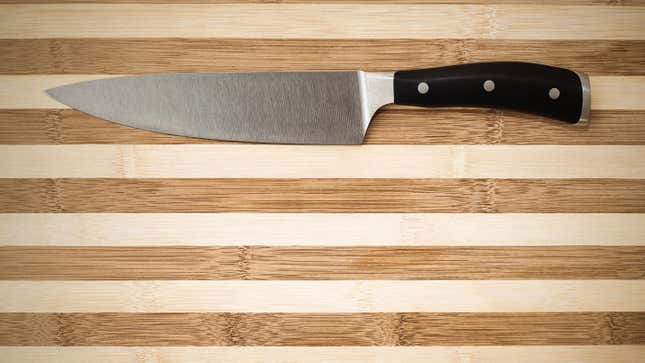 The chef's knife has a wide blade with a curved edge that tapers to a point, giving it the functionality of three knives in one. The wide blade with a deep heel has cleaver-like qualities, making it good for downward chopping with meats and root vegetables. The curved edge caters to a rocking motion, almost like a mezza-luna blade, which is prized for mincing and slicing. The narrow, sharp tip allows for precision carving and finer cuts, whether it's slicing a strawberry or guiding meat off the bone. If you slice meats, chop veggies, and mince herbs, onions, and other aromatics, this is probably the knife for you.
The santoku knife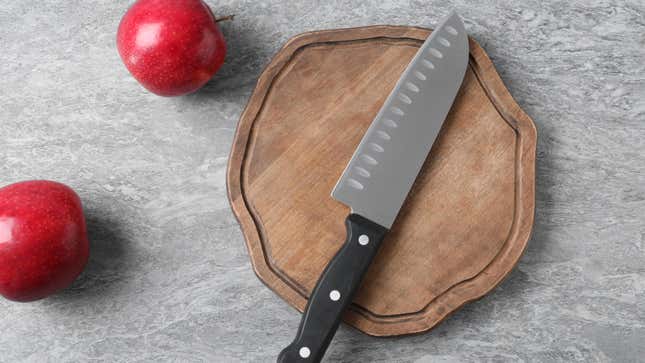 The santoku is a blade shape that originated in Japan and has similar functionality to the western chef's knife. This knife has a wide blade with a less dramatically curved edge. The tip is noticeably different from the chef's knife, with a more blunt, downward design. The santoku comes with a smooth blade or a Granton edge (long dimples along the side), which keep food from sticking to your knife.
These features make the santoku more cleaver-like, with the Granton edge keeping meats, fruits, and veggies from suctioning onto the blade, allowing for faster, more efficient chopping. The santoku can do what the chef's knife does, but if you find that you do a lot more chopping in comparison to carving or slicing, this might be the knife best suited for your needs. I chop and cook vegetables almost every meal, so I reach for my santoku far more frequently than my chef's knife.
---
Knife quality and price range widely. Here are two high-quality, mid-range choices:
---
You're going to be doing most of your food prep and finishing with this knife. Whichever you choose, you want it to be capable of powerful cuts. Look for a knife with a full tang which will lead to a weightier handle. Make sure the handle and bolster are comfortable in your grip. Both of these features will allow you to control the blade better, and put some oomph behind your cuts. The chef's knife and santoku both come in a variety of sizes, but I think smaller affords more maneuverability. Stick with a six- to eight-inch blade.
If you can only buy three knives…
Three knives will allow you to explore blades with more specific functions. One of the knives should be a workhorse–the chef's knife or santoku. The other two should be versatile, but hone in on more specialized functions. These two blades cover a wide variety of foods with more precise handling.
The utility knife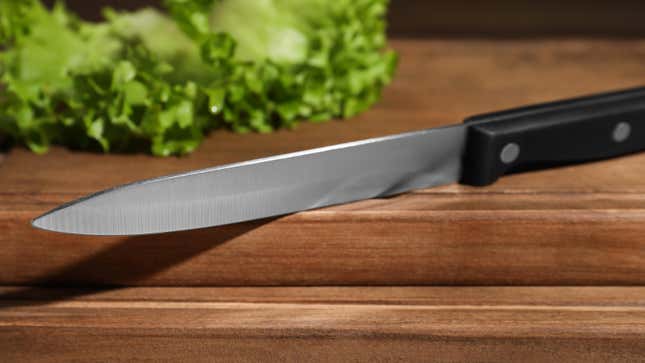 A utility knife, sometimes called a "petty knife," is a medium-sized knife with a sturdy blade of about four to six inches. The blade has the same taper as a chef's knife, but is more narrow. This makes the heel of the knife rather shallow, but overall the knife is versatile and easy to handle because of its more compact size. The utility knife is better suited to slicing and precision cutting, rather than chopping; the heel of the knife may not drop to the cutting board before your knuckles do. Utility knives come serrated or smooth, and can do a lot of the work paring knives do, thanks to their narrow design. Use this knife for slicing, deseeding, or peeling fruits and vegetables, take it on a picnic, or cut through a tall turkey club.
The bread knife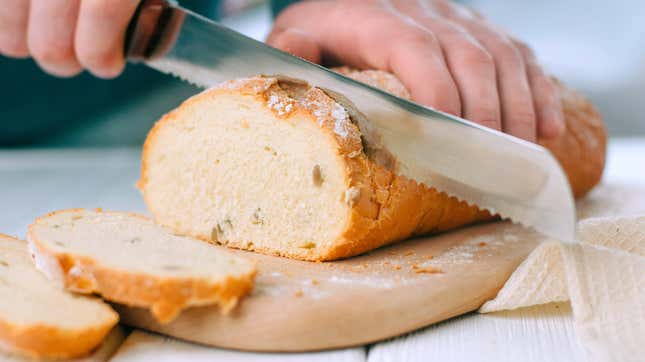 It might sound like the bread knife only cuts one thing, but it can break down more than a sourdough. A bread knife has a long, thin, narrow blade and a serrated edge, with either sharp or rounded serrations. It's this feature that makes the bread knife special. Unlike the knives we've discussed so far, the edge punctures and saws through food to eliminate drag, and works horizontally, rather than with downward force. Use a bread knife for slicing anything that has a tough outer layer and a softer texture inside, including breads, pies, flaky pastries, eggplant, or tomatoes. Bread knives come in sizes ranging from six to twelve inches. I suggest an eight-inch bread knife to comfortably cut a broad range of ingredients.
---
Get one of each to round out your 3-piece knife collection:
Wüsthof Gourmet 4.5-inch Utility Knife
Zwilling J.A. Henckels 8-inch Bread Knife
---
If you have room for five knives…
If you have room for five knives in your life you can have a little fun. You already have your chef's knife or santoku, a utility knife, and a bread knife. Consider the things you prep with those three knives, and what you wish was either easier, or faster. Maybe the utility knife is a bit too big for cutting fruit. Is breaking down a chicken clunky? You might need a more flexible blade. Fileting a lot of fish? That calls for a thin, long blade. Take a look at the following knives and pick two that will best serve your needs.
The carving knife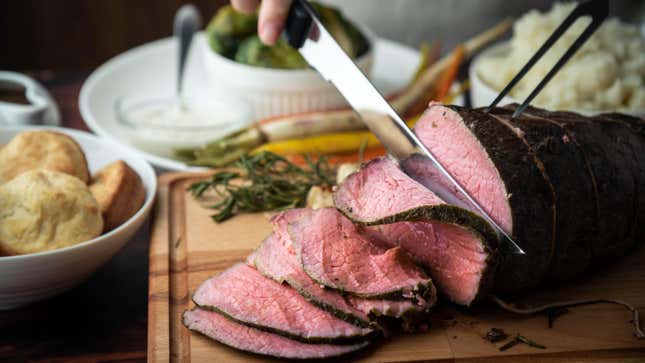 The carving knife has a long, thin, narrow blade with a tapered tip. This shape allows the knife to make thin slices across wide cuts of meat. Instead of trying to navigate halfway across a flank steak or hack apart at Thanksgiving turkey, use a carving knife to make long, clean cuts in a single motion.
The paring knife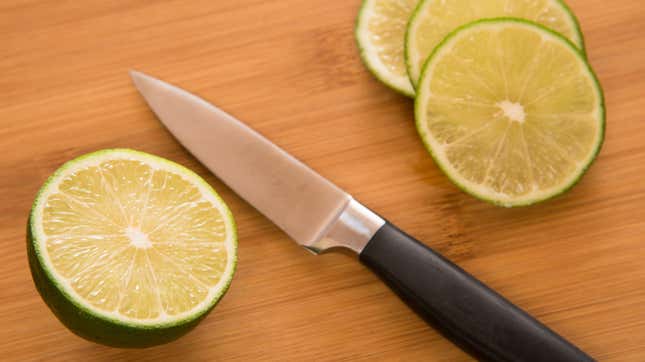 I spent a good deal of my life thinking the paring knife carried massive import, but I mostly use mine for snacking on cheese. It's the smallest knife option you might select from this batch, with a short, thin, tapered blade that may or may not be angled. You can't put a lot of chopping power behind a paring knife, but you can get a strong angle with the short blade. Most of its value lies in maneuverability.
Usually two and a half to three and a half inches, you can use this blade for slicing small ingredients that don't require a lot of force, like citrus or berries, peeling potatoes, or mincing onions and garlic. Oh, and slicing cheese for a snack. I have a cheap Victorinox serrated paring knife, and honestly, it's a great size and has stayed extremely sharp even with high use. Check the link below for this $8.00 wonder. (Editor's note: I'm a big fan of my slightly pricey Opinel paring knife, which has stayed sharp for years and is dishwasher safe.—Claire)
The boning knife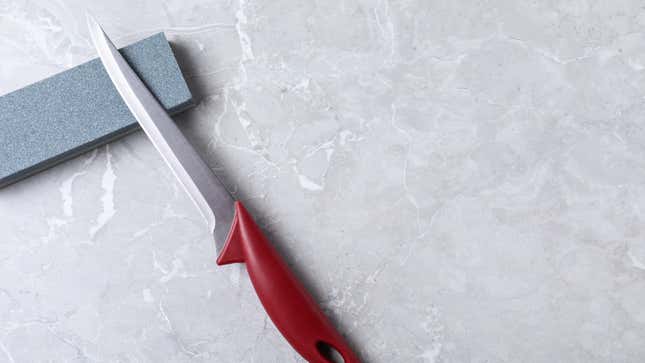 This knife has a unique shape and feel in comparison to the prior knives listed–it's long and skinny, thin and razor sharp, and ranges in feel from sturdy to downright flexible. Boning knives are meant to slip under silverskin and around cartilage, to separate meat from the bone, and to get in between bone to separate joints when butchering. If your grown-up kitchen involves taking apart chicken, trimming steak, or breaking down whole fish, this is a good knife to add to your collection.
The cleaver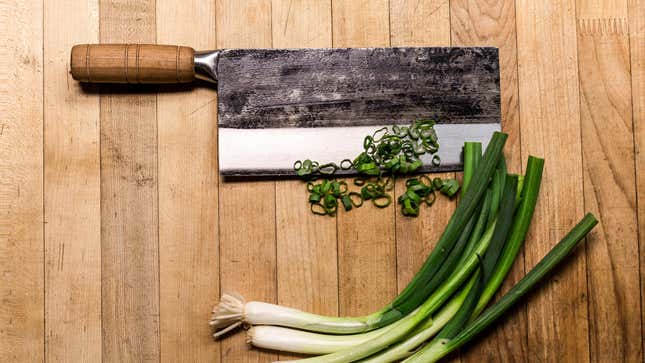 Not so subtle in stature, the cleaver has an intimidating look that might make you think it's only for chopping meat and bones. Not so. While it is good at those things, the cleaver is a veritable multitool in the kitchen. This knife sports a wide, strong, rectangular-shaped blade with plenty of weight, and more weight means more power.
Use this knife to chop through a large quantity of veggies or thick fibrous produce like butternut squash, or mow down a whole boneless cut of meat into mince. The tall, flat blade with a deep heel is good for cleanly cutting and separating bread dough, biscuits, or slicing up a finished pizza. Don't forget the broad side of the blade; use that real estate to crush garlic, or like you would a bench scraper when transferring food from cutting board to pan.
---
Expand to a 5-piece knife collection with two more knives that cater to your food style:
---
While these are my main suggestions when you start selecting knives, take a moment to think about what you eat. The point of a knife is to make cooking easier, faster, and less work. A good knife shouldn't make you tired or give you blisters, and it should perform well for a long time (providing you care for it). These knives will take care of most of your needs, but it's just a starter list. If you need two santoku knives of different sizes, go ahead and get them. If you prepare one particular food a lot, like raw oysters, well then add an oyster shucking knife to your shopping list. Just don't get a knife block. You deserve better.