My daughter finally broke a generational curse. When I was a kid, my parents would sometimes set up a tent in the backyard for us to play in, but we were never quite brave enough to spend the night out there. The same was true for my older kids. But when the little one insisted on camping in our backyard for real this week—with me, of course—we actually made it happen.
Backyard camping is an experience that your kid will think is really special, and it's also a great way to do a trial run if you're thinking of taking them on a real camping trip someday. (Additionally: If you have older kids who want to invite a friend over for a sleepover, you can keep them out of your house with the promise of a cool/fun/exciting campout.) Whichever way you do it and why, here are the basics you need for a night in the Lesser Outdoors.
A tent
You need a tent, of course. If you're buying one, remember that a "4-person" tent only fits four people if you get very cozy with each other—so get one that is bigger than you think you need.
Pick a flat spot in the yard, and if you can't find a place that's perfectly flat, plan to sleep with your head on the higher part of the ground. Set up the tent in the daylight, and remember that you'll probably be making your way between the house and tent in the dark, so ensure that the path is clear. One other consideration I hadn't thought of until we tried it: if you're near a road, car headlights will illuminate the tent every time they pass by. Choose your site carefully.
If there's any chance of rain, use the rain fly or rig up a tarp over the tent as an extra roof. And if your tent's bottom isn't waterproof, place a tarp underneath the tent as well to prevent it from soaking up moisture from the ground. Fold it under so that the tarp doesn't stick out from under the tent.
For something you can use in the backyard and on a real camping trip, try

this Coleman dome tent

that comes in 2-person, 4-person, and 6-person options.
A brush and dustpan
The kids will be climbing in and out of the tent as they play in it. Make a rule that no shoes are allowed in the tent, but also grab a brush and dustpan so that you can sweep up the dirt that inevitably gets inside.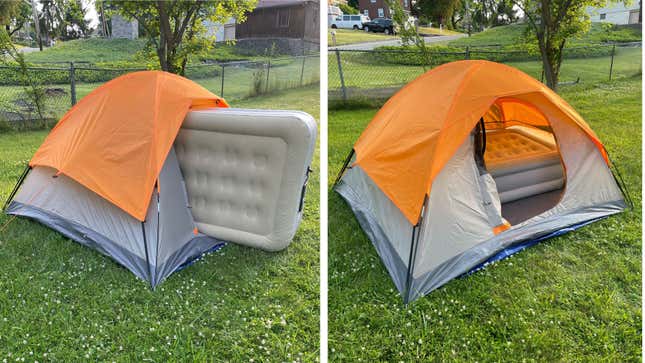 An air mattress
Yeah, I'm old. If I were on a backpacking adventure, I'd sleep on a thin pad and tell myself it's worth it. But if it's a weekend night and I want to return to normal activities in the morning, I'd like to be at least a little bit comfortable please.
If you've got a king- or queen-sized air mattress, you may be able to use it to cover the whole bottom of the tent. (Pro tip: blow it up after you put it in the tent.) We only had a twin-sized mattress, so I told my kiddo that this is for me, the old person, and she could sleep on the ground.
I'll give you three options here:
Comfy pillows
There's no reason to make do with a folded-up sweatshirt under your head when the house with all its comfy pillows is right there. Big, comfortable pillows are one of the best travel upgrades you can make, and that goes double for backyard camping.
I'm not giving you an Amazon link here, ya lazybones. Grab the pillow from your bed.
Sleeping bags and/or blankets
It's going to get colder out there than you realize. (Or at least it did on our outing.) Dress in layers, so that you can add or remove a sweatshirt in the middle of the night. And make sure you have a warm sleeping bag or a suitable blanket. Your kid will abort the mission if they're not comfortable.
A battery to charge your phone
Look, this isn't some "unplug in nature" bullshit. You're going to want your phone as an alarm in the morning, and/or to check the time when it starts to get light and you can't sleep. (Just roll with it, it's fine to wake up early for once.)
Since you won't be plugging your phone into its wall charger while you're out in the yard, bring a portable charger to make sure it's not dead in the morning.
A flashlight
Kids love flashlights. When you head out to the tent for bedtime, they can carry one to light the way. (Then you'll also have it for any middle-of-the-night potty emergencies.) If you want to make the night really special, also get a lantern that you can hang from the top of the tent to read a bedtime book by.