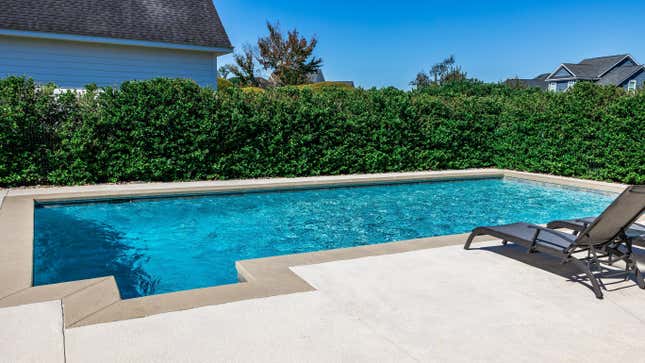 The world is full of unused swimming pools just waiting for someone like you to dive in, and now there's an easy, economical way to make it happen. Swimply is an Airbnb of sorts for pools—the service lets you rent any of the thousands of pools and backyards in cities and towns across the country, whether you're in the market for a solo swim or a pool party with all your mates.
What does it cost to rent someone else's pool for the day?
Swimply will help you beat the heat during the summer's dog days, but you need a few bucks. Pool rates start at around $50 an hour (at least in my neighborhood) and go up from there, but some of these pools are posh. Check out the fountain on this baby, and it's only $60 an hour. Some pools allow large groups, some offer hot tubs, diving boards, or even waterslides, so you should have no trouble finding the pool of your dreams.
When you're looking at a private swim for one, $50/hr is pretty steep. If you have a family of four or more or a group of friends, then that price is starting to get close (or even less) to what you'd pay to hit the public pool, except it's probably a lot nicer. Each pool has its own rules, though, so make sure you read carefully before you commit.
Renting someone else's basketball court, home studio, or pickleball court
Swimply isn't just full of swimming pools. You can basically rent out a bunch of different kinds of spaces, from music studios to basketball courts, to tennis courts and pickleball courts, to backyards with firepits, views, and other amenities.
If you happen to own a backyard pool or pickleball court, and you don't mind strangers using your things, you can sign up and become a Swimply host.