Throwing away food really bums me out. I'll do anything to prevent it, including meeting friends at BYOF bars and pushing food onto them. When I can't do that, I'm a master of leftovers. I've concocted some really excellent re-works, like leftover rice salad, leftover cheeseball mac and cheese, or turning leftover cornbread into crackers. But every now and then, one reimagined meal really stands out. Well folks, I outdid myself this time. I made parmesan frico encrusted potato gratin squares, and I'll never be the same.
I'm politely begging you to make these with leftover potato gratin, scalloped potatoes, or really any leftover layered potato casserole in your fridge. It's for your own good. The prep is easy to do half-distracted on speakerphone with a friend, and cooking them in the air fryer will only take eight minutes of your time.
If you're new to frico, I couldn't be happier to welcome you here. A world with frico is a place where your favorite foods have shattering layers of crispy cheese toasted onto them. Many cheeses—like cheddar, asiago, Montasio, feta, and parmesan—don't just melt under high heat, they brown and crisp up like a cracker. You can make straight-up frico crisps, add a layer of frico to the bottom of your pizza, wrap french fries in this crunchy cheese blanket, or elevate the humble fried egg with crunchy cheese. The textural contrast is worth it alone, but the flavor is irresistible. Toasty, nutty, and sharp, frico will win your heart in the first bite.
How to frico your leftover potato gratin in the air fryer
Potatoes are a starch-heavy vegetable. When starches cool for long enough, they thicken into a firm structure. That's why the hot oatmeal you made and left in the fridge is something you can pop out of the bowl in one solid disk, and fling to your dog. (You can actually frico that too.) Since potato gratin is layered with a sauce that's usually starchy, cheesy, or buttery–all things that become firm in the fridge–you have a casserole that you can easily slice into squares. You can lift the squares, and easily handle them without them falling apart. These are ideal frico conditions.
1. Cut the casserole into cubes
Cut the cold potato casserole into squares. Any serving size will work. I cut mine into two-inch cubes. Place them on one side of a parchment-lined baking sheet.
2. Coat them in mayonnaise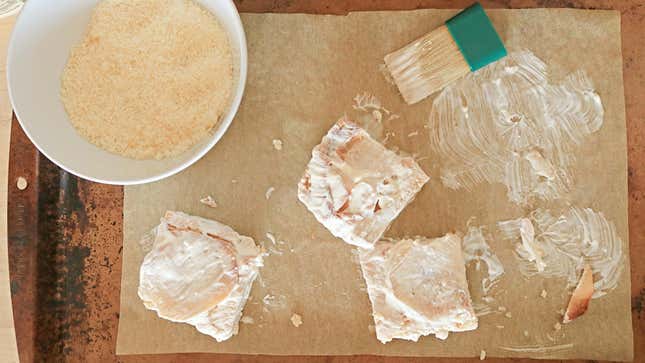 Cover all six sides of the potato square in a thin coating of mayo. Don't worry, after it cooks it doesn't have that sandwich-y flavor. It's only enough to give the parmesan something to stick to, and the cheese flavor dominates later. I put a dollop of mayo on the parchment and used a pastry brush to brush it onto the sides. (My pastry brush handle fell off, by the way. That's the kind of production I'm running over here.) You could use a knife, but it might be difficult with the angles. A better option is to put on food-safe rubber gloves and use your hands.
3. Cover the squares in parmesan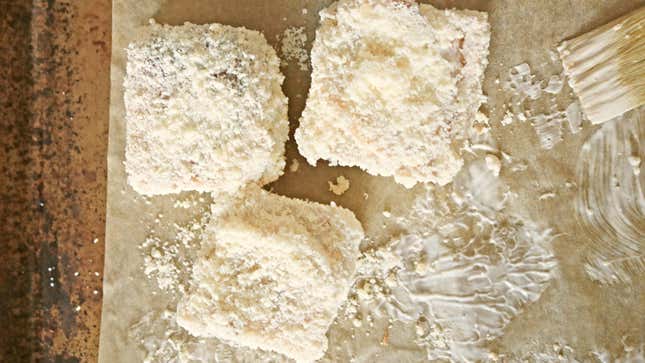 In a bowl, add a cup of grated parmesan. The grated cheese is almost a cheese powder, so it stuck really well, but I think shredded could work too. Put a gratin square into the bowl and spoon parmesan over onto all sides; pressing for good adhesion. Place the cheesy square onto the clean side of the parchment paper lined baking sheet. Repeat this with as many squares as you prepared.
4. Bake and behold the frico magic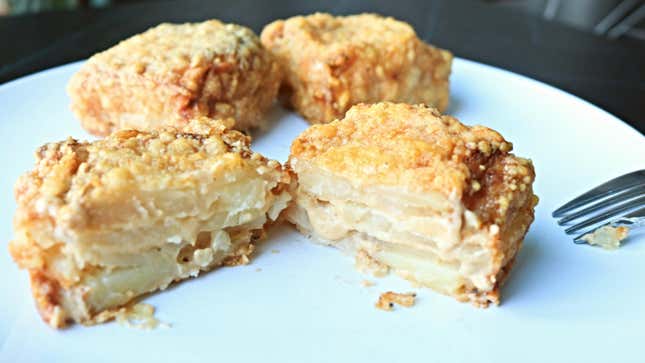 Place the squares in an air fryer preheated to 400°F and set to the "air fry" setting. Make sure the squares have about a half-inch of space between them. Let them cook for five to 10 minutes, or until browned to your liking. I took mine out after eight minutes.
The potato squares are covered in toasted melted cheese, so you might need a fork to help you release the bottoms, but they shouldn't be gooey and stuck. If they are, you might need more time in the air fryer. Once you crack through the crunchy frico exterior, you'll see that the sauce you had in your casserole has warmed up, and the interior is back to how it was when it first came out of the oven. Serve a crispy square alongside a green salad for a new-school potato gratin that would make any fancy French restaurant jealous.