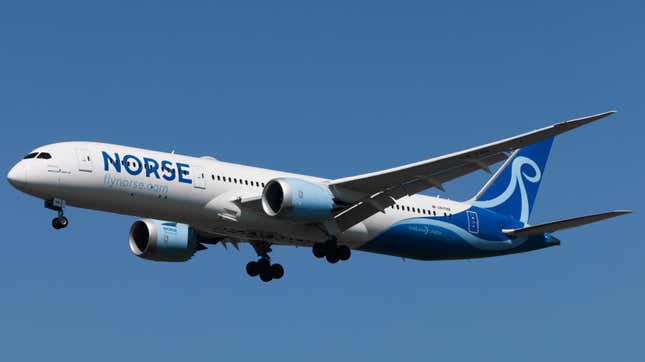 Flying to Europe just got much cheaper thanks to Norse Atlantic Airways, a Norwegian long-haul budget airline. Norse is currently running a summer flash sale, and for a limited time, you can catch one-way flights to Europe for as low as $99 to popular European cities like London, Paris, and Rome.
Norse's "flash sale" is indeed quick. You must book your flights directly on their website by 12 pm ET Tuesday, July 25 to get this deal. So here's what you need to know.
Where is Norse flying from in the U.S. for $99?
These cities have flights to Europe for $99:
Boston, Massachusetts: Boston Logan International Airport (BOS)
Fort Lauderdale, Florida: Fort Lauderdale-Hollywood International Airport (FLL)
Los Angeles, California: Los Angeles International Airport (LAX)
Miami, Florida: Miami International Airport (MIA)
New York City, New York: John F. Kennedy International Airport (JFK)
San Francisco, California: San Francisco International Airport (SFO)
Where in Europe is Norse flying to for $99?
You can fly to these European cities for $99:
Berlin, Germany: Berlin Brandenburg Airport (BER)
London, United Kingdom: London's Gatwick Airport (LGW)
Oslo, Norway: Oslo Airport (OSL)
Paris, France: Paris Charles de Gaulle Airport (CDG)
Rome, Italy: Rome Fiumicino Airport (FCO)
Which dates can I travel for $99 with Norse?
Norse is letting people travel throughout the rest of 2023 and some dates in early 2024 as long as you book by Tuesday, July 25. However, there are some blackout dates for this deal: Dec. 14, 2023 through Jan. 8, 2024 and March 26, 2024 through April 15, 2024.
How much are returning flights?
Returning flights will vary by route and dates, but most will be about $200. A roundtrip flight to Europe from anywhere in the U.S. for $300 is still a great deal, especially considering this is the busy season. To get a better view of returning flight options and their prices, look at the calendar view option on Norse's booking page.
The small print
The flights for this deal are only for "Economy Light," meaning you'll have to pay more for baggage starting at $35 (you can take one bag for under your seat), food, or other perks.
Not all departure airports fly to every city in Europe. You can see the available flights and their dates here.
The prices do include all taxes and fees, so there will be no surprises there. You can read more about this deal on Norse's terms and conditions page.