There are countless recipes for French toast out there–and there's about to be another one. This one might, however, be the last recipe you ever need. Besides the bread, this recipe calls for two ingredients, and strangely, you can have any flavor you want without adding an extra component. That is, any flavor you can find in your ice cream aisle. For quick, rich, flavorful French toast, melt down some ice cream.
French toast is made with sturdy, dried out bread dipped into a sweetened egg custard. From here, the recipes split off. Do you add milk, or heavy cream? Maybe whisk in half and half? Should you sweeten the custard with brown sugar or maple syrup? Add vanilla. Wait, add a secret banana purée instead. You can make a custard with 12 ingredients, or simply use a ready-made creamy liquid that has already struck that perfect balance between sweetness and flavor. Even if you do revert back to your old French toast recipe, melted ice cream is a great save if you run out of the cream or milk you'd normally use. I should mention, this trick works with non-dairy "frozen desserts" too.
---
Find a frying pan that works best for your French toast situation:
---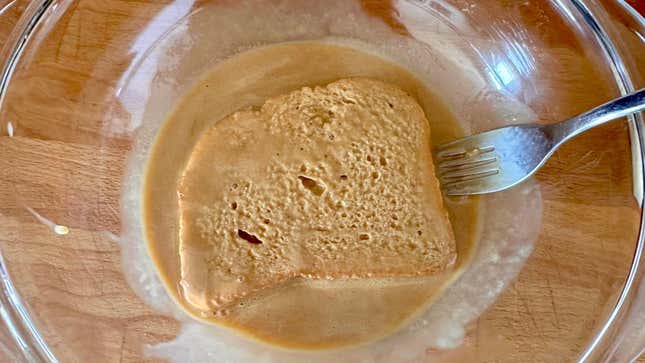 To make ice cream custard French toast, grab a pint of your favorite ice cream. In a wide bowl, melt about a quarter-cup of the ice cream (that's the same as four tablespoons). You can do this in the microwave, just nuke the scoops for about 15 seconds, and mix until totally melted. No need to make it too hot. Scramble one egg, and whisk it thoroughly into the melted ice cream. There it is. The rich, flavorful, sweet custard is ready in about a minute.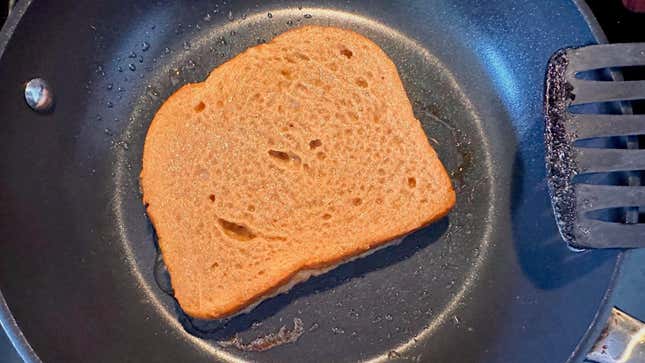 Add two slices of bread to soak up the custard, flipping when one side is thoroughly soaked. Fry the slices in a buttered frying pan over medium-low heat. Check for browning after a minute or two, and flip the toast. Fry for another minute or so, and cool briefly on a wire rack before serving.
I tried this recipe a few times because, frankly, I had a lot of fun making flavored French toast without extracts. I used coffee ice cream, salted caramel ice cream, and a raspberry sorbet. Coffee was my favorite, likely because I have a caffeine addiction, but raspberry sorbet had the most robust flavor. All three were perfectly sweetened, with crispy edges and a fluffy interior, regardless of the flavor I used. Note that since sorbet is mostly a fruit purée with syrup, the melted product is rather thin. Add an extra egg to the mixture so the finished toast has more structure.
Melted Ice Cream French Toast
Ingredients:
¼ cup ice cream, melted
1 egg, scrambled
2 slices of brioche
Butter for frying
In a wide, medium bowl, whisk the egg into the ice cream. Soak the slices of bread in the custard. Over medium-low heat, melt the butter in the frying pan. Fry the bread for about two minutes per side, or until browned and the custard has cooked through. Cool briefly and serve.