With the exception of subway churros and maybe cheesecake, the black and white cookie is New York City's most iconic dessert. You can find them clinging to their packaging in corner store delis, or proudly lined up in bakery cases. But if you don't live in NYC, or don't have access to a Jewish bakery, do not lose hope. You can make a freakin' great black and white cookie at home with a store-bought box of muffin mix.
Black and white cookies are soft, cake-like vanilla cookies that are flavored with the barest hint of lemon. They're usually around five or six inches in diameter and rise in the oven to form a mound, instead of a flat disc. The cookies are flipped and the flat side gets a coating of icing—one half vanilla and one half chocolate. The icing has a very specific texture, firm with a subtle fudgy chew. There are many ways to eat one of these cookies, all of them correct. I usually start with the vanilla side, then the chocolate, then finally I eat the center where the icings overlap.
Before you think to yourself, "Why not just use a box of cake mix if they're so cakey?" I tried that, and it sucked. Boxed cake mix is designed to yield a tender, soft cake almost regardless of what you do to it. Despite my trials, which included adding extra eggs and less water, the cookies would consistently deflate after coming out of the oven. Aside from lift, the texture was all wrong for a black and white cookie. They're not supposed to be airy and delicate, but more on the firm side, with a dense texture. What can I say, she's a tough cookie.
Boxed muffin mix is a different story. It's heartier, more stable, has a tighter crumb, and developed to crest on top and hold its form outside of the oven. Perfect for muffins and, it turns out, black and white cookies. The only thing I needed to change was the amount of water added to achieve a thicker batter.
I also had to strain out the chocolate chips. In an unexpected grocery store twist, I found out that plain or vanilla muffin mix is a rarity in my local ShopRite, but there's chocolate chip muffin mix galore. Vanilla or plain is suggested, but if you can only find chocolate chip it'll work. Just run the dry mixture through a sieve and put the chips in a little container for a future recipe. (Although, if you made chocolate chip black and white cookies, I wouldn't fight you on it.)
G/O Media may get a commission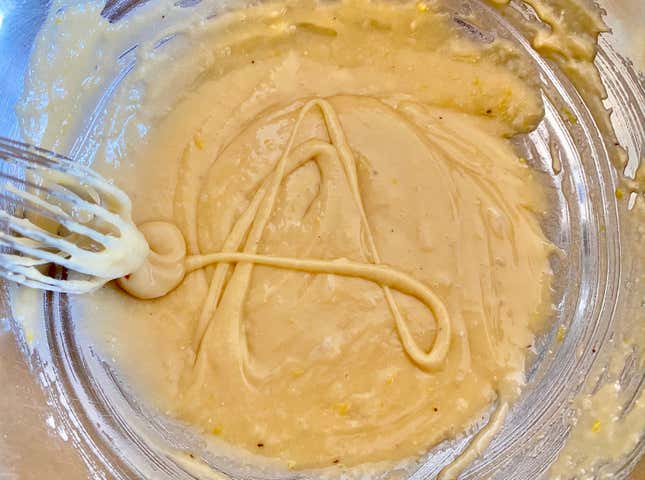 I used Betty Crocker chocolate chip muffin and quick bread mix (14.75-ounce box) and, after sifting out the chocolate chips, I added a teaspoon of lemon zest, along with the instructed egg and oil measurements from the back of the box. The water measurement was my adjustment lever. I barely needed any—about an eighth of a cup, or two tablespoons. Depending on the brand and size of your boxed muffin mix, you may need to adjust the water still, so I recommend adding water a tablespoon at a time and checking the consistency after each addition. I knew my mix was ready when I could drop a consistent "ribbon" of batter from the spoon and write the letter A without it disappearing back into the mix. If the mixture is too thick, it will be chunky and won't fall in a ribbon. If it's too thin, the letter you write will meld back in with the rest of the batter. You can remedy overly thick batter with a little more water and try again. (Batter that is too thin is tricky, but you might be able to add a quarter cup of flour in, and fix it so no one is the wiser.)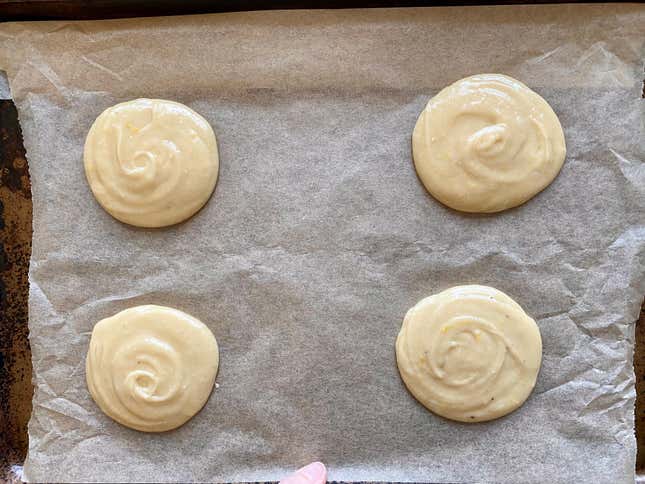 Scoop the batter into circles about three inches in diameter on a parchment lined baking sheet, leaving at least two inches between them to allow for rising. I only managed about four per sheet pan. You can change the size and make two-inch minis or big hulking eight-inch-wide ones, but don't forget to adjust the bake time. Bake them in an oven heated to 375°F for about 10 minutes, or until the tops are lightly browned and the center feels firm when gently pressed.
Let the cookies cool on a cooling rack, flat side down. Once cool, it's time to ice. You can use the classic black and white cookie icing, like the one below, or just use whatever chocolate and vanilla topping you have on hand. These will be a hit if you use canned frosting, white and dark chocolate ganache, or the (somewhat indestructible) royal icing.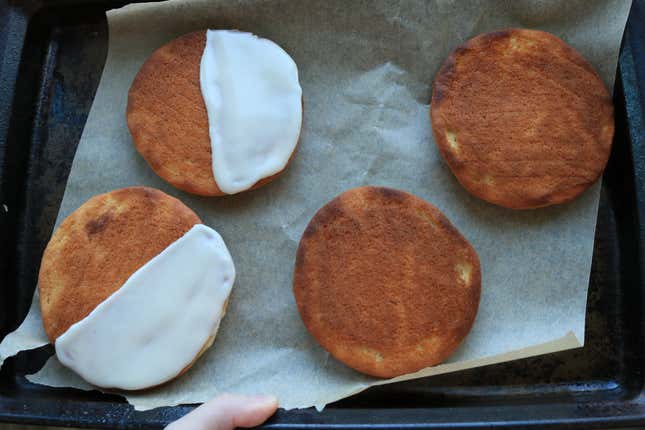 Classic black and white cookie icing is very close to a simple powdered sugar icing (made confectioner's sugar, extract, and a dash of liquid), with the addition of light corn syrup. The corn syrup adds that fudgy, flexible chew I mentioned earlier. An icing made without the corn syrup will still taste great, but it will have a drier, crispier texture.
To ice, flip the cookies so the flat sides are facing up. Instead of making one bowl of vanilla icing and one of chocolate, streamline your process and dirty a single bowl. Mix the bowl of vanilla icing first, coat all your cookies with their vanilla half, and then add the cocoa powder to the vanilla icing. Proceed to spread the chocolate icing onto the other halves.
This recipe makes enough icing for four, five-inch black and white cookies, and can easily be doubled. Work with a light hand; the icing should be in a thin layer. Piling on the icing will only lead to it running off the sides. (I used an off-set spatula to apply the icing.) It's best to let the icing dry for a couple hours, but you can eat these whenever you want. Who's going to stop you? Not me. Save leftovers in an airtight container, in a single layer, side by side. Stacking them will only fudge-up the bottoms.
Black and White Muffin Mix-Cookies
Ingredients:
1 box of plain muffin mix (strained, if using chocolate chip mix)
Eggs and fat as instructed by the box
2 tablespoons of water (or adjusted, if using a box larger than 14.75 ounces)
1 teaspoon of lemon zest
Preheat the oven to 375°F. Line a baking sheet with parchment paper.
Whisk all of the ingredients together in a bowl. Adjust the water if needed to pass the "ribbon" test as described above.
Scoop the batter onto the baking sheet and use the back of the spoon to shape the batter into circles. Leave at least two inches of space between the cookies. Bake for 10 minutes, or until lightly browned and firm to the touch. Cool completely before icing.
Black and White Cookie Icing
Ingredients:
For the base vanilla icing:
1 cup confectioner's sugar
1 ½ tablespoons water
½ tablespoon of light corn syrup
½ teaspoon vanilla extract
For chocolate icing add:
1 tablespoon cocoa powder
½ tablespoon water
Begin with the vanilla icing. Whisk those four ingredients in a bowl. The consistency should be thick but spreadable, and not very runny. Coat one half-moon side of the cookies, thinly.
With the remaining vanilla icing add the cocoa powder and ½ tablespoon of water. This will make it into chocolate icing. The consistency should be the same as the vanilla. Spread the other cookie-halves with this chocolate icing. Allow to dry.