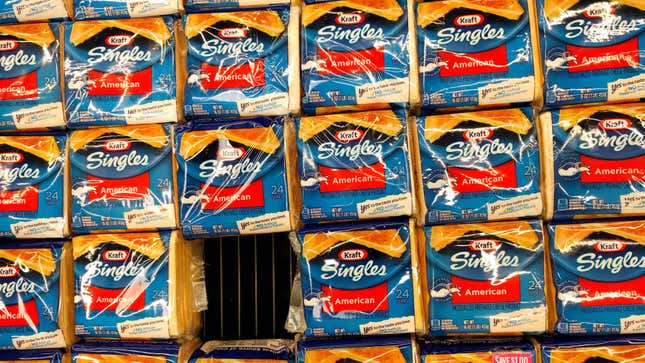 Since they first hit dairy cases in 1965, Kraft Singles have been a staple of refrigerators in the U.S. Part of the appeal of the American pasteurized cheese product is its accessibility and portability, as the slices come individually wrapped in thin plastic film.
But after decades of service, that shiny plastic wrapping is behind the voluntary recall of roughly 83,800 cases of Kraft Singles American cheese, the U.S. Food and Drug Administration (FDA) reports. Here's what to know.
Why are Kraft Singles being recalled?
Kraft Heinz issued the voluntary recall after several customers complained that there was plastic film stuck to their cheese slice after they had removed its individual wrapper. At least six of those complaints came from people who said that they gagged or choked on the plastic as a result. As of Sept. 20, no serious health issues or injuries linked to this issue had been reported, the FDA notes.
According a statement from Kraft Heinz, there had been a problem with one of the company's wrapping machines, which caused the thin strip of the individual plastic film to remain on the slices, even after the wrapper had been removed.
"If the film sticks to the slice and is not removed, it could be unpleasant and potentially cause a gagging or choking hazard," the company notes in the statement. Though the wrapping machine has now been fixed, Kraft Heinz is recalling any slices that may have been affected by the issue "as a precaution."
Which Kraft Singles are part of the recall?
Two Kraft Singles products are included in the recall:
16 oz. Kraft Singles American Pasteurized Prepared Cheese Product
Individual package UPC of 0 2100061526 1
"Best When Used By" date between January 10—27, 2024
Individual packages containing an S and 72 in the manufacturing code
3 lb. multipacks of Kraft Singles American Pasteurized Prepared Cheese Product
Carton UPC of 0 2100060491 3
"Best When Used By" between January 9—16, 2024
What to do if you purchased the recalled Kraft Singles
Check any packs of Kraft Singles in your fridge to see if they're included in the recall. If they are, don't eat them. Instead, you can return them to the store where they were purchased for an exchange or refund.
You can also contact Kraft Heinz from Monday through Friday, 9 a.m. to 6 p.m. EST at 1-800-280-8252 to ask about a particular product and potential reimbursement.