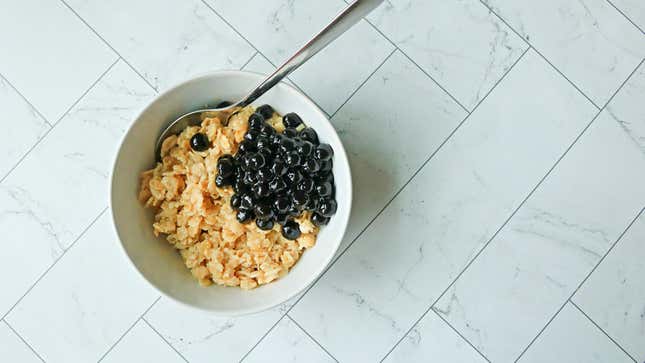 Oatmeal is a prime candidate for accessorizing. Much like rice or pasta, you could eat it plain, but why deprive yourself when it's so great with other stuff on it. Instead of adding crispy or crunchy texture to my oatmeal, I decided to take the road less traveled, and aimed for chewy. I added honey-soaked boba pearls to the bowl, and it may have been the most fun I've had eating oatmeal to date.
Boba pearls, also called tapioca pearls, are the famous soft, gummy, slippery bubbles in bubble tea. They're made from tapioca starch that's been mixed with water to make a soft dough. This dough is rolled into mini orbs and boiled until completely cooked and translucent. They're usually added to a sugar syrup, and when you're ready you can spoon them over your intended treat. You can buy them pre-made and ready to boil, or whip up a batch from scratch. Their chewy texture and lightly sweetened flavor makes them an enticing companion to milky iced tea, or vanilla soft serve.
---
Stock a pack of ready-to-boil bubbles in the pantry:
---
I used packaged, dry tapioca pearls which cook quicker than homemade, and obviously you don't have to do any of the rolling. Whichever brand you buy, cook them according to their package directions. For my bag, that meant setting about four cups of water to boil and slowly adding a third of a cup of dry boba pearls. I allowed them to boil until they floated, about a minute or two. Then I covered the pot with a lid and lowered the heat to simmer. The pearls cooked for another four or five minutes.
While the pearls are simmering, I recommend setting up your oatmeal on another burner so everything finishes at the same time. Once you've simmered the boba for five minutes, turn off the heat but leave the boba covered on the hot burner for another five minutes. This will be enough time to finish cooking the oatmeal.
Transfer your piping hot oats to a bowl, and check your boba pearls. Taste a pearl to make sure it's soft enough. If you like them softer, leave it in the hot water for a few more minutes. Strain and transfer the tapioca pearls to a small bowl with two tablespoons of honey. Scoop as many honeyed tapioca pearls onto your oatmeal as you like. I used them all. Each bite is chewy, sweet, warm, and comforting. You can keep it simple with just the boba pearls, or create a textural roller coaster with a sprinkle of something crunchy, like toasted nuts or cocoa nibs.