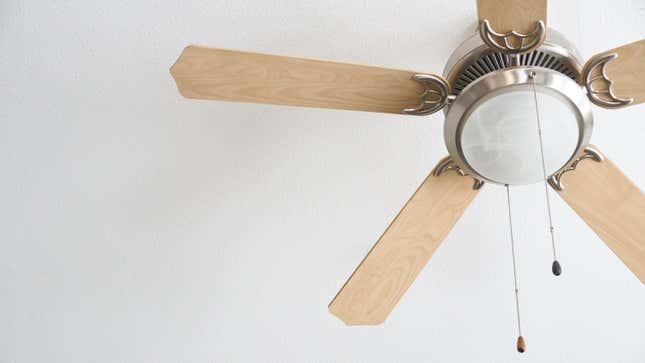 As the temperature starts to drop and you turn your heat on for the first time, don't ignore your ceiling fans. You can use them to your advantage throughout the winter to warm your space and save on energy—as long as they're spinning in the correct direction.
Ceiling fans should run counterclockwise in warm weather. This pushes cool air downward and makes your space feel cooler. Note that the fan is not actually chilling the air—it is simply circulating it, creating a breeze. The higher the speed, the breezier it feels.
It may seem counterintuitive, but ceiling fans can actually warm your space in the winter. When it's cold, running your fan clockwise pulls cool air upward, pushing warm air out and down. Keeping the fan at a low speed minimizes the breezy feeling while maximizing the airflow effect.
Using your ceiling fans correctly could result in lower heating and cooling bills: The U.S. Department of Energy estimates a 30% savings in the summer and up to 15% in the winter, with no change in your comfort.
If you're not sure which way your fan is currently spinning, set it to the lowest speed, stand beneath it, and look up. Blades that spin right to left are going counterclockwise, and you'll probably be able to feel the cooler air. Blades spinning left to right are moving clockwise—the correct direction for winter.
A good rule of thumb is to reverse your fans around each Daylight Savings Time switch ("fall back" is coming up this weekend). Here's how to do it.
How to reverse your ceiling fan's direction
Changing your ceiling fan from counterclockwise to clockwise and vice versa is straightforward:
Turn your fan off and wait for it to come to a complete stop.
Locate the reverse switch on the fan body (you may need to remove light fixtures).
Flip the switch. If you have a remote control fan, there may be a reverse button on the handheld remote. Replace any fixtures.
Turn the fan back on.
Note that ceiling fan blades should be angled to at least 12 degrees but no greater than 16 degrees—otherwise loose objects will get blown around. It's also important to have the correct size fan for your space.
Since you're already stopping your ceiling fans in order to reverse their direction, now is also a good time to give the blades and fixtures a thorough clean.