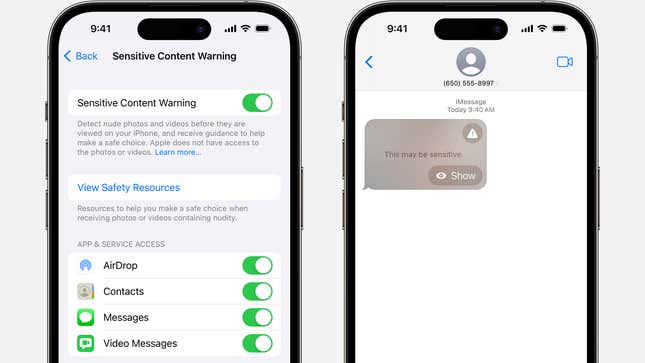 NSFW messages can be acceptable, depending on the time and the place—but you don't want them popping up unexpectedly on your iPhone. Until now, however, there was no way to properly block them while allowing other, innocent images sent via iMessage: Nudes would come through the same as any other picture.
With iOS 17, you now have the option to blur nudes and other NSFW content in the Messages app. As long as your phone can update to the new OS, you'll be able to use this feature.
How your iPhone detects nudes in iMessage 
The "Sensitive Content Warning" setting uses on-device machine learning to analyze photos and videos you receive. Apple doesn't have access to the media you receive: The entire process is handled offline within your iPhone. Apple claims it doesn't get any indication of you receiving NSFW content, either. This is a safety feature that works without compromising your privacy.
How to blur nudes on your iPhone
Once you update your iPhone to iOS 17, you can go to Settings > Privacy & Security > Sensitive Content Warning, and enable the feature. Sensitive Content Warning works across Apple apps such as Messages and FaceTime video messages, and it's also enabled for AirDrop and iOS 17's new Contact Posters feature.
After enabling Sensitive Content Warning, all nudes you receive in these apps will be blurred by default. It won't stop you from looking at these images, should you choose: You can tap the "Show" button on the blurred content to reveal the image or video. That way, you get to choose when and where you want to view these images, or if you want to delete them without viewing at all.