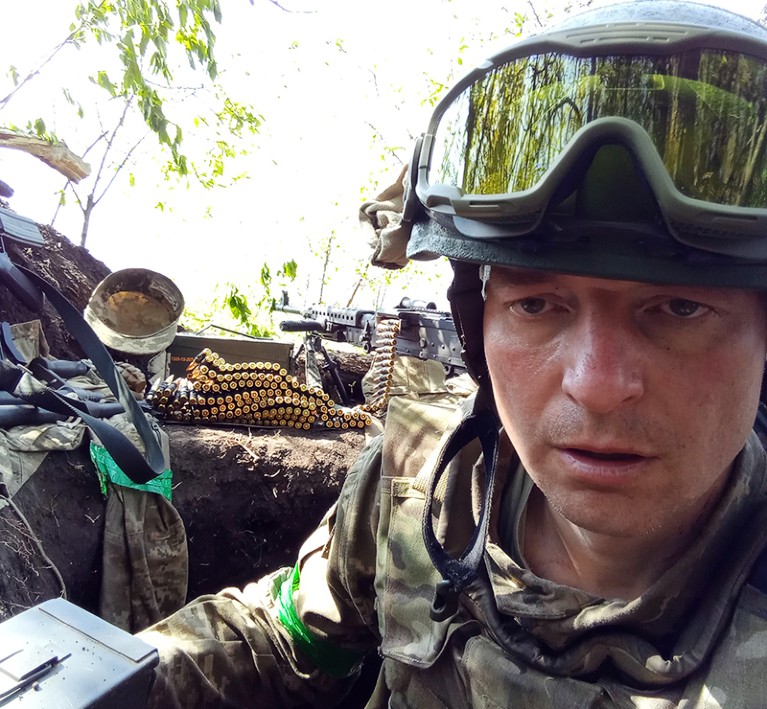 When Russia invaded his home country in February 2022, neuroscientist Sergiy Sylantyev was leading a research programme at the University of Aberdeen, UK, investigating chemical signalling in the brain. Within weeks, Sylantyev — who had no military experience — travelled to Ukraine, where he was quickly deployed to the front lines as a foot soldier.
"I was afraid," he says. "I couldn't imagine before that this could have happened." As of August, the war has killed an estimated 70,000 Ukrainian and 120,000 Russian troops, alongside thousands of Ukrainian civilians.
At war, Sylantyev remained connected to his research, at one point working on a now-published research paper about an amino-acid treatment for stroke1 in the trenches. Last November, he returned to his position as a lecturer and research scientist.
He talks to Nature about how the experience changed him and why he thinks science cannot be separated from the politics of war.
What were your scientific aspirations before the war?
My intentions were — as they are now — to run a research group in neuroscience and connected disciplines, and to discover new things about how our brain works.
Since I was a schoolchild, I was interested in questions like, what is the mechanism by which our brains work and, how can we run this mechanism in the direction we want? In neuroscience, we can model almost everything except thoughts. A key question I would be excited to see answered during my lifetime is, what is the minimal neural network sufficient for the autonomic generation of thoughts?
My scientific career has been quite international. After receiving my PhD from Odesa National Medical University in Ukraine, I worked as a researcher in Taipei, Canberra and London before I took up my position in Aberdeen. I was very much shaped by the values and lifestyle of the international scientific community, with all its tolerance and isolation from political questions. I was so far from any kind of military activity.
How did Russia's invasion of Ukraine affect you?
I have British nationality, but I am of Ukrainian origin; I was born in the town of Vylkove in Ukraine's Odesa region. Many of my friends and relatives were and are in Ukraine. So at that specific moment — I very much remember it — I was at home working late on a paper draft when a friend in Ukraine called me and told me Putin was about to give a televized address. We both understood what it could be, but hoped it would be something else.
After listening to Putin's address, I was a bit stalled. About 20 minutes later, a relative in Ukraine messaged me saying that his house had been destroyed by a missile attack. Only at that moment did I finally understand that it was the beginning of a full-scale war. I woke up my wife and she asked me, what's happening? I didn't answer, but she understood.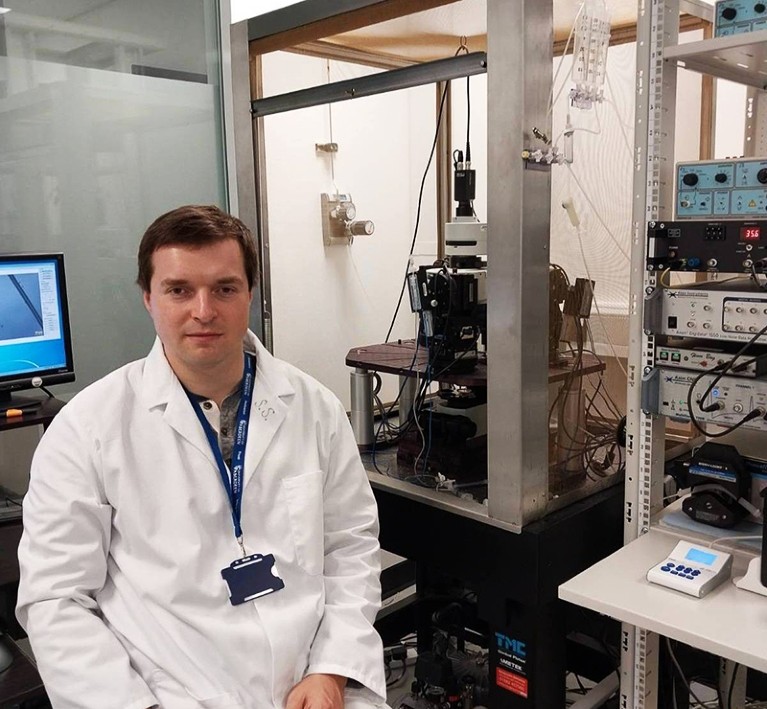 I was afraid. My feeling was that Russians came to kill us all. This broke my world because I couldn't imagine before that this could have happened.
A few days later, I travelled to Ukraine to join one of the freshly formed brigades. I didn't have much time to prepare. I just let my supervisors know that I was going. I visited my institute once for a couple of hours to cancel the timetable for experiments and stop ongoing processes in the laboratory. I was unsure whether I would ever make it back.
What was it like moving from the laboratory to the front lines?
I had no prior experience, and the military training didn't last long because there was very high demand for new recruits on the front lines. For each group sent from our training centre, about 50% died. So, I calculated that after five deployments, you have less than a 5% survival probability. At that time, I thought that most probably I would die in a couple of months.
In the military, any skill can be an advantage, including scientific skills. Several scientists came to Ukraine to fight as volunteers, including quite a few from abroad. What is helpful about being a scientist is having a systematic style of thinking.
I continued my scientific work even when I was in the trenches. I performed some editorial corrections to my paper submitted to Cell Death & Disease when we were under mortar shelling. I had a strong feeling that I had to finalize the paper; I thought that in case I die here, I need to get this paper published. We had some Internet connection, which I used to discuss edits with my co-authors. In some ways, it was like any distanced information exchange between scientists.
Of course, my colleagues were worried about me. From time to time, I sent them messages to let them know I was fine, although I couldn't share information about my whereabouts for security reasons. The paper was published last August1, while I was still at war.
What was your experience of returning to the United Kingdom and to the lab?
War shapes your mind. It took a couple of months for me to adjust to life in a peaceful country. For months, I couldn't sleep because it was too quiet.
I don't think my experience changed me as a scientist. I continued working, publishing in the same area with the same people. I didn't abandon science. I don't think I will abandon it for the rest of my life.
However, being at war very much changed me as a person. I suddenly understood how few problems I really had in my life. On the front lines, if you woke up alive, not wounded, had something to eat and the people around you were also alive — what else did you need?
Science is not about waking up alive. It is about complex and interesting problems.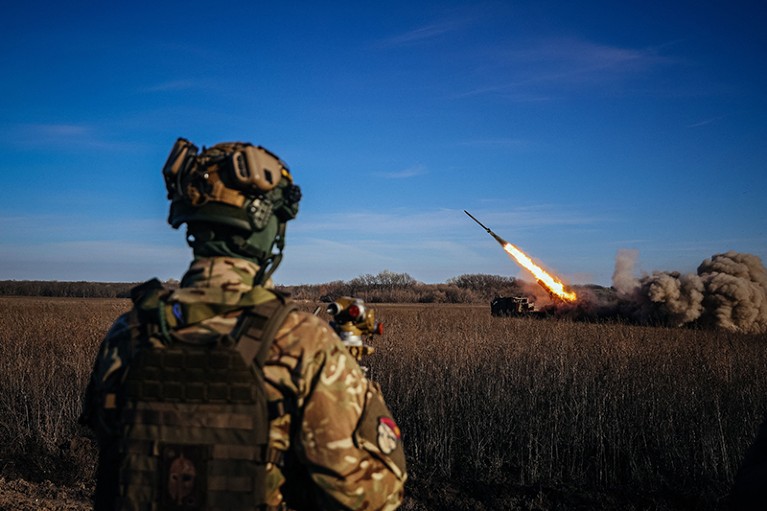 How has the war affected your interactions with Russian colleagues?
Before the war, I had some interactions with Russian scientists but not much. I had some joint publications. After the war began, I stopped any interaction. At least once, I cancelled my application for a conference where Russian citizens were taking part; they hadn't declared that they didn't support Putin's regime.
Our international scientific community is not doing enough in terms of helping Ukraine to win over Russian aggression. I don't support the idea that science should be separate from war because science is an integral part of war. Science is a force that supports the military machine in any country, and scientists work on this support.
I'm not saying that we should forget about the periodic table or Lobachevsky's equations, but we should stop all interaction with the Russian scientific community, and current limitations should be made more severe. I would establish a compulsory declaration of non-support of the war, which would need to be signed by Russian scientists before they can publish their work in international journals. This would be similar to the compulsory declaration of neutrality that Russian athletes must sign to participate in international competitions.
What would you like the international scientific community to understand about your experience?
As international scientists, we are educated to accept the values of an international tolerant society. It was really hard for me to learn that there are people around that want to torture and kill people just because they have a different citizenship; I didn't believe until the very end that this war would commence.
Last year, 11 of my relatives and classmates were killed in Ukraine, mainly in missile attacks. In terms of the Ukrainian scientific community, this is below average. Quite a lot of Ukrainian scientists have been killed, both fighting on the front lines but even more in peaceful cities, in Russian missile attacks. Russia has particularly targeted academic areas in Kyiv and other big cities, which provides further proof that it considers science part of military power.