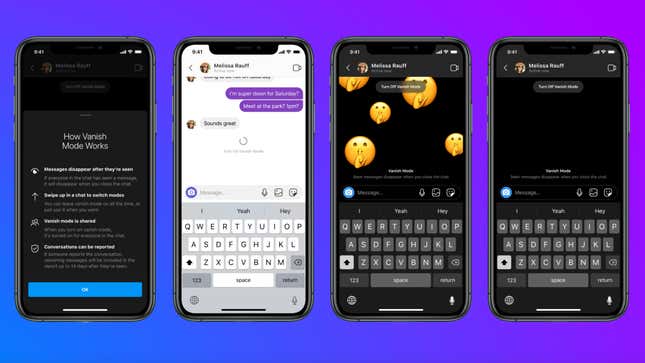 If you're worried about someone opening your Instagram app and perusing your private DMs, there's an easy way to make sure they'll only find a blank screen: vanish mode.
What is vanish mode?
You can think of vanish mode as Instagram's answer to Snapchat: Any messages seen when vanish mode is enabled will disappear when you close the chat. "Seen" is the keyword here, as the other person in the chat will need to open your message before it is removed. You also won't be able to copy, save, or forward messages in vanish mode, although nothing is stopping you from screenshotting the chat—except maybe the shame of Instagram notifying the other end that you screenshotted the chat.
Previous chats sent before turning on vanish mode are still visible, however. If you send a message you wish you hadn't, unsending the message is the feature you're looking for.
While messages sent in vanish mode eventually vanish, the feature isn't exactly "secure," as messages aren't actually deleted right away. They're deleted for most intents and purposes: Once someone sees a message and leaves a vanish-mode chat, that message will disappear. But the message technically still exists for up to 14 days, since you can report someone's message even after it's gone.
At this time, vanish mode only works with one-on-one chats, so don't expect your group chats to be safe from future prying eyes.
How to enable vanish mode on Instagram
There are two easy ways to turn on vanish mode in an Instagram chat. The first is to open the chat, then swipe up on the window. You'll see a progress circle appear at the bottom of the screen, accompanied by "Swipe up to turn on vanish mode." Keep swiping up until the circle is full, and you see "Release to turn on vanish mode," then let go. Your screen will go black (if you have light mode enabled), and a series of "shh" emojis will fall from the top of the screen. You'll also see a "You turned on vanish mode" banner at the top of the chat to indicate you enabled the feature.
The other way to turn on the feature is to open a chat, tap the user's name, then tap "Privacy & safety." Here, tap the toggle next to "Vanish mode." You can quickly disable vanish mode by repeating either step.