From weddings to breweries to barbecues to plain ol' bars, alcohol is everywhere. Drinking is a ubiquitous part of our culture, and while it's easy to stick with the drinks that you know, you might want to learn more about them (or you may be a seasoned drinker and still not know much about, well, alcohol). Here's are some of the basic alcohol-related terms you might want to be familiar with before your next trip to the bar.
Kinds of drinks and mixers
What is an aperitif?
This is a drink meant to be had before eating a meal. It might be vermouth, gin, a martini, or some other non-sweet spirit (see "spirit" below). Its sweeter counterpart, a digestif, is served afterward. Find more info on these here.
What are bitters?
Bitters are plant-based liquids mixed with water and alcohol. They're used in small amounts and are meant to enhance the flavor of a cocktail. You might be familiar with orange bitters, for instance. Know that these have a pretty high ABV.
G/O Media may get a commission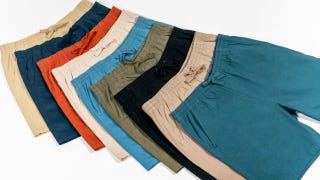 70% off
Jachs NY Summer Shorts Sale
Exclusive sale on summer styles
Patterned, plain, twill, and chino, these classic shorts with 7-9″ inseams tell a story—you're a guy who vacations, maybe on a boat.
What, exactly, makes a cocktail?
A cocktail is not just a mixed drink. (If you order a vodka soda, for instance, it's not really a cocktail.) A "true" cocktail needs a spirit mixed with ingredients, which should be fruit, juice, or other types of sugars and bitters. It really doesn't matter, though. Call your vodka soda a cocktail if you want.
What is a highball?
A spirit served in a tall glass with ice and a mixer, which is typically carbonated. Usually, the spirit is whiskey. You can also say you want your drink "long" if you want it served in a tall glass. Conversely, say "short" if you want it served in a short glass or a rocks glass.
How to Make a Really Good Highball
What is proof? 
This, like ABV, measures how much alcohol is in a beverage. The proof is twice the percentage of ABV of any beverage. So, if a beverage is 40% ABV, it's 80 proof. Pure ethanol is 200 proof.
What is a sour?
Sour drinks are usually served in short glasses. They have liquor, lemon or lime juice, and sugar. Some places will have their sour mixer pre-made and ready to go. (I have been drinking vodka sours for one-third of my life and only learned three months ago that they sometimes include egg whites, which horrified me in the same way as when I learned Caesar salad dressing uses anchovies. Avoid this horror by making your own sour.)
What is a spirit?
Spirits are liquors that don't contain any added sugar, though things like flavored vodka murk the waters. Their ABV is usually 35% to 40%. Do not be confused here: Spirits and liquor are the same thing. Liqueur, on the other hand, is not the same thing. That's made from liquor, and usually has a lower ABV, but is sweetened. Amaretto is a liqueur.
What is a shot?
A shot is a unit of measure equal to 1.5 fluid ounces. When you order a mixed drink, the amount of liquor in it will be measured in shots. As you almost certainly know, you can also just order shots without any mixers or preparation. You just slam those back and hope for the best. Whether taking a shot or ordering a drink, you'll be consuming alcohol in increments of 1.5 fluid ounces.
What is a well liquor?
Well drinks are often advertised as part of happy hours and if you go to a lot of bars, you probably know what they are. In case you don't: Well drinks are just made with the most basic, inexpensive liquor the bar has. Plenty of people hold their nose (literally) and go with the cheapest liquor available, but if you want nicer liquor in your drink, you'll have to specify when you order.
What is a virgin drink?
A virgin drink is one that has no alcohol. If you work in a bar or restaurant where customers might buy you a drink and expect you to drink it in front of them, your establishment might have another code word for alcohol-free beverages that you can say when ordering so you don't have to drink alcohol with customers while you're on the clock. "Virgin" is the widely accepted term, though you may see "zero-proof" or "no-proof" cocktails on a menu. Those indicate that they are "mocktails," or drinks without alcohol.
Descriptions of alcohol
What does "ABV" mean?
Alcohol by volume, abbreviated ABV, is the percentage of alcohol in a drink. You'll see this expressed on cans of beer, for instance, which typically have about a 3.5% to 7% ABV. Here's more on how to calculate ABV.
Why do people ask for a drink to be "dirty"?
When you order a "dirty" drink, especially a martini, you'll get one with olive brine in it.
What's a double, triple, or quadruple?
Say you order a double vodka sour. That means that you're getting two shots' worth of vodka in the drink. Shots are defined below, but they're just a measure of alcohol.
What does "dry" and "wet" mean?
A "dry" martini has less vermouth than normal, and a "dry" drink of another kind has less of a mixer than normal. You'll taste the alcohol more. On the other hand, ordering a "wet" drink means you'll get extra vermouth in your martini or extra mixer in your drink. There's actually a lot to learn about martinis, if you want to get into them specifically.
What does muddled mean?
When a drink is muddled, the ingredients (think herbs, fruits, or spices) are mushed up with a hard tool, usually in the shaker or stirring glass, before adding the rest of the ingredients. This enhances the flavor and is also cool to watch.
What does neat mean?
Ordering a "neat" drink means you're just getting liquor in a glass. You aren't getting ice, a mixer, or literally anything else. You'll just be sipping a spirit.
What about "On the rocks" or "over"?
A drink that is "on the rocks" or ordered "over" is one that has ice in it.
What about "stirred" or "shaken"?
A stirred drink is what it sounds like: It's one that has been stirred, not shaken, before being strained. Generally, cocktails and mixed drinks are shaken if they have some special ingredient like cream or egg whites. Others, like martinis, are common stirred. Figure out which you prefer, but you should ask if you want your stirred instead. Shaking helps the drink get colder faster and also aerates the drink to make it lighter-feeling.
What is "straight up"?
If you order a drink "straight up" you're getting it without ice and in a stemmed glass. Note that it will still be shaken or stirred with ice, but the ice will stay behind when it's strained, so the drink will still be cold. That's why this is not the same as "neat."
What's a "topless" drink?
When you order your margarita "topless," you're just saying you don't want anything (like salt) on the rim.
So, in summary, if you order, for some unholy reason, a dry, double vodka soda, straight up, you're getting the following: Two shots of vodka mixed with less lemon juice and sugar than usual, shaken with ice, but put in a stemmed glass without the ice. Feel free to specify you don't want it made with well liquor.