Before we hit legal drinking age, my best friend and I usually hung out with her older boyfriend and his older friends, mostly because they would share their (terrible) booze. I had yet to learn anything about cocktails, and we weren't exactly in the position to be choosy, so we drank a lot of Captain Morgan and Diet Coke, Mike's Hard Lemonade, and Smirnoff Ices, all three of which were pretty gross.
I don't know why men in their late 20s were drinking those particular drinks at that particular time. They were sticky sweet in a way that made it hard to drink more than a couple, which is annoying when your primary goal in drinking is to get drunk. Hard seltzer hadn't been "invented" yet, at least not in the mass-produced, ubiquitous form you see it to day, but I think those men in their late 20s would have really enjoyed it, and I would have enjoyed taking it from them.
Of course, DIYing hard seltzer has always been an option. All you have to do is add alcohol to seltzer, though I like to doctor mine with a tiny bit of simple syrup and bitters. Ranch water is one, specific type of DIY hard seltzer.
In its simplest form, ranch water only has three ingredients: blanco tequila, lime juice, and Topo Chico. Sometimes it's served in a highball, but often imbibers will make a little room in the Topo Chico by pouring out (or drinking) an ounce or two of seltzer, then build the drink write in the bottle.
It's like an effervescent, skinny margarita, and the bubbles—and fairly high seltzer-to-booze ratio—are what make it refreshing. It is ranch water after all, so it should be fairly dilute and, well, watery.
G/O Media may get a commission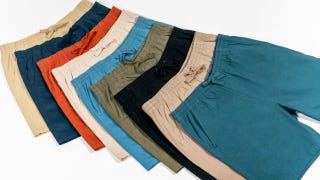 70% off
Jachs NY Summer Shorts Sale
Exclusive sale on summer styles
Patterned, plain, twill, and chino, these classic shorts with 7-9″ inseams tell a story—you're a guy who vacations, maybe on a boat.
If you want to riff, then by all means, do so. Like most seltzer-based libations, ranch water takes well to tweaks. A drizzle of hot honey syrup, or even simple syrup, can smooth the bite of the booze, and some people will supplement with liqueurs, a pinch of salt, a bit of oleo saccharum, or a pickled jalapeño slice.
The Topo Chico, however, is non-negotiable. According to Garden & Gun, "the sprightly effervescence of Topo Chico—the mineral water born in Mexico in 1895 that tickles the nose more than most" gives the beverage the "a similar bubble structure as Champagne."
DIY Ranch Water
Ingredients:
1 12-ounce bottle of Topo Chico
1 1/2 ounces blanco tequila
1/4 ounce lime juice
Barspoon simple syrup (optional)
Open the bottle of Topo Chico and pour out or drink about two ounces of seltzer. Carefully—it will fizz—add the tequila, lime juice, and simple (if using). Lightly stir with a straw or chopstick and garnish with a lime wedge.