Spicy food is a lifelong adventure. Even for the wary, the sensitive, the adamantly spice-less, there's usually a moment when unexpected spice makes its way into the hors d'oeuvres at an event or at a family gathering–and it's pretty good. Fear strikes, but after that moment passes, you kind of don't hate what just happened. Spiciness doesn't always translate to Carolina reaper levels of heat. There are ways to control the spice in your food at home, so you can use it to complement the meal and highlight its flavors. Here are a few ways to explore spicy food with a heat that works for your palate.
Start with chili oils or hot sauce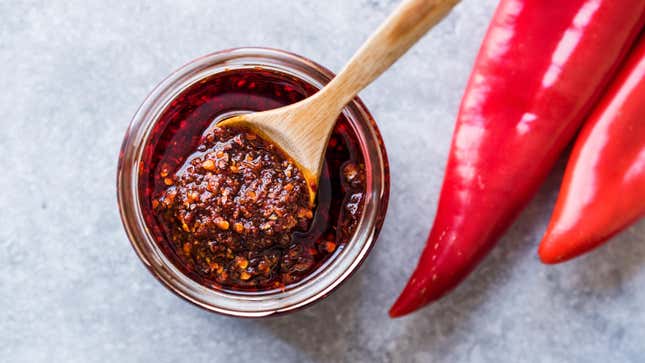 Cooking with hot peppers can be a little tricky, because the heat can make the capsaicin (the oil-like compound in peppers that makes them hot) express itself with more potency. Sometimes the finished dish will become spicier as it ages (watch out for those leftovers). Instead of dropping in a chopped, fresh chili, start with something light that you can adjust.
To get your feet wet and test the spicy waters, I suggest starting with chili oil or hot sauce. Many chili oils, like chili crisp and salsa macha, contain big flakes of dried chilis. Those can pack quite a bit of heat. The orange oil floating on top, however, is mild. Just spoon off it off and swirl it in to introduce an edge to your dish. This oil has a delightful warming tone, with a hint of peppery bite. Work your way up to the "crisp" part later.
Hot sauce is a mainstay condiment that's prevalent in most grocery stores. You can find mild to hellfire sauces out there, and they're usually cut with a few other ingredients like vinegar, garlic and other seasonings. It's great for dabbing on a finished dish, and easy to control the amount and where it goes.
Use these two items as finishing sauces. A finishing sauce is something you'd use on the plate, after the meal has cooked and been served. Don't mix it in, just drizzle some over an area of the plate, about the size of a bite or two. Then you can taste it, and assess the situation. If it's too hot, mix in some of the unadulterated meal to dilute the heat. Or if you feel betrayed, you can always scoop that bit off of your dish. If it's tasting great, add your finishing sauce as you go along. Keep in mind that spice usually builds. Don't dial up the heat right away, you might regret it halfway through.
Explore fresh peppers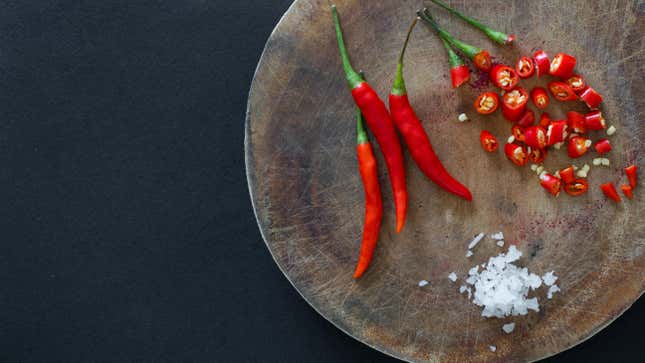 Freshly chopped peppers and chilis can add flavor, texture, and spice to your cooking. Peppers are such a varied fruit when it comes to Scoville units (the unit for measuring spice in peppers), that you can even use them as a main ingredient. I don't love eating whole chilis, but I won't say "no" to a jalapeño popper.
Start adding hot peppers to your dishes in modest amounts, and start with peppers known to have some chill, like jalepeños, shishitos, poblanos, or serranos. (I enjoy the visual for this list of peppers by Scoville unit.)
If you're worried a pepper is too hot but you still want some of the flavor and a little heat, you can remove the hottest part. When you cut any pepper open you'll see the white, or light colored ribs that hold the seeds in the center. The ribs feel spongy, and sometimes they're thick like in bell peppers, and in smaller chilis they can be very thin. The spicy capsaicin resides in the membrane and seeds. Quarter big peppers, and halve the small ones, and take a thin, sharp knife and run it between the flesh of the fruit and the rib. Discard this if you're avoiding most of the heat, or if it's an especially spicy pepper. You can test the spiciness of a pepper before adding it to your pot of chili by touching a piece of the cut rib to your tongue, or giving it a sniff.
Adding chopped peppers to a dish will imbue the entire meal with heat, so only do this if you know you, and whoever else is eating it, will be happy with some spice. Mince peppers if you want the heat to meld into the entire dish, and coarsely chop peppers if you want a burst of heat to surprise you throughout your meal.
Graduate to dry chilis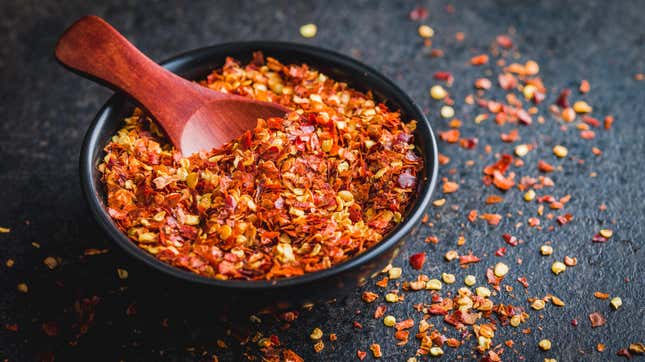 Dried chilis are simply the desiccated versions of the fresh ones, however they can feel spicier. They have the same amount of capsaicin as they did when they were fresh, but the water is gone, so that spice is more concentrated. Approach whole dried chilies, chili flakes, and ground chili powder with caution. If you're adding chili flakes or powder to a sauce, stir in a pinch or quarter teaspoon, and let it hydrate and disperse for a few minutes before tasting. Assess your dish's spiciness level from there.
Whole dried chilies can be ground into flakes, or blended with other ingredients into a thick sauce, like mole. You can add an extra layer of flavor to your whole dried chilies and chili flakes by giving them a light toast, either in a dry pan, or with some oil. Do this over low heat, and be careful not to burn them. The smoke will leave you coughing uncontrollably, and you'll have to air out your house. Once toasted, use them as an ingredient in your sauces, soups, chilis, stews, stir fries, and other dishes.
If you're playing it safe, or you're cooking for folks that don't like spice, you can save the chili flakes to finish your dish. As usual, start with just a pinch, and keep it cloistered in one area, just in case.
With all of these peppery applications, if the dish becomes too spicy, you can walk it back to a degree, but it will always have a little heat. To fix an overly spicy dish, dilute it with other watery ingredients, like a few cups of cooked vegetables or broth. You could also serve it with a helpful side dish to mellow out the spice, like pasta or rice. Capsaicin will bind to fats, so if your mouth is heating up too much, serve the dish with bread and plenty of butter, or a cooling full-fat yogurt dip. This will help the heat leave your mouth. (Sure, it'll head to your belly next, but that's all part of the adventure.)