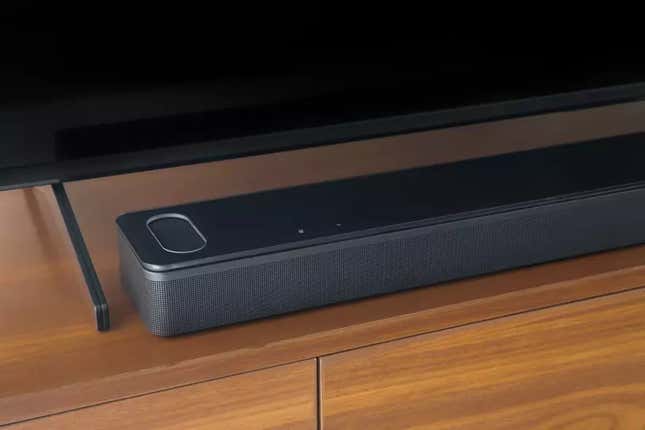 People get 4K TVs because they want to enjoy movies and TV shows the best way possible, but most people forget to improve another equally important component: the sound. Generally speaking, TV audio is terrible. What good is it to have a 4K TV if you can't understand the dialogue? If you're in the market for a great soundbar for an even better price, consider the Bose Smart Soundbar 900 for $599.99 (originally $899.99). This is the cheapest this soundbar has been, according to Honey's price history.
(Or if you're looking for a more budget-friendly option, consider the JBL Bar 2.0 All-In-One soundbar.)
Perfect for those looking for an immersive all-in-one sound
Bose Smart Soundbar 900 – Is the standalone enough?
The Bose Smart Soundbar 900 is great for those looking for one of the best soundbars Bose has to offer (it was recently succeeded by the Bose Smart Ultra Soundbar). This soundbar can be a stand-alone speaker for those with limited space or not looking for a subwoofer. However, it can also be hooked up to a subwoofer and other speakers if you feel like you want that extra kick later down the road.
This soundbar has up-firing speakers, which direct the sound upward to reflect off the ceiling and come back down to fill the room and give the impression of surround sound. This Bluetooth and wireless soundbar also has Dolby Atmos, offering compatibility with streaming music services and Amazon Alexa or Google Assistant. You'll also have HDMI eARC connectivity and wifi (you can hook up Spotify Connect or Apple AirPlay 2), as well as two-way Bluetooth streaming. You'll be able to control this soundbar with your voice if you don't want to use its remote. Bose has matched this deal as well. You can read all of its features from the official Bose website here.