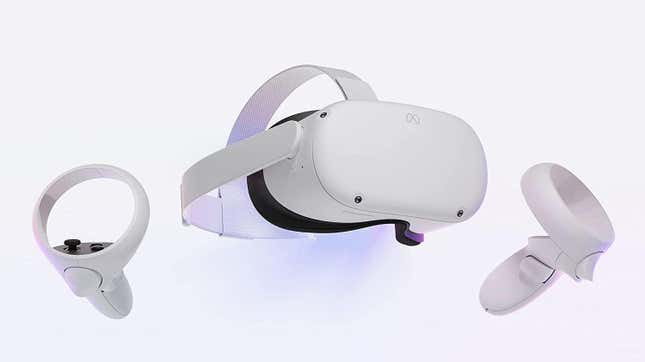 Retailers Best Buy and Amazon are offering a Meta Quest 2 VR system bundled with either an Amazon or Best Buy gift card right now. The bundles are $299 for the 128GB Quest 2 model (regularly $349 at Amazon and $399 at Best Buy), and $349 for the 256GB model (regularly $399 at Amazon and $429 at Best Buy)—and the gift card is worth $50.
The sale prices combined with the gift card makes this an excellent time to dip your toe into the virtual reality waters. Here are the links:
The Meta Quest 3 is scheduled for release this fall, at price of $499, so it makes sense that they'd be dropping the price on the older model. But don't count the The Quest 2 out; it's been around for nearly three years, so it (finally) has enough available games and useful apps to make it viable.
If you'd rather the lowdown, make-you-feel-like-you-need-a-shower version of virtual reality, check out this "DESTEK V5 VR Headset for Phone." It's $34.99, which seems pretty cheap, until you realize it's a device for strapping your phone to your face. Or you could wait until 2024 and buy an Apple Vision Pro for $3,500.
Note: All deals are subject to change.