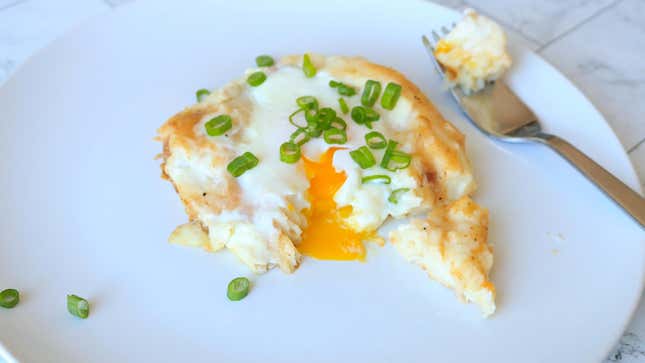 By some curious twist of fate, I ended up with two orders of mashed potatoes from Popeyes last night. Maybe God was casting blessings upon me (She works in mysterious ways), or maybe they charged me for a large and used two small containers because they ran out of packaging. I don't know. It doesn't matter. It was a gift and I did not squander it. This morning I used my potato bounty to make the most amazing iteration of "toad in a hole". Give your toast a rest and fry an egg in a ring of mashed potatoes, and do it as soon as you possibly can.
The American-style toad in a hole is an egg fried into a slice of bread. You cut a circle out of the center of the bread, drop the slice into a frying pan with butter, and crack an egg into the void. It's simple, satisfying, and gets the job done. However, if you have mashed potatoes on hand, you have a carb substitution opportunity that results in a thoroughly savory dish. I love carbs in all forms, but once you sub-in mashed potatoes for toast, you realize how much flavor you've been missing out on.
Due to a fortunate typo, I'm calling this dish a "toad in a hotel." (A ring of mashed potatoes is taller and more substantial than a slice of bread, so it tracks.) My mashed potatoes came with gravy, but if you don't have a sauce, don't stress about it. Melt a small pat of butter in a frying pan over medium-low heat; you need just enough butter to lightly coat the bottom. Add about a half cup (or a small Popeyes container) of mashed potatoes to the pan. Using a spoon, push the potatoes into a ring to create a hole that's about two inches in diameter (you should be able to see the pan through the hole). Let this fry for a couple minutes. Meanwhile, go grab an egg. Crack the egg into the hole and cover the pan with a lid for about five minutes, or until the yolk reaches your desired doneness. Turn off the heat and gently move the hotel to a plate.
I don't recommend trying to flip this, as the potatoes are rather soft while they're on the heat, and the whole thing could come apart. Using a lid gently steams the top of the egg, and further warms up the potatoes. Serve this fluffy delight with anything you'd normally eat with your breakfast eggs, or keep it simple with a scatter of scallions. (Oh, and if you're off the whole frying business, you can always sous vide your eggs and mash.)