Michelle Alozie has talents both on the pitch and in the laboratory, balancing her career as a professional footballer in the US National Women's Soccer League — playing for the team Houston Dash in Texas — with her work as a cancer research technician at Texas Children's Hospital, also in Houston.
Alozie was part of the Nigerian national team in the FIFA Women's World Cup in Australia and New Zealand, which concluded on 20 August. After coming second in its group, the team was beaten after a nail-biting penalty shoot-out against England in the Round of 16.
Alozie spoke to Nature about the parallels between research and professional sport.
You've just got back from the World Cup. What was it like to play for Nigeria?
It was amazing, definitely a dream come true. I think I'm still trying to deal with it. I don't think it has truly hit me that I played in a World Cup, something that I've watched my whole life. I'm just super grateful and thankful for the opportunity, even though it didn't necessarily pan out the way we wanted it to.
As for playing in the Nigerian team, it definitely fills a part of my heart that I didn't know needed to be filled. I love just being able to play with people who look like me, who grew up similarly to me and have a similar story to me. I think that's very beautiful.
This World Cup broke various viewing records for women's football. How did it feel to be able to play in these matches?
Honestly, I feel like it is about time. I think the women's game in particular has been growing exponentially in the past few years. When I was growing up, the focus was definitely mostly on the men's game. I don't think I really watched prominent women's soccer until maybe my early college years. So to be able to walk out and play those games in front of sold-out stadiums was insane.
You studied molecular biology at Yale University. Why did you choose that path?
I just loved learning about science and how it's ever-changing. It's constantly growing. When I got to Yale, there were a few biology majors — I chose molecular biology because I really love looking at everything from a micro standpoint, and how that can really affect things on a bigger scale.
You're now part of a research group that studies paediatric cancer. What is the lab's focus?
In Alexandra Stevens's lab at Texas Children's Hospital, we study acute myeloid leukaemia (AML) in children. Unfortunately, not much funding goes into paediatric cancers. But here, we're able to look at AML in the laboratory to test different types of treatment. For instance, we can assess what types of chemotherapy work in conjunction with each other, and see how this can affect things on a small scale, but also hopefully look at them on a larger scale for further research.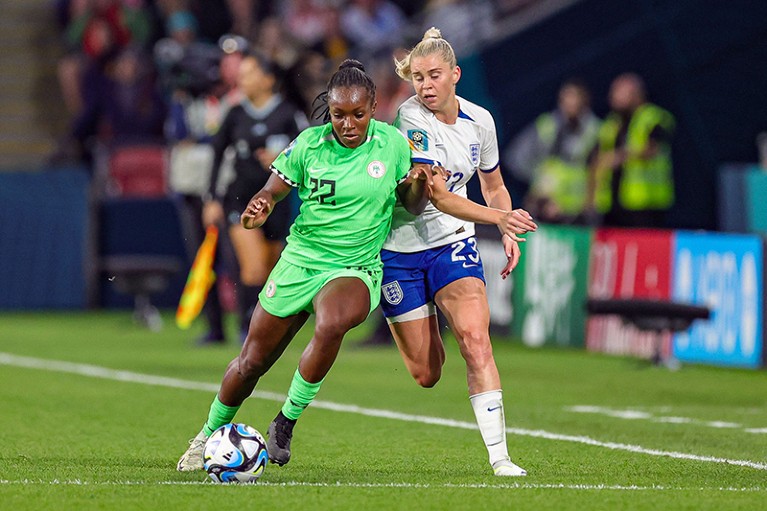 How do you balance the two parts of your life? What's your day-to-day like?
I think I've been pursuing both athletics and academics throughout my entire life. Day to day, I go to training in the morning and head to the labs in the afternoon right after. They're two really big passions of mine, and I wouldn't want to choose between them.
I think it's beautiful that I'm able to live these two lives in conjunction with each other. And they really overlap a lot with the teamwork and the collaborations that are needed. Especially with soccer, it's taught me how to be a team player and when to say that you need help. In science, it's definitely a team over an individual, which is what I love about research. It allows for this innovation and growth that you didn't necessarily know you're going to have when you're doing the research.
What are your plans for the future?
This answer is honestly always changing. Five years ago, I don't think I would have seen myself here. But right now, after the World Cup, I really want to see how far I can go with soccer. And then whenever that's done, I would love the opportunity to go to medical school. Whenever we are able to shadow Dr Stevens in the clinic now, it's amazing to see these relationships you build with patients. I would love to be a doctor, and to specialize in cardiology.
And finally, the Women's World Cup 2027 — yes or no?
Oh, absolutely. If I have the opportunity to play for the Nigerian team, I would love to play again. And hopefully, my body will still be good and running.
This interview has been edited for length and clarity.