Whether you get it off the block or grab handfuls from a bag, grated cheese is an important food. The tiny teeth of the grater transform it from a solid state into fluffy clouds of parmesan or piles of cheddar that melt the moment they make contact with hot food.
There is no reason to stop your grating with cheese. Many foods can be microplaned into similarly fluffy little clouds, or shredded to make them more meltable. And if nothing else, grating an egg yolk is a cool party trick. Here are five other foods that are similarly great to grate.
Egg yolks
Grating butter and eggs feels spiritually similar to grating cheese. Egg yolks aren't technically dairy, but burying them in a 50/50 mixture of salt and sugar sure makes them act like it—the curing mixture draws out moisture while flavoring the yolk, creating a firm, bright orange disc that is packed with rich, salty umami. Leave it sit in a sealed container in the refrigerator, and after about a week, the yolks will be hard enough to grate. Dig them out of the salt and sugar, brush off the excess with a paper towel, and get to it.
I doubt you need inspiration for how to serve it, as egg yolk is good on everything, but I like to grate mine onto avocado toast, salad, pasta, and popcorn, and to use it to top off extra yolky deviled eggs. If you would finish a dish with grated parm, there's a strong chance you can finish it with grated egg yolk.
Butter
Meanwhile, grating butter is just plain practical. We all try our best to have room-temperature butter at the ready, but we also known the pain of being caught with something to butter with no soft butter on hand. If, when confronted with a piece of toast or recipe that calls for softened butter, you find yourself with nothing but the cold stuff, don't fret—grate. Grating renders the butter soft and malleable, so you can fold it into recipes or spread it on toast without tearing your bread or ruining your baked goods.
Tomatoes, chili peppers, and raw garlic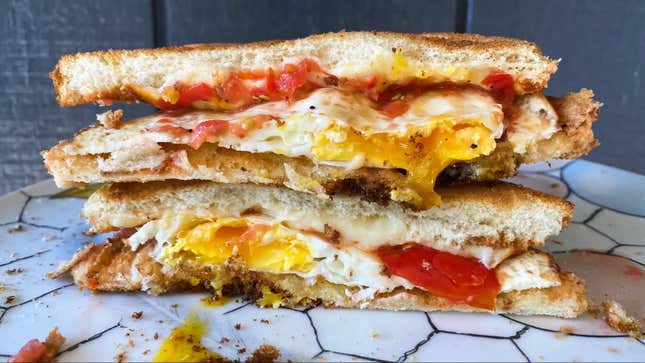 G/O Media may get a commission
$$$
2 Million Dollar Puzzle
Win a million dollars
The 2 Million Dollar Puzzles are 500 piece jigsaws that reveal a QR code at the end of them. You can then scan these codes to reveal how much money you've won.
One of my least favorite sandwich-eating foibles is the ol' tomato slip: You bite into a sandwich, only to have a slick slice of tomato slide out of it and into your lap. But shredded tomatoes do not slide, which is why I'm a big fan of grating them on breakfast sandwiches and (tiny) tomato toast. When grated, tomatoes act more like a jam, clinging to the bread and mixing with the other ingredients, instead of sitting on top, waiting for their moment to escape.
Frozen chili peppers also take quite well to a grating. Freezing firms them up, at which point you can microplane the exact amount of spice you desire into your dish. The super fine shreds will melt into your food, distributing the heat and flavor of the pepper throughout the entire dish rather than punctuating it with big slices or chunks.
Grated garlic also brings a bit of heat, along with an incredibly pungent, untamed flavor. Lifehacker's A.A. Newton discovered this trick while battling a cold, and while it didn't immediately cure all that ailed her, it did clear her sinuses for a bit—and make everything she ate taste better. "Everything from homemade chicken stock to instant miso to an ancient pack of kimchi ramen instantly became more savory, with just enough of a raw garlic bite to (temporarily) clear my sinuses," she wrote. (You don't have to be sick to enjoy the power of raw, grated garlic; grate a clove in your next marinara just before serving and behold its mighty power.)
Dried mushrooms and jerky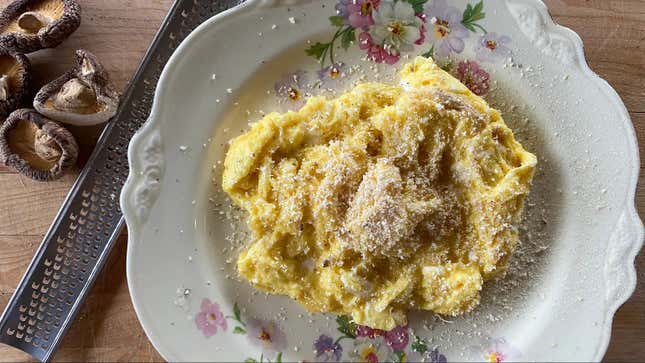 Truffles get too much attention. Yes, they taste good, but the price tag is prohibitive for most people. I'm more of a budget-friendly "dried shiitake" gal myself, which is fine, because dried shiitakes are packed with savory, earthy flavor. Grate them with a microplane over a pile of soft scrambled eggs, then grate some more and toss the powder with a big bowl of popcorn. After sampling those applications, I'm sure you'll palate will lead you to other exciting uses for the stuff.
Dried meat is another under-appreciated grateable. Beef jerky (or any other kind of jerky) can be micro-planed and scattered over salads, pasta, mashed potatoes, or anything else you would adorn with grated cheese. Like parm, it will add salt and umami, but it packs a little more protein (and makes your salad taste like beef).
Apples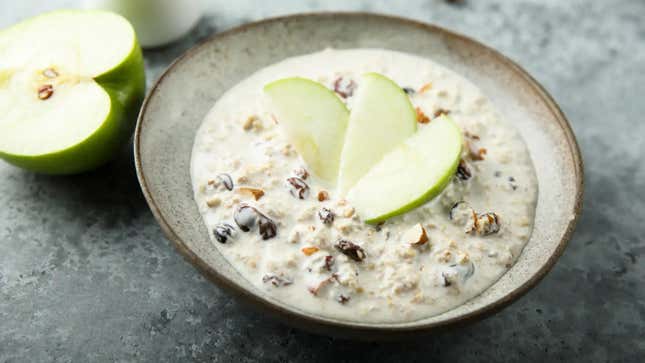 I don't eat oatmeal, but Allie does, and her grated overnight oats hack makes the breakfast staple a little more exciting. Based on an old recipe for "Bircher muesli," the raw apple shards are mixed into the oats, along with your liquid of choice, to make a fruity, sweet breakfast that packs an extra serving of fruit. (If nothing else, it will let you start your day on a slightly smug note.)