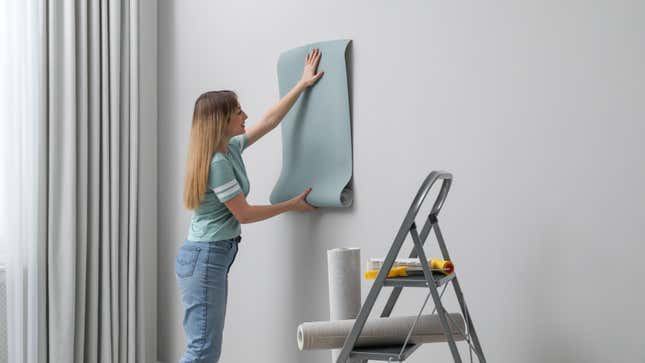 You can add value and get more enjoyment out of your home when you repair and refresh things—but the cost of hiring a handyman or a contractor to complete your renovations can add up quickly. While some renovations require a pro, there are plenty of tasks you can complete yourself. Here are the best DIY home improvements you can tackle yourself that are definitely worth the extra work.
Hang your own wallpaper
Adding wallpaper is a DIY-friendly update. Since wallpaper costs about $1.35 to $8 per square foot, and you don't need many tools to hang it, it's a good choice for a do-it-yourself project that will definitely save you money. Hiring a pro to hang your wallpaper will add between $1 and $7 per square foot—so you can cut your costs by about 40% by doing it yourself.
Update your outlets and fixtures
Updating your outlets, light switches, and light fixtures is a job you can do yourself as long as your home wiring is up to date. Make sure to shut the power off before tackling any of these projects, and always follow manufacturer instructions for safe use to complete installation safely. New light switches cost between $2.50 and $38 apiece, depending on the type; new outlets cost between $1.50 to $40 depending on the type. Light fixtures that come ready to be wired into your home can cost between $10 and $250, on average. If you hire a pro, updating your outlets and light switches will typically cost between $65 and $125 each for labor in addition to the cost of the new hardware, and replacing a light fixture will cost between $75 and $150 per fixture, not counting the cost of the fixture.
Install a smart thermostat
If you have a central HVAC system with an analog thermostat, switching over to a smart thermostat is a project you can likely complete yourself in less than an hour. Setting up a smart thermostat yourself will also help you save money on your energy bill. Smart thermostats cost between $15 and $250; if you hire a pro, installation will usually cost between $140 and $350. Doing the job yourself can save you over a hundred dollars and won't take very long.
Do your own yard work
Doing your own yard work and landscaping can add up to big savings—plus it's good for you. The exercise you get from gardening is a good way to lower blood pressure and burn calories–all while doing something that will boost your home's curb appeal. Since landscapers cost around $75 per hour on average, putting some time into making your yard look nice can save you a lot of money in just a few hours.
Paint a room
Painting a room or a few rooms yourself is a project you can do yourself to save money on an upgrade. While larger paint jobs (and exterior painting) are usually better left to the pros if you don't have much experience, interior painting is an approachable DIY. You should make sure to factor in the prep and clean-up time into your time estimate of this job, since applying the paint usually takes less time than the prep, but you can save about $1.50 to $3.50 per square foot by doing your own painting.