If I had one wish for college students, it would be that places of higher learning would allow them to keep an Instant Pot in their dorm rooms. But apparently young adults cannot be trusted with heat-generating appliances, and dorm dwellers are often stuck sharing refrigerators and doing most of their cooking in a microwave. This sounds sad, but it doesn't have to be.
The key to eating well while living that dorm life is not constant takeout. The key is to get really good at making meals that require very little to no cooking, and using the microwave to heat things other than Hot Pockets.
Feeding yourself in a dorm situation is a little like camping—you have to be prepared. Foods you can mix and match to create a variety of meals will keep you happiest, meaning you're less likely to order fast food out of sheer, soul-crushing boredom.
Find easy proteins near your dorm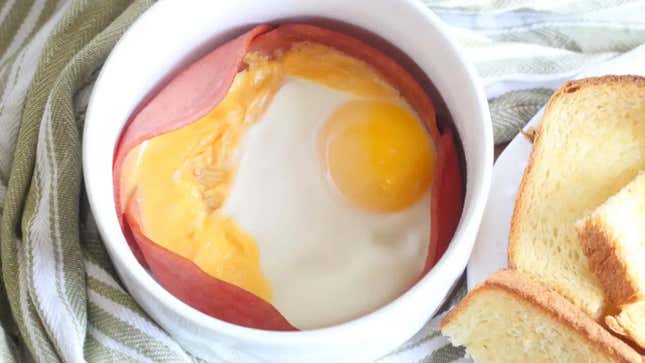 First of all, outsource your meat. You don't have the resources to sear, roast, or braise, and there is no shame in letting someone else cook some animal protein for you. The pre-cooked rotisserie chicken is a convenience food icon for a reason. Use your parents' Costco membership to buy one, and write your name in Sharpie all over the plastic container, accompanied by dire warnings to would-be thieves. (You can also get a non-Costco rotisserie chicken, but I like theirs best.)
Canned tuna and salmon are also good, filling, cheap staples to have around, as is fake crab. For a vegetarian option, get yourself some fully cooked lentils from Trader Joe's, which are pretty much flawless as far as lentils go, along with some canned black and pinto beans. If you need eggs in your life, I have good news: you can cook them in the microwave. You can also purchase pre-hard boiled eggs, which are convenient if you do not have access to a stove.
Buy the right carbs from your grocery store
For carbs, keep some good sandwich bread, a stack of tortillas, and some instant ramen around, as well as crackers. If you want to really get fancy, get some Vietnamese summer roll wrappers, which need nothing more than warm water to prep. Microwavable, single serving packets of rice may seem like a lazy choice, but you are in college, my friend, and you should be thinking about your studies and parties, not how to MacGyver a pot of rice in a sad dorm kitchen.
Choose the right produce for a dorm room
Produce that doesn't need to be coddled or handled with care is your friend, as are plant parts that taste good raw or lightly steamed (which you can do in the microwave). A large bag of mandarin oranges will last a long while, as will a container of cherry tomatoes. I also recommend onions, as they pack a lot of flavor and keep for quite some time. Have a bag of frozen, chopped vegetables at the ready, so you can toss them into meals as needed to ward off any scurvy. If you get a salad craving, buy lettuce the day of.
Keep the right cheeses in your dorm refrigerator
Never let anyone tell you that you can't eat cheese for dinner. You can. A lot of stores sell the "extra bits" of fancy cheeses for a dollar or two each, and you should avail yourself of that feature. Get some sliced cheese for sandwiches, crumbled cheese if you like bowls and salads, and some cottage cheese if you're into that kind of thing. Though it is not cheese, I would also recommend you get some sour cream, because the fatty, tangy topping makes everything a little more satiating.
Keep condiments in your dorm room
Here is where you can inject some real light into an otherwise bleak kitchen. First, get a seasoning blend that's good on everything and then put it on everything. (We have a lot of recommendations here.) Invest in a good salad dressing, or some oil and vinegar if you prefer.
Find a hot sauce that brings you utter joy, and never let it get away. Nutritional yeast may be the darling of the vegan community, but everyone can enjoy the umami-packed, almost cheesy flavor it lends to everything you sprinkle it on. You also need pickled things and olives, obviously. (You can pickle some onions without a single heat source, and you should do that.)
The best dorm room meals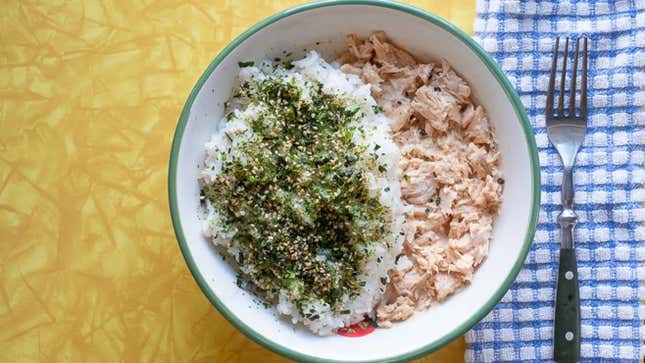 Once you have all the pieces to your culinary puzzle, you are ready to build your meals. Part of the fun of being in college is playing around and discovering what you like, and this extends to food, but it will not prevent me from telling you what to do.
Rice bowls: Cook one of those servings of rice in the microwave, then shred some rotisserie chicken, heat it up, and mix it with your favorite hot sauce. Drain some black beans, heat them if desired, and mix with the chicken. Put that pile of protein on your rice, and top with your favorite cheese, some pickled onions, olives, and sour cream. You can also make a

tuna mayo rice bowl

with a few pantry staples, or deconstructed California roll by taking cooked, chilled rice, and tossing it with rice wine vinegar, sliced cucumbers, avocado, crumbled nori, pickled ginger, and pieces of fake crab. Serve with soy sauce and spicy mayo (just mix plain mayonnaise and Sriracha together).
Bologna bowl: This

Matty Matheson recipe

is a little silly, but filling delicious, and can be made entirely in the microwave. All you need is bologna, a slice of cheese, and an egg.
Lentil bowls: Crumble some pre-cooked lentils into a bowl, and toss with olive oil, vinegar, and your favorite all-purpose seasoning. Take a carrot, and slice it into pretty ribbons using a

y-peeler

. Toss those in with the lentils. Add some cherry tomatoes, a bit of crumbled feta, give it a taste, and season more if needed.
Salad wraps: Shrimp summer rolls are great, but you can actually make any salad into a summer roll—even the unwieldy wedge—and

we can show you how here

.
Ramen (duh): Ramen is a great base for a filling, cheap meal. Boil some water in the microwave, and add a handful of frozen vegetables and some thinly sliced mushrooms, along with the noodles. Stir in some shredded chicken or spoon in a microwave-poached egg, and enjoy. You do not have to use the super-salty seasoning packet if you don't want to—you can mix it with sour cream to

make a dip

instead, or

dip raw veggies

directly into the umami-packed powder. You can also remove the noodles from the broth entirely, and coat with butter, parmesan, and lots of black pepper.
Tacos: Again, that rotisserie chicken will come in handy, but don't sleep on canned refried beans, or black beans. Pile on some crumbled queso fresco, pickled onion, and whatever other fixings you like, and chow down.
Chili cheese potato: Pierce a potato with a fork a few times and

microwave for about seven minutes

. Nuke your favorite canned chili, split the potato, and fill her up. Top with cheese, sour cream, and chives.
Snack supper: Get some cheese bits and cured meats from your favorite grocery store, arrange them artfully on a plate, and eat your

fromage and charcuterie

with some high quality crackers, honey, olives, and cornichons (which are $2.99 at TJ's).
This iconic French sandwich: The

jambon-beurre on baguette

has only three ingredients—ham, butter, and bread—and it is utterly perfect. It's lack of watery ingredients means it can hang out in your backpack without getting soggy. It actually tastes best at room temperature.
It's also worth noting that you should never feel shame about eating a bowl of cereal, a peanut butter and jelly sandwich, or an un-doctored bowl of packaged ramen. Besides education, the whole point of going away to college is learning how to make your own (questionable) decisions, even if those decisions mean eating popcorn for supper.