Hello Nature readers, would you like to get this Briefing in your inbox free every day? Sign up here.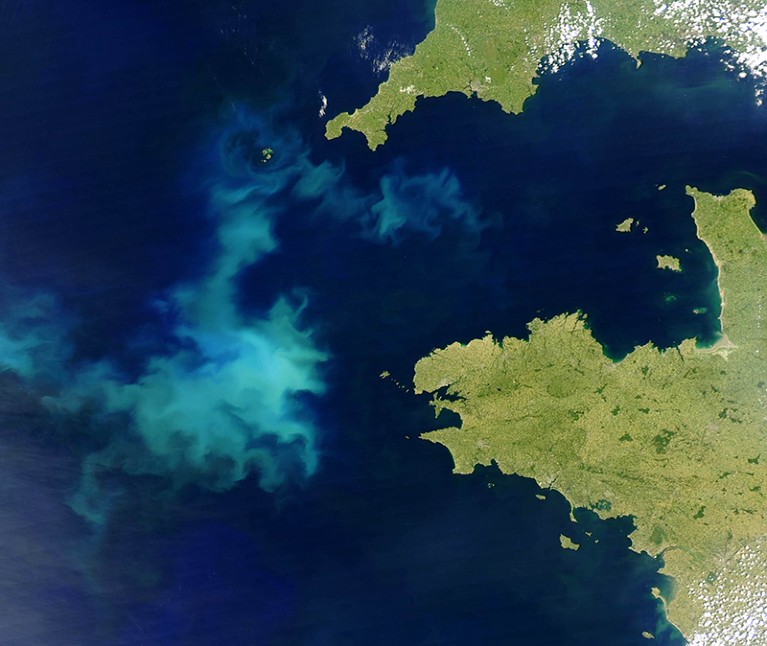 More than half of the world's oceans have become greener in the past 20 years, probably because of global warming. The ocean can change colour for many reasons, and scientists thought it might take up to 40 years to spot any trends amid natural variation. But with two decades of data from a sensor aboard NASA's Aqua satellite, and measurements of seven wavelengths of light from the ocean, scientists have already noticed changes matching those predicted by climate models. "We are affecting the ecosystem in a way that we haven't seen before," says co-author B. B. Cael, an ocean and climate scientist.
Nature | 4 min read
Reference: Nature paper
A US congressional hearing on one aspect of the origin of COVID-19 showcased the polarization of the country's politics — and how it is affecting scientists and scientific debate. US House Republicans have accused the authors of a 2020 commentary in Nature Medicine of colluding with government officials to downplay the idea that scientists had intentionally or accidentally caused the pandemic by genetically engineering a virus. Scientists say the heightened discourse has contributed to them receiving death threats and hindered efforts to prepare for future pandemics.
Nature | 6 min read
Reference: Nature Medicine commentary
What seem to be beautifully carved and polished pendants made from the bony plates of giant sloths (Glossotherium phoenesis) suggest that people lived alongside the huge mammals. That means humans made it to South America earlier than thought — some 27,000 years ago. "We now have good evidence — together with other sites from South and North America — that we have to rethink our ideas about the migration of humans to the Americas," says archaeologist and study co-author Mirian Liza Alves Forancelli Pacheco.
Associated Press | 4 min read
Reference: Proceedings of the Royal Society B paper
Horrifying images of fish killed by a discarded 'ghost' fishing net and plastic tangled in the spikes of a sea urchin reveal how our rubbish infiltrates some of the ocean's deepest reefs. A survey of 84 coral ecosystems at 25 locations across the Pacific, Atlantic and Indian ocean basins found plastic debris from human activities in almost all of them. In contrast to non-reef marine ecosystems, where plastics tend to gather near the surface, deep reefs contained more litter — mostly fishing gear — than shallow ones. As fewer and fewer fish are found in shallower waters, deep-sea fishing is becoming more common, and the amount of refuse could reflect this.
In a separate study, researchers systematically assessed freshwater lakes and reservoirs across 23 countries and found them to be widely contaminated with plastic. Both studies highlight the multi-level problem that negotiators face in talks, now under way at the United Nations, on a treaty to eliminate plastic pollution. "Simply banning plastic nets and other fishing gear could harm livelihoods," notes a Nature editorial. It urges countries to agree how they will measure — and enforce — progress against plastic pollution.
Nature | 4 min read & Nature editorial | 5 min read
Read more about how large-scale collaborations are uncovering global extent of plastic pollution in the Nature News & Views article (6 min read, Nature paywall)
Reference: Nature paper 1 & Nature paper 2
A fire urchin (Asthenosoma varium) tries to camouflage itself with a fishing line and piece of a blue plastic bag — instead of its usual blades of seagrass or small pieces of rubble — about 130 metres deep on a reef in the Philippines.
Features & opinion
An analysis of which researchers publish, get credit, move around, get funding, collaborate and receive citations shows that the bias against women in science is deeply ingrained. In their book Equity for Women in Science, information scientists Cassidy Sugimoto and Vincent Larivière summarize scientometric and bibliometric analyses of the influence of gender on outcomes in academia. "The combined subtlety and variability of privilege make it difficult to observe and document," writes psycholinguist and reviewer Virginia Valian. The authors "have the sophistication and ingenuity, and have put in the effort".
Nature | 7 min read
A shock call early in the morning from the dean of the faculty of chemistry alerted researchers at the University of Vienna that something terrible had happened. No one was hurt, and team spirit helped their group to rise from the ashes — with a brand new fully furnished and equipped lab. Nevertheless, there were hard lessons to be learnt. "For the cost of a new laptop, or an improved fire warning system, around €1.4-million-worth of damage might have been avoided," they write.
Nature Chemistry | 14 min read
Today's story about rising from the ashes of a lab fire reminded me of the heart-stopping story I shared with you last week, about a cleaner who switched off a super-cold freezer at a lab in New York, allegedly destroying 25 years worth of research, to stop an "annoying alarm".
It led to an outpouring of confessions from my Nature colleagues about their worst-ever gaffes in their former lives as researchers. "Funny story — in the first year of my PhD I caused a fire in the chemistry department that gutted my lab, and lost all my work," said one reporter who shall remain nameless.
If you've even been told 'one day we'll all look back on this and laugh' — now's the time. I'd love to hear about your lab blundersat briefing@nature.com. And thank you to everyone who's already e-mailed.
Thanks for reading,
Flora Graham, senior editor, Nature Briefing
With contributions by Sara Phillips
We've recently launched two new e-mails you might like. They're free, and of course you can unsubscribe at any time.
• Nature Briefing: Cancer — a new weekly newsletter written with cancer researchers in mind. Sign up here to receive the next one.
• Nature Briefing: Translational Research covers biotechnology, drug discovery and pharma. Sign up here to get it free in your inbox each week.