Hello Nature readers, would you like to get this Briefing in your inbox free every day? Sign up here.
Three Colombian cities saw dengue rates drop by up to 97% after the largest-ever deployment of Wolbachia-infected mosquitoes. Epidemiologist Alex Perkins says these results are "encouraging" — although "a reduction in cases following the introduction of an intervention could be a simple coincidence". The Wolbachia bacterium competes with viruses such as dengue and Zika, making the insects less likely to transmit the diseases. The mosquitoes also pass the bacteria on to their offspring.
Nature | 5 min read
Tomorrow, US Food and Drug Administration (FDA) advisors will meet to examine safety data for exa-cel, a DNA-altering treatment for sickle-cell disease. It's a key hurdle for what could become the first FDA-approved CRISPR–Cas9 therapy. "The key to this is safety," says paediatrician Mark Walters, who has advised on development of the treatment. "That's the question that could really affect decision making, and the safety information is still quite limited."
Nature | 6 min read
Learn more: Can CRISPR cure sickle-cell disease? (Nature | 11 min watch on YouTube)
Physicists might have spotted an elusive isotope of nitrogen that stretches the definition of a nucleus. Nitrogen-9's nucleus is composed of a helium-like core of two protons and two neutrons, surrounded by five 'unbound' protons — a wildly unbalanced arrangement that stretches the nuclear glue of the strong force to breaking point. The five untethered protons quickly escape and the isotope lasts a mere 10–21 seconds. The boundary beyond which an isotope is too lopsided to live is called the 'drip line': "something like the end of the existence of nuclei", in the words of nuclear physicist Marek Płoszajczak. If the evidence of 9N is confirmed, it will test the limit of just where the drip line might be.
ScienceNews | 5 min read
Reference: Physical Review Letters paper
Features & opinion
Artificial intelligence (AI) can help to fight biodiversity loss by analysing rainforest soundscapes or sifting through tens of thousands of camera-trap images. A neural network that can pick out bird species from audio recordings could be crucial for forest-restoration projects that must demonstrate success to secure continued funding. And an AI that analyses footage in real time has already caught a pangolin poacher in the act. Although scientists should be aware that AI is imperfect and has its own environmental impacts, it's "clearly the way to go", says Nicolas Miailhe, founder of an AI-governance non-profit.
Nature | 6 min read
Reference: Nature Communications paper
Human conflict could accelerate the evolution and spread of drug-resistant microbes, warns a group of microbiologists and infectious-disease researchers. Between damaged infrastructure and an influx of people with wounds that require emergency surgery, health-care professionals in war zones often have no choice but to use broad-spectrum antibiotics indiscriminately to control infections. It's one of the factors that drives drug resistance. Better guidelines, monitoring efforts and collaborations between the organizations delivering medical care are urgently needed to address the issue, the group writes.
Communications Medicine | 22 min read
Interdisciplinary research can lead to a chance to make a bigger impact, get bigger grants and focus on more significant questions. But it can come with costs: it takes time to learn new experimental techniques and build fresh networks. Four researchers who successfully made the switch offer their advice. "You must love learning," says Patricia Dankers, who has PhDs in chemistry and medical sciences, and now leads an interdisciplinary research group. "Trust that your research experiences will prepare you for the challenges."
Nature | 10 min read
Where I work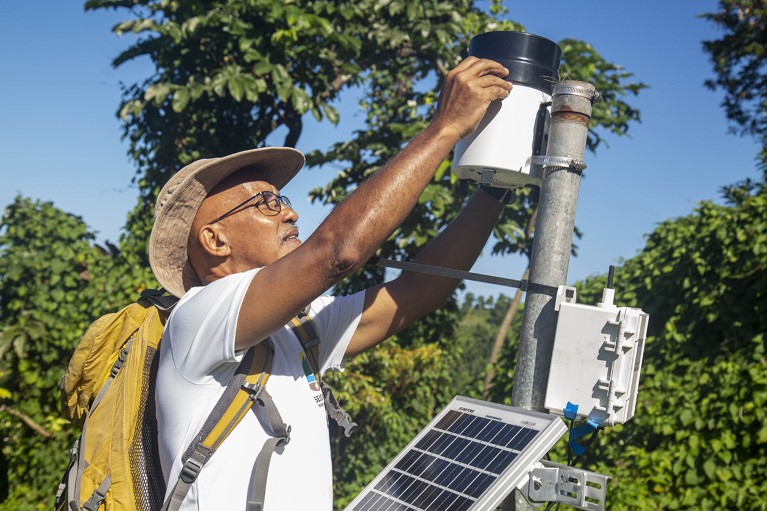 Volcanologist Richard Robertson and his team track 17 volcanoes across the Lesser Antilles islands in the Caribbean. His interest was sparked by a life-changing event when he was a teenager: he witnessed the eruption of La Soufrière on St Vincent in 1979. "My father and I drove towards it to evacuate my grandmother," he says. "Ash was falling on us like rain." In this photo, Robertson checks a rain gauge installed after a 2021 eruption, which helps to monitor how much rain it takes to trigger mudslides of loose ash. (Nature | 3 min read)
On Friday, Leif Penguinson was playing in the sands of the Grande Dune du Pilat in France, the tallest sand dune in Europe. Did you find the penguin? When you're ready, here's the answer.
After a week of enjoying very wide dresses in Madrid, I'm delighted to be back in Briefing towers. Thank you to Katrina Krämer and the Nature News team for keeping this newsletter on an even keel in the meantime. I hope you'll help us steering in the right direction by sending us your feedback. Your e-mails are always welcome at briefing@nature.com.
Thanks for reading,
Flora Graham, senior editor, Nature Briefing
With contributions by Katrina Krämer
Want more? Sign up to our other free Nature Briefing newsletters:
• Nature Briefing: Cancer — a weekly newsletter written with cancer researchers in mind
• Nature Briefing: Translational Research covers biotechnology, drug discovery and pharma
• Nature Briefing: Anthropocene — the footprint of humanity on Earth, including climate change, biodiversity, sustainability and geoengineering