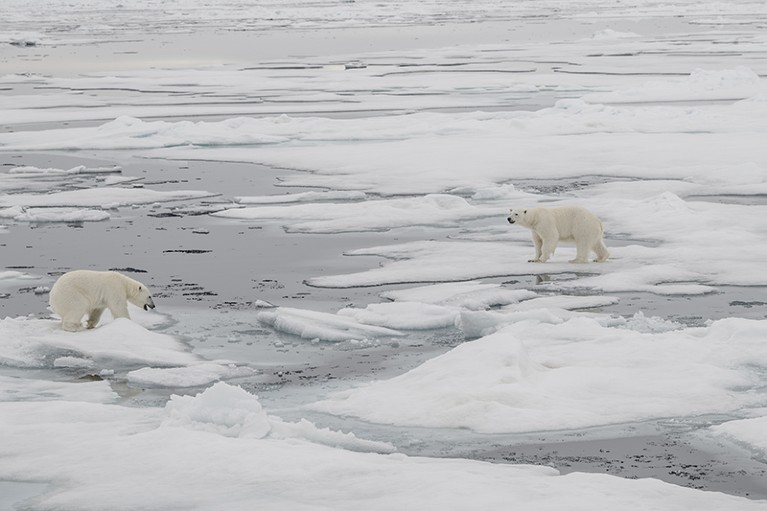 A series of natural disasters over the past few months, including devastating floods in Libya and wildfires in Hawaii, has provided a stark reminder of how urgently the world needs to take measures to combat climate change. Although it is easy to slip into despondency as many politicians seem to drag their feet — or even backtrack — over taking action, this supplement shows there is cause for some optimism as the essential work of scientists on climate and conservation research can still bring progress.
Nature Index 2023 Climate and conservation
In polar science, researchers have shown incredible resilience as they rebuild connections disrupted by the pandemic and deal with the knock-on effects of Russia's invasion of Ukraine. Observations from regions at the frontline of climate change are crucial in persuading decision-makers that delaying action is not an option. We detail three examples where researchers are making a difference by recording the acute effects on wildlife and communities.
Overall, data from the Nature Index suggest the volume of high-quality research on climate and conservation is on an upward trajectory. From 2015 to 2021, there was a 46% rise in publications in the database related to the United Nations Sustainable Development Goals (SDGs) most closely relevant to climate and conservation (SDGs 12–15). It still represents only about 5% of all articles in the Nature Index, however. It is incumbent on research funders, despite the excellent scholarship being published every day, to reflect on the level of commitment to the SDGs, whose 2030 deadline looks in grave jeopardy. Redoubling efforts to pursue projects that seek to holistically contribute to several SDGs and demonstrate practical impact — and not just following the SDG framework as a tick-box exercise — can make research gains go even further.