Peaches are my favorite fruit. When they're perfectly ripe, nothing can compare to their soft, juicy texture, and irresistible balance of sweet and tart. So you understand why it's so easy for me to buy them in insurmountable quantities from Trader Joe's when they're in season. It's a compulsion. However, I believe it is one shared by many peach lovers, and that's why I'm here to help you with your inevitable past prime peach problem. Use up overripe peaches in this simple summer peach crisp.
Use up any amount of overripe peaches
Besides highlighting the peach's juicy, bright flavors, and the straightforward and adaptable nature of this recipe, the best thing about this dessert is that you can make it with two peaches or twelve peaches. The baking dish doesn't change, so the dessert will simply be more shallow with fewer peaches, or deeper with many peaches. The crisp is only scattered over the top, so there's no need to increase the amount regardless of how deep the layer of fruit is. (But if you like crisp, and you'll love this one, you can always make double the amount.)
First, let me be clear, there's a gloriously lazy way to make this crisp, and a slightly more detailed way. It just depends on how you're feeling and your personal preferences. The stars are the fresh, super ripe peaches and the crisp topping. Everything else is a bonus move. I'll tell you how I enjoy doing it, followed by the no-frills way.
Two ways to make a peach crisp
Gather your too-ripe peaches. (These are a day or two too soft to enjoy on their own, but not moldy or at the point where the flesh is liquifying.) Peel off the skin using this method; only boiling for 30 seconds. (No-frills: leave the skin on.) Cut the peaches in half and remove the pit. Cut each half into four to six slices depending on how big the peaches are, the widest part of the slice will be about a half-inch wide.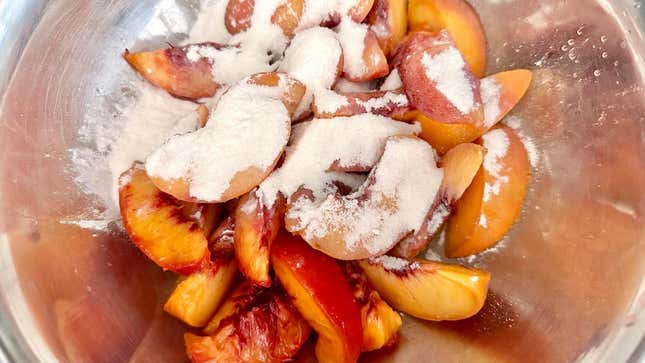 Put all of the slices in a bowl and toss with a squeeze of lemon juice, a couple teaspoons of cornstarch, and a couple tablespoons of granulated sugar. The juices, sugar, and cornstarch will make a slurry that will thicken into a sauce after baking. (No-frills: don't add anything to the peach slices.) Put the peaches, and sauce (if using) into a deep buttered baking dish. I used an eight inch by ten inch by three inch Pyrex dish. Yes, you read that right. A no-frills peach crisp requires only pitted, sliced peaches heaped into a buttered dish. Both versions get topped with the following sweet, crumbly, slightly salty, crisp topping.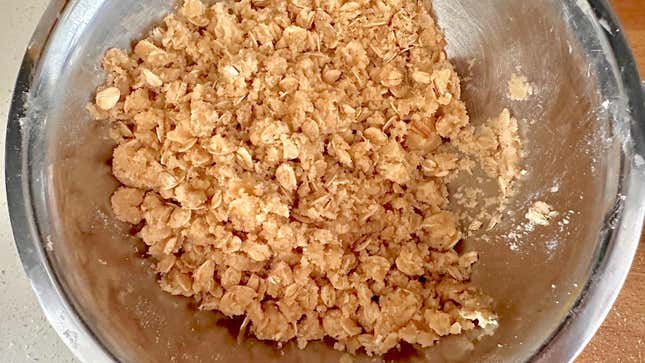 To make the crisp, add flour, rolled oats, brown sugar, and salt to a bowl. Mix them to evenly distribute the ingredients. Add melted butter, and mix until everything is moistened and there are no dry spots. Scatter the crisp topping evenly over the peaches. Bake in a preheated 400°F oven for about 30 minutes, or until the juices are bubbling and the crisp has lightly browned.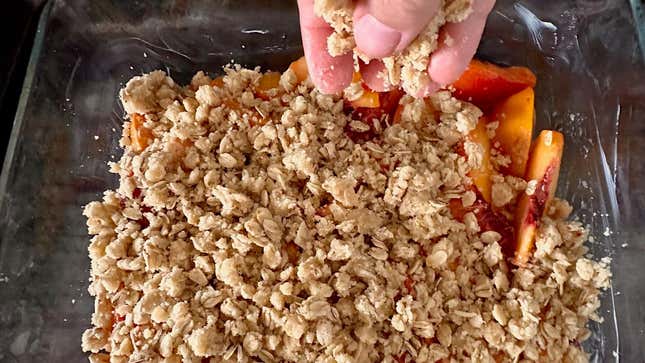 The no-frills version will be a bit juicier on the bottom, and you can leave the skins on or peel them off if you don't like the texture. The cornstarch is added to thicken the juices that bake out of the fruit to make a sauce, but it's not necessary. There's no pie crust at the bottom that we're protecting from sogginess. That's why I don't increase the amount of starch even if I add eight more peaches. A little extra peach juice doesn't bother me, but you certainly could add a teaspoon more cornstarch if you wanted to.
This recipe is certain to make you famous with your neighbors. No one would ever know the peaches had gone past their prime; their perfect summer flavor gets further concentrated by baking in the oven. The crisp topping adds an irresistible texture and cozy, granola-like warmth. This perfect dish can only be improved with a generous scoop of ice cream. (I used this cherry vanilla from Klimon.)
I must issue a warning–this is a great way to use up summer peaches, but because it's so delicious, it will actually drive you to buy more peaches. I'm so sorry.
Summer Peach Crisp
Ingredients:
Peach filling
4-12 peaches, pitted and peeled if desired
1 teaspoon lemon juice
2 teaspoons cornstarch
2 tablespoons sugar
Crisp topping
½ cup flour
½ cup old-fashioned rolled oats
½ cup brown sugar
½ teaspoon salt
½ stick (4 tablespoons) butter, melted
Preheat the oven to 400°F. Butter an 8 by 10-inch baking dish, 9-inch cake pan, or 8-inch cake pan.
Slice the peaches into wedges about four slices per half peach, about a 1/2 inch wide. Put the peach slices and lemon juice in a bowl. In a separate, small bowl, whisk the sugar and cornstarch together thoroughly. Add the sugar mixture to the peaches and toss until the peaches are thoroughly coated and there are no dry spots. Add the peach mixture to the buttered baking dish.
To make the crisp topping, add the flour, oats, sugar, and salt to a bowl and mix to thoroughly combine. Melt the butter in the microwave, and pour it over the oat mixture. Stir until the butter is completely incorporated and no dry flour spots remain. Sprinkle the topping evenly over the peaches to cover.
Bake at 400°F for 30-40 minutes, or until the juices are bubbling and the topping has lightly browned. Serve warm.